Stretty News spoke to Dogma editor James – a lifelong Brighton fan – ahead of Sunday's FA Cup semi-final.
Manchester United and Brighton travel to Wembley on Sunday with a place in the FA Cup final up for grabs.
United are looking to bounce back from Thursday's Europa League upset and a win over Brighton would do that.
Dogma is a Brighton fanzine for the fans, by the fans. It was good to get their perspective ahead of the big game.
Brighton have never won the FA Cup, but finished runners-up to Manchester United in 1983, with Ron Atkinson's Red Army winning the replay at Wembley. Do you think it will be different this year?
James: "If the stars align and the Gods (VAR) are on our side this could be our year to finally beat Manchester United at Wembley. We've beaten them in the league with ease recently and we don't fear anyone anymore (well maybe apart from your neighbours). Our fathers are still not over that game in '83. They cheered when the draw came through on the concourse last month – revenge time for the occasion when the cup should have been ours."
What's the general feeling among Brighton fans ahead of the semi-final?
James: "Big cup games like this have summarised particular eras for us. The Play-off final in 2004 disproved lazy objections to our proposed new ground based around 'you only get 6,000 at Withdean, why do you need a bigger stadium?'. 30,000 of us turned up in Cardiff and proved our potential. The cup semi final against the blue side of Manchester in 2019 announced our arrival in the big time.
"Sunday's match feels like a summary of a new era. We're a major player now and are going into the game confident and backed up by a great season so far and a lofty league position. Tickets sold out quickly with many missing out. No more little old Brighton – we're here to win. Yes it'll be a grand occasion but it's also a game of football that we're preparing to win. That's the new emphasis we have – spearheaded by a manager and players who have taken us to a new level and do not share the anxieties or fears that fans might have. Also absent is a patronising perspective on our place in the pecking order that a former manager had – which meant we approached games like this with an inferiority complex."
Which United player, if any, would you like to see at Brighton?
James: "Generally we only really care about players in our blue and white so it's hard to say. Rashford is a good egg and a great player so maybe him. Maguire for the lols and so there's a daily reminder of the difference between him and England's best centre half, Lewis Dunk, and the absurdity in the discrepancy between their England caps."
How do you think Brighton will finish this season?
James: "Who knows? We're going to enjoy the ride but our sights are set high and I wouldn't put anything past this manager or group of players."
Which Brighton players should we watch out for on current form?
James: "The latest wunderkind off the production line is Julio Enciso. Lively and direct and likely to start on Sunday after a few goals recently.
"With the Abion on the whole is greater than the sum of its parts. We're a proper team – interchangeable cogs in a highly functioning machine. We now have players within that system who have performed at the highest level, are capable of big game moments and are motivated and equipped for occasions like this."
I think it goes without saying at this rate that Roberto De Zebri has been an incredible appointment for Brighton, but you also seem to have a lot of other things going on at the club to make sure the environment is right for the manager. The recruitment has been spot on and you've got a young hungry squad full of potential. What do you put all of that done to?
James: "Tony Bloom. The local boy done good, and the cleverest man in football. His beautiful algorithm and system that identifies talent in undervalued markets. This coupled with his vision and continual drive to improve (despite setbacks) means that as long as he's around, 'teams like United' ™ can pinch whoever you want from the ranks, for a packet, and we'll iterate and improve. It's a brilliantly effective model and one that cannot be bought."
What do you think of Manchester United a) the club; b) the team; c) the fans and d) the manager?
James: "As a 90s kid Man United represented an era when football went mad. How the other half lived while our club nearly died. Every nob head we went to school with was an armchair Man United fan. Laughing at us for supporting our local team while they paraded around in 'Beckham 7' shirts in Preston Park. We're glad those days are over and Sussex is now awash with kids in blue and white. Although not directly the club or proper fans fault – it's left a feeling of resentment – and the satisfaction we get when we beat you feels cathartic.
"We know that they don't represent all your readers and most fans we've met at games have been sound. Nice bunch, committed and self aware. Old Trafford is the best big stadium in the country and away days in Manchester are superb.
"We've been disappointed to see some positive reactions amongst some United fans to a potential bid from a petrol-fascist state and are glad that it looks like it's not going to happen. The dislike for your current owners is obviously well founded, but the proposed alternative…!? We really hope an institution as mighty as Manchester United (still the biggest club in the world) doesn't turn itself into another puppet of state power."
Best and worst memories from games involving Manchester United and Brighton.
James: "Luckily for younger fans there's been a lot of good. Groß at your place and at ours. Murray at the Amex and 'Bullied by Brighton' headline on the Guardian was something I thought I'd never read 20 years ago.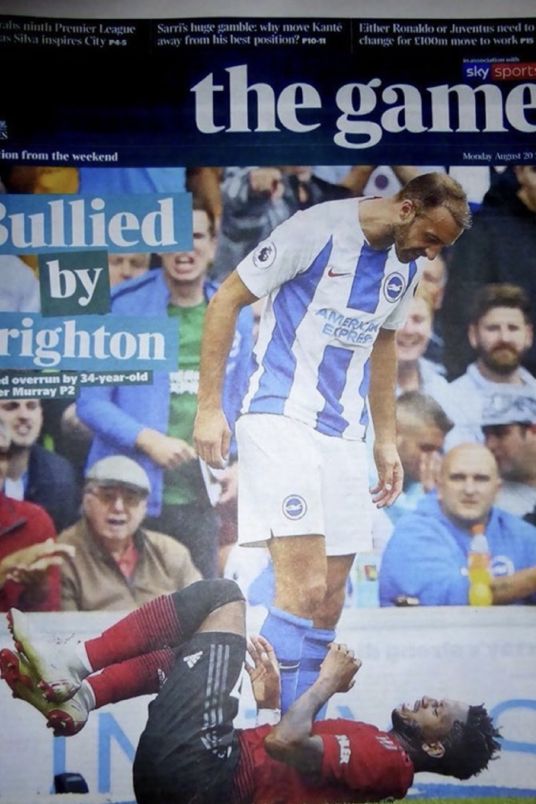 "Some bad'uns in recent memory include penalties given after the game has ended. I'm sure we're likely to see some of that fuckery on Sunday."
High and low point as a Brighton fan?
James: "Low point goes without saying, the war years of the nineties, when our club nearly went out of existence.
"High point? I think we're yet to have it. Promotions, survival in this league, big results, but they keep getting better and better and there's a real feeling that best is yet to come."
All-time Brighton cult hero and why?
James: "Eric Cantona (Selhurt Park 1995)."
Favourite Brighton XI from players you have seen?
Michel Kuipers
Iñigo Calderón
Lewis Carl Dunk esq.
Gordon Greer
Estupiñán
Gary Hart
Mac Allister
Groß
Knockaert
Zamora
Murray
Predict the score of the game at Wembley.
James: "Whatever VAR and their unholy bedfellows – Premier League Corp and the media – decide it'll be. Order of the day will be to ensure an all Manchester final. We'll probably have to score five to win it against that influence. So 5-4 to the Albion!"