Seven goals conceded without even one in response. Manchester United's worst defeat on record to our biggest rivals. Sunday hurt and it will feel sore for a long, long time. 
I don't doubt for a second that Erik ten Hag let every single one of those players feel the anger of us supporters in the dressing room at full-time.
Bandwagoning unnecessary hate onto our own players is not something I actively participate in, despite a portion of the fanbase often opting to do so, but there was not one player that I would've deemed fit to wear the shirt yesterday.
The ones we've been hailing all season, Casemiro, Lisandro Martinez, Raphael Varane etc, proved that they are in fact human and will have off-games, which is fine, but it can't be to this degree.
On another note, Bruno Fernandes has been one of my favourites since his arrival in 2020 and for me, he has been captain material since his first appearance. Yesterday, that armband should've been stripped off him.
Whining, pushing officials, throwing himself on the floor, wanting to be substituted – you're captaining Manchester United at Anfield. Get up and try and prevent this embarrassment from going any further rather than laying on the pitch waiting to hear the referee's whistle for a foul at 6-0 down.
There were also several instances where I saw one of ours be dispossessed in midfield and lazily drag their heels to the halfway line whilst Liverpool's attackers sprinted to attack a depleted defensive line. That is unacceptable on every level, whether you lose the ball or not, pick up the pace and get back to help out your teammates.
Seemingly, the majority of them had given up once it reached  3-0. The pressure of the occasion, hostile atmosphere and goals in quick succession caused a complete head-loss and unfortunately, it was the same at the Etihad and the Gtech Community Stadium.
Where do we go from here?
The thing is now, as much as we will continue to moan and be mocked about it, it's done and it can't be changed. All the team can do is dust themselves off, class this as rock bottom, and look ahead to what's next in the calendar.
I've seen a lot of fans say this was needed for us to be "brought back down to Earth"… It really wasn't.
Quadruple and title shouts were harmless fun amongst the fanbase because that's how this squad and Ten Hag had us feeling – like we could achieve anything in this new era. We ended a six-year trophy drought last weekend and are now the butt of every club's jokes this weekend, isn't that just a perfect testament to the fact that progress isn't always linear?
The best is yet to come
It's times like these that it's easy to forget that we're third in the league and seven points ahead of Liverpool, that we've picked up the most wins in all competitions of ANY club in Europe's top five leagues, that we've won games against today's opponents, Manchester City, Arsenal, Tottenham Hotspur and La Liga leaders Barcelona, and that we've won the first piece of silverware on offer this season and are in contention to win two other competitions.
Things probably were looking a bit too good to be true heading into today's game, but that's because Ten Hag has instilled that belief and hope back into us after so many years of disappointment. He is seven months into a long-term project that we all knew would take time to fix.
So be hurt, infuriated, upset, exasperated or even resentful. And then let it go. Back the manager, back the players. Keep the faith.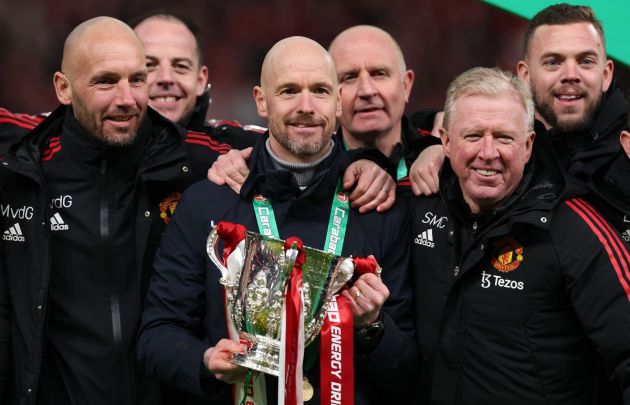 We are yet to witness the best days of the Ten Hag era.