Paul Pogba returned from a knee injury to make his Juventus debut in a 4-2 derby win over Torino, in his first competitive outing in 315 days since leaving Manchester United last summer.
The Frenchman was delighted to return to the pitch after a sustained period in the treatment room.
Despite leaving Old Trafford under a grey cloud, Pogba still has friends at United as he received messages from his former team-mates after making his second debut for the Italian club.
The 29-year-old put a post on Instagram that said: "All smiles for tonight, so happy to be back. Thank you for the warm welcome."
Manchester United star Marcus Rashford replied with a heart emoji, while Jadon Sancho wrote: "My brother, welcome back!"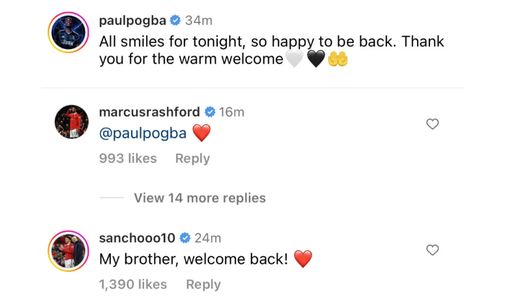 Get the most important Manchester United news, opinion, interviews and exclusive features with the Stretty Newsletter – Ad Free! Kick off your afternoon with the Stretty News verdict on all matters Manchester United.