We've seen it all, we've won the lot, we're Man United and we're never going to stop.
Arriving at a hotel full of Geordies at 11:30am on Sunday morning felt far from ideal. In the end, it made for a decent night's sleep after celebrating Manchester United's Carabao Cup triumph at Wembley.
I stood watching the game with the man I hold responsible for bringing me up a Red. It was special to watch Erik ten Hag lift his first (of many) trophy together after enduring some difficult times on the stands, in recent years.
We made the most of the occasion while noting before and after the match that this is just the start of our journey under Ten Hag. No trophy is beneath him and this determination to be a serial silver collector bodes well in the Champions League next year.
I had a strong feeling that United would build on Casemiro's opening goal after 33 minutes. Newcastle couldn't afford to remain so compact at the back and to make matters even better, a second goal from Marcus Rashford came six minutes later. A two goal lead helped solidify our grip on the trophy against a side that are bang average in the final third.
Other than Bruno Guimaraes, Newcastle are an average side and we all saw that again on Sunday. We were never under any real pressure and Ten Hag made some changes in the second half to close out the game.
Once the full-time whistle blew I was relieved that we had done enough to make up for losing The Big Day Out Trafalgar Square Trophy on Saturday. Only small-time merchants like Newcastle and Sunderland can dream of tasting success like that.
Anyhow, a cup is a cup. This is a stepping stone to bigger things.
Bald is best
My journey back from London the following night consisted of trying to comprehend how we've come so far in six months. I was looking back in the afterglow of United winning their first trophy in five years.
Glory glory Man United. Still buzzing. 🏆 pic.twitter.com/oMtdu2QUJ6

— Dale O'Donnell (@ODonnellDale) February 28, 2023
We can't do that without considering what a mess the club was in when Ralf Rangnick was sent packing his bags at the end of last season. The team was broken with no thanks to a certain executive that had failed for 10 years, a recruitment strategy that required erasing, and ultimately the Glazers…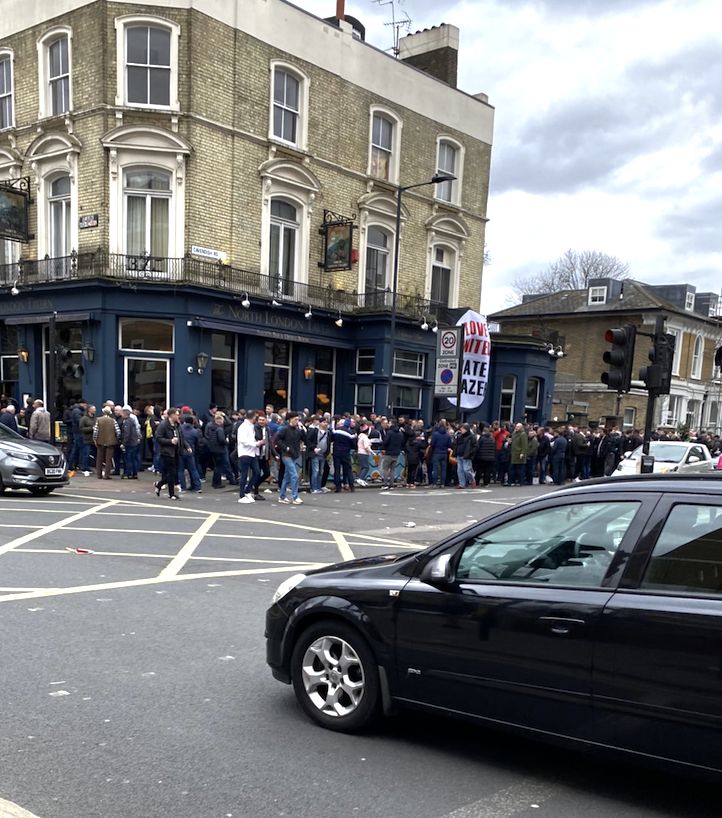 Ten Hag can't address all of those things and we all know that other managers weren't equipped enough to work in such an environment. But, perhaps more importantly, that doesn't mean he hasn't taken substantial control over parts of the club.
The recruitment strategy now appears to be largely driven by the manager. In some cases this doesn't work, but who am I to question Ten Hag? Who is Richard Arnold or John Murtough? Neither of them are foolish enough to follow in Ed Woodward's footsteps.
Ultimately we've come to the conclusion that bald is best and his judgement is good enough for me.
Critics will suggest a more modern approach for United's recruitment team due to the consequences of backing a manager with millions only for him to fail. The counter argument I have for that is, you would want to be out of your mind to do anything but fully back Ten Hag on this journey.
We should be confident in his abilities to identify the right profile of player to put even more of his stamp on the team. Ten Hag's signings have all proved to be excellent acquisitions so his judgement should be trusted on that front.
It's February and United have won the League Cup and we've a firm grip on a place in the top four. Remember that is what we set out for at the beginning of the season, so anything else is a bonus.
Anything is possible with Ten Hag. The best we've had since Sir Alex Ferguson.
Get the most important Manchester United news, opinion, interviews and exclusive features with the Stretty Newsletter – Ad Free! Kick off your afternoon with the Stretty News verdict on all matters Manchester United.