The small-time mentality shown in London by Geordies over the weekend was clear for all to see. Some were trying to claim a trophy for cleaning up Trafalgar Square, while others felt they deserved they deserved medals like Martin Dubravka for simply showing up.
It was all very weird when, at the end of the game, everyone agreed that Newcastle did very little to threaten United. They're a defensive side and it won't be long before they are calling for a better manager than Eddie Howe, even though most of the Geordies think he's the second coming of Christ at the moment (that won't last when they start spending more money).
United beat Newcastle 2-0 at Wembley as Erik ten Hag won his first trophy since becoming manager at the start of the season. The gap between the two teams was huge, and it's clear which side plays better football. United were able to get just as nasty as Newcastle though.
Irony never seems to strike too far away from Newcastle fans, though.
One Newcastle fan, Kris Cook, got this tattoo before the game even kicked off – claiming the triumph as their own.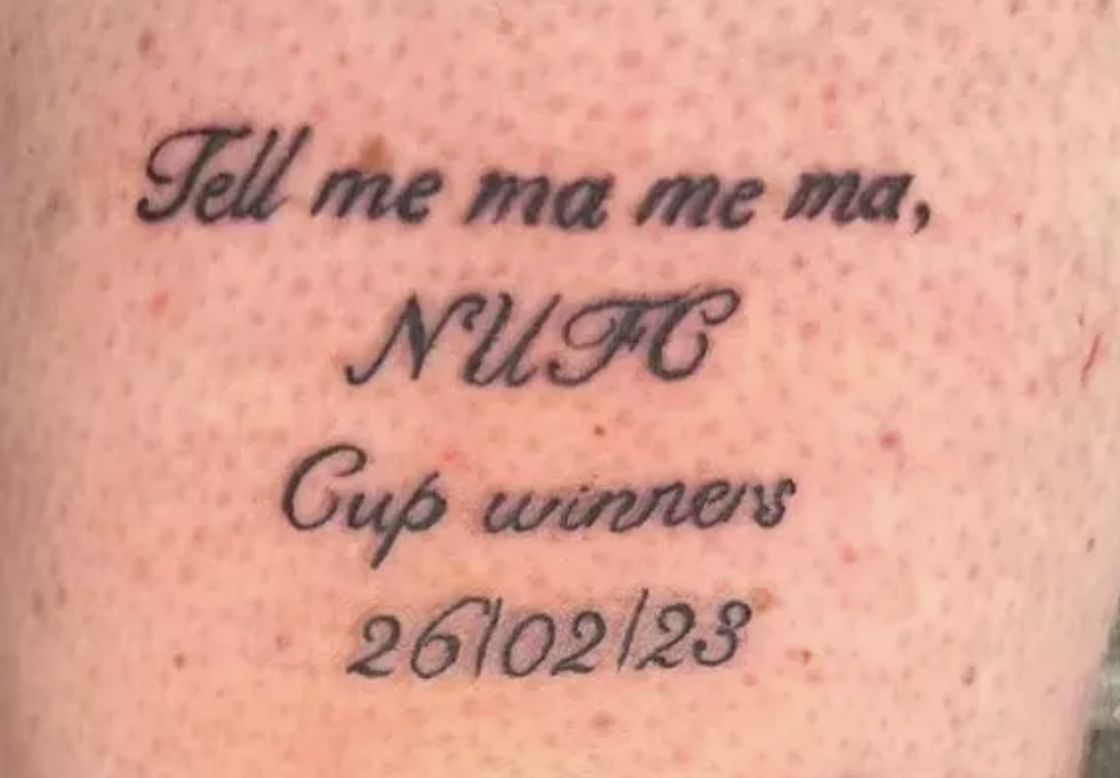 As quoted by BBC Sports, Cook said: "I asked the lass who does my tattoos: 'Can you put cup winners on my leg?
"I think she was thinking it was a bad idea at the same time, but I got it done.
"I think my mam is still a little bit livid, my grandma, she went ballistic – apart from that, all my pals think it's funny."
It backfired and it looks stupid. What a clown!
Get the most important Manchester United news, opinion, interviews and exclusive features with the Stretty Newsletter – Ad Free! Kick off your afternoon with the Stretty News verdict on all matters Manchester United.