A strong starting eleven is naturally important, but squads win titles and deep squads sustain momentum.
Call it what you will but Manchester United have achieved an extremely intelligent transfer window. Not to disregard the links to half of Europe, or the sense of buffoonery that resonates from the club's chief negotiators, but the first-team squad has quietly developed depth.
The ultimate question now surfaces: what is a successful season in Erik ten Hag's debut campaign? Top four, domestic cup success, or a charming night in Budapest to ignite a return to the European elite – all have a definitive sense of possibility and a certain allure to tantalise the senses.
I mean, naturally, anything other than Premier League success will evoke a rapturous bellowing of a fall from grace – but the sensible supporter can appreciate where this club is. A once titanic collection of personalities, each destined to paint their masterpiece on the country's greatest stage, now a sleeping giant in the world's greatest game.
Follow Shaun Connolly's Newsletter here.
There's something beautiful about momentum. The very prospect can lift bums off seats and ignite that 12th man. One need look no further than Old Trafford for the club's previous outing. It is a long time since I have witnessed an atmosphere of such magnitude. Four wins on the bounce, patterns of play, structure in the basic organisation and a squad of players that appear to be buying into their leader's blueprint.
The Dutch tactician appears to have solidified the basis for his trusted eleven. A backline that no longer screams mistake; instead, a collective that oozes calm. A midfield trio that can control, dictate, and turn a game with a simple pass. A front line that is coming to terms with its obvious potential. This is a team that is getting the basics right and can disrupt the mightiest of opposition.
When you move past this settled eleven, you realise that there is quite a bit waiting in reserve. From the obvious brilliance of an ageing Ronaldo, the calm of one of the game's elites in Casemiro and his compatriot Fred, to the club's captain Harry Maguire, there's a little bit more than meets the eye to the Manchester United squad.
Now, don't jump the gun as you are reading this! I'm aware that the current starting eleven may not be the strongest available, and changes may inevitably occur. Form is the greatest weapon, alongside availability, that a footballer can offer to the team and if it's not broken…
As you'll see from the below pictures, the team on the left took to the field against Arsenal on Sunday. Barring injury, the team on the right could very well start against Real Sociedad on Thursday. That particular scenario allows for a complete rotation of personnel from Sunday to Thursday and presents a realistic opportunity for the club to challenge across all fronts.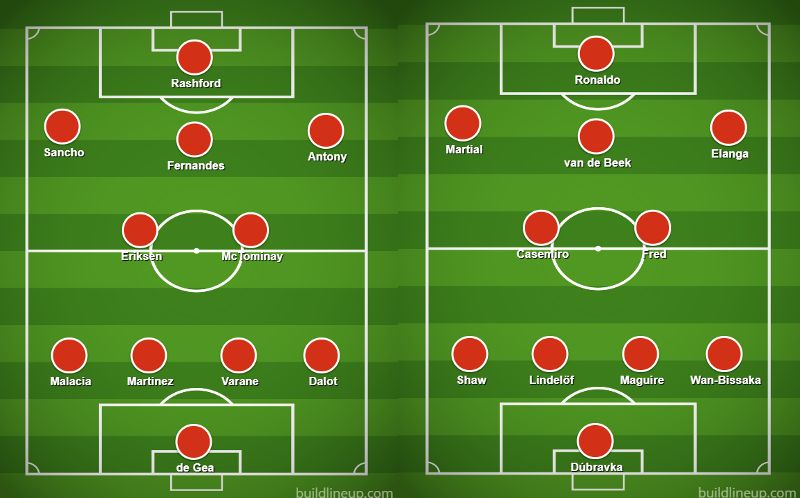 United are also benefitting from the knowledge of their new manager. Players like Scott McTominay and Diogo Dalot are reborn within their new system – displaying confidence that many considered impossible. This very confidence has seen a string of memorable performances that are keeping new signing Casemiro firmly rooted on the bench. While this is welcomed with dismay by some; it'll certainly help to consider the overall benefit.
The competition will always generate a response from a player – whether good or bad. Either way, it will allow the manager to truly measure the wealth of the player at his disposal. One need only look as far back as the Alex Telles acquisition to truly visualise the response of a player vying for his spot.
When considering the above teams, one can also factor in the youth options available. Players such as Charlie Savage, Zidane Iqbal, Facundo Pellistri and the exciting Alejandro Garnacho are all lying in wait for their first-team opportunity – each with much to prove having already caught the manager's eye.
Many a tear was shed with the news of James Garner's move to Merseyside and as fans, it's extremely easy to question a manager's motive. It's also easy to forget that he is the one who bears witness to a player's application and ability in training. It is here that United has cultivated its astonishing history in developing youth and this is every bit as strong today – as highlighted below.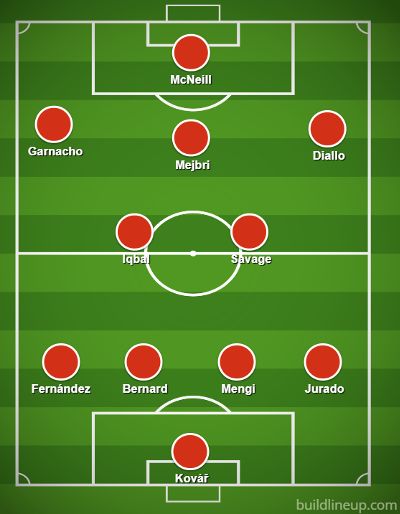 Erik ten Hag has a vision for his side and a clear expectation for his players – both on and off the field. His structure is already evident in a short period and this will only enhance as the squad become more familiar with one another. He has assembled a group that has been quietly transformed throughout a solitary window. There is a mixture of youth, talent and experience, all of which are necessary for a team to challenge across all fronts.
It's very much early days and there's ample time for the wheels to fall off. Saying that, the feeling has changed around Old Trafford and the sleeping beast has opened its eyes.