It's hard not to get excited by Manchester United hitting good form in pre-season.
We got to see 10 of the starting XI play 60 minutes against Crystal Palace in a 3-1 win on Tuesday, while David de Gea played the entire game. It was great to see us cut through the lines and attack a fellow Premier League side in numbers.
Not only did Erik ten Hag utlise the full-backs, but he has also managed to get a really encouraging performance out of Diogo Dalot – and the Portuguese right-back hasn't had many of those in a red shirt.
Anthony Martial scored the first goal to make it three successful strikes in as many games. He did brilliantly to cushion Dalot's cross with his chest before hitting the back of the net from close range.
The second goal was a sight to behold thanks to the build-up play. We saw Martial, Jadon Sancho and Donny van de Beek get involved before Marcus Rashford doubled our lead.
For the third goal, there was more brilliant build-up play as Sancho finished off the scoring for United with a calm finish.
Read more: Sancho, Martial and Rashford shine again: player ratings from Man Utd 3-1 Crystal Palace
Here are three observations I took from the game:
Manchester United's three pronged attack of Sancho, Martial and Rashford
The three goals came from attacking trio that started the game and it was fascinating to see them all involved in Sancho's goal to clinch the win.
United fans will hope that they can all three have a prolific season ahead of them because that in turn would make the team a lot less reliant on Cristiano Ronaldo, who, at 37, shouldn't be playing every game.
It may also give Ten Hag something to work with for the future because all three have long careers ahead of them.
I really think they can all build on this pre-season form.
Van de Beek's contribution was overdue
The Netherlands midfield was one of a few players who failed to impressed in the opening tour matches of the tour, but he played 45 minutes after replacing Scott McTominay at half-time and featured heavily in Rashford's goal.
I have been critical of Van de Beek's performances on tour because he wasn't showing enough key passes or through balls in the first two games. I just wanted to see a contribution – whether it's a goal or assist – and we got that against Palace.
Unselfishly, he held back from shooting and found Rashford in a better position.
McTominay had a poor first half and there was a clear improvement in midfielder when Van de Beek came on at the start of the second half.
Pathetic booing for Harry Maguire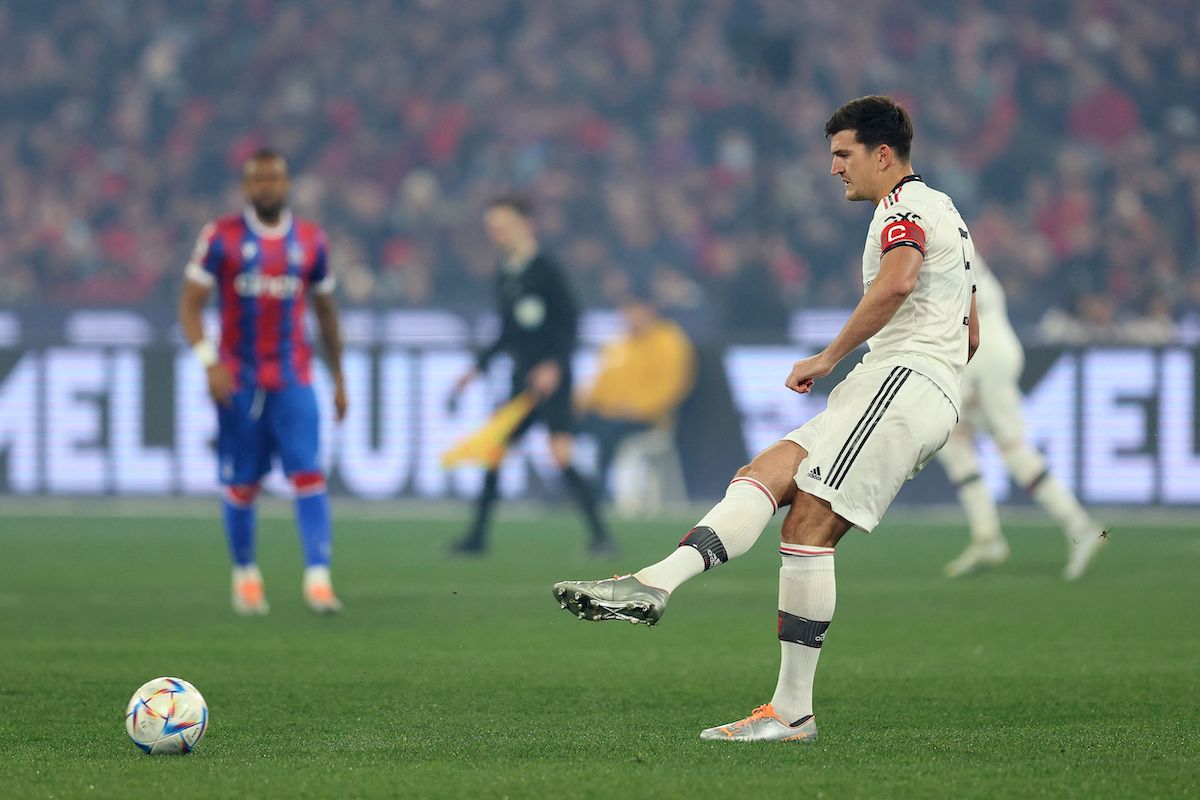 Let's get this one straight.
I don't care if you had a damning opinion about Maguire's performances last season or maybe even beyond that, but the new manager has come out and publicly backed him as his skipper and a first-choice player in his team. The least we can do as fans is get behind Ten Hag's project and it has yet to start!
Sadly, that didn't stop a few in the crowd from booing Maguire in Melbourne before the game started and whenever he touched the ball.
Maguire silenced a few of these attention seekers by putting in a commanding performance at centre-back. He wasn't one bit bothered about the boos because he knows it will be very different when he steps out at Old Trafford against Brighton on the opening day of the season.
To conclude, I thought it was embarrassing when England did it to Maguire earlier this year, but the difference is I don't care about second hand embarrassment. I expect better from United fans.