Paul Scholes is seemingly not impressed about Cristiano Ronaldo's situation at Manchester United.
The former Manchester United midfielder has described it as a circus, and I couldn't agree more – but is the clown Cristiano Ronaldo or Joel Glazer?
Reports suggest that Ronaldo wants to leave United this summer for several reasons, including an enforced 25 per cent pay cut after missing out on Champions League qualification, as per the Manchester Evening News.
Ronaldo is said to have become increasingly frustrated with United's lack of activity in the transfer market, which is interesting because it makes him the second star player in recent memory to have become disillusioned by the way the Glazers run the club.
Remember when Wayne Rooney questioned the club's ambition and pushed for a transfer elsewhere?
However, the 37-year-old is the only United player yet to report back to Carrington for pre-season training and it is not clear whether he will travel on the club's upcoming tour of Thailand and Australia.
Scholes has responded to a story about the uncertainty surrounding Ronaldo's United future by writing: "Let the circus begin."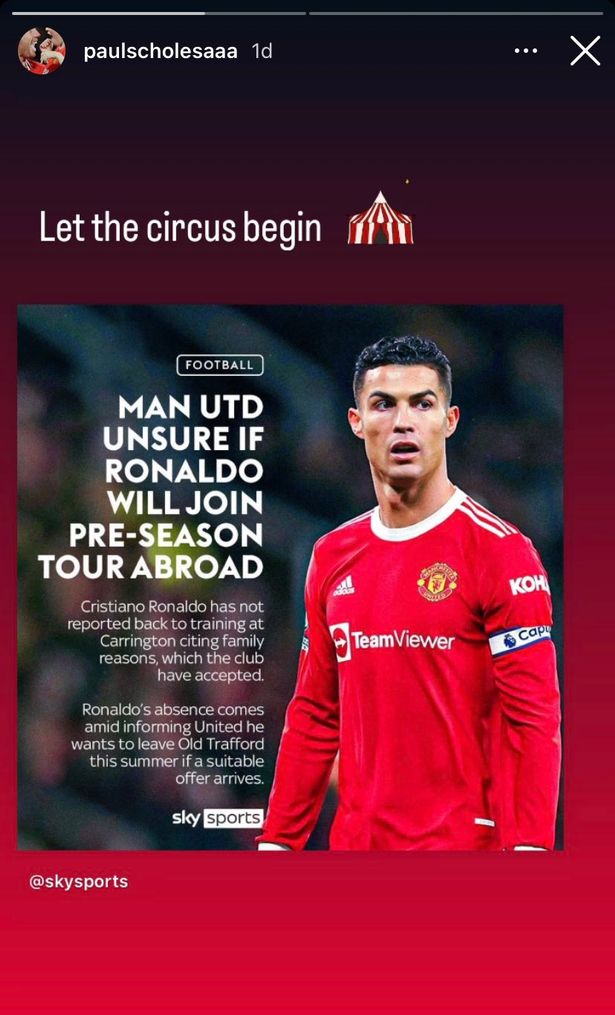 So, even during the good days, we had drama at United – but as time ticks on it shows we have a lot to thank Sir Alex Ferguson for, unless you want to do some digging on how the club ended up in the wrong hands.
I hope Scholes can elaborate and open up on who he thinks the clown of this circus is!
The team doesn't need this negativity ahead of a new season, with Erik ten Hag trying to bring a positive change around the place.