Erik ten Hag was chosen by Manchester United to spearhead their latest rebuild and the midfield has been earmarked as the one area in urgent need of surgery.
And that sentiment has been reflected in the transfer market, with several midfielders strongly linked to the Old Trafford. None more so than Frenkie de Jong, the Barcelona midfielder.
Earlier on Tuesday, there were suggestions that talks are continuing between the two clubs and that the deal is reaching the decisive phase.
Those claims from Spain were followed by the news that United had made an offer to sign Christian Eriksen, who is a free agent after signing a six-month agreement with Brentford in January.
There is an argument to say that United are unlikely to sign both players but one report on Tuesday claims that Ten Hag wants to overhaul United's midfield by signing the pair.
So how could the addition of both players impact Ten Hag's thinking when he tries to find a way to squeeze both players into a line-up? We take a look…
As things stand, the current backline is almost set in stone. Aaron Wan-Bissaka is believed to be transfer-listed by the club and despite his shaky form, captain Harry Maguire will most likely partner Raphael Varane at centre-back. Luke Shaw's stocks remain high despite his disappointing campaign.
In midfield is where the issues start and it will all come down to what system Ten Hag opts for. In the past, he has shown flexibility by switching it up depending on the players at his disposal.
His fearless Ajax side which reached the 2018/19 Champions League semi-final played an attacking 4-3-3 whilst his most recent side formatted in a 4-2-3-1.
Should he choose to replicate the former, the system De Jong was integral to, he could fit both players in as the two attack-minded figures.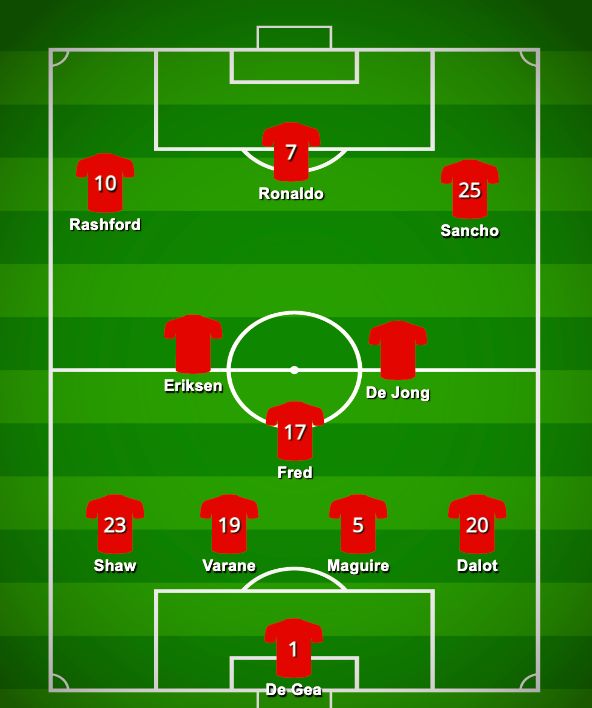 Read more: Man Utd add Inter defender to list of summer targets
That would, however, mean that Bruno Fernandes is left out of the side. The Portuguese midfielder has exceeded all expectations since he made his move from Sporting and he's likely to play a major role under Ten Hag.
But fitting all three players into midfield would be difficult. In the past, De Jong has admitted that he prefers to be the first player to receive the ball from the defenders, hinting that he could play as a defensive midfielder.
If that was the case, all three players could feature together against sides who sit deep – the type of opposition United have struggled against in recent years.
Fernandes' versatility offers another avenue of thinking, however. At times under Solskjaer but most prominently under Rangnick, Fernandes was deployed as a false nine. That is unlikely as long as Ronaldo keeps fit but it's another way of fitting another creative midfielder into the side.
Of course, all of this is hypothetical and United need to get the signings over the line. If last year's window is anything to go by, these two transfer sagas have quite some way to go before there's a resolution.