"The status quo, now standing toe to toe
To strike that crushing blow so weaponised
Just lay the blame – if that's what kills your pain
Casting the brand of Cain – with words now weaponised"
– Michael Romeo – The Perfect Weapon.
A lot of different factors have been responsible for the decline of Manchester United in the last ten years or so. Much has been discussed regarding the signings of some players, the managers that have been chosen, lack of understanding of the game from the board's end and, of course, the input of the ownership in this entire situation. But one issue that is not mentioned enough is the lack of ruthlessness from the club when it comes to cutting ties at the right time and goalkeeper David de Gea is a perfect example of that.
The Spanish keeper has a great PR. The last Sir Alex Ferguson-era player to maintain a regular role at the club, the last player to win a Premier League with United who is still at the club (Phil Jones aside), makes saves that are quite amazing to see and usually says the right things when talking in public or social media, touching the supporters' heart strings. All well and good, but there is a small issue with that: De Gea is not good enough for United and is important that the new manager, Erik Ten Hag, makes a strong and definitive decision regarding the Spaniard's future.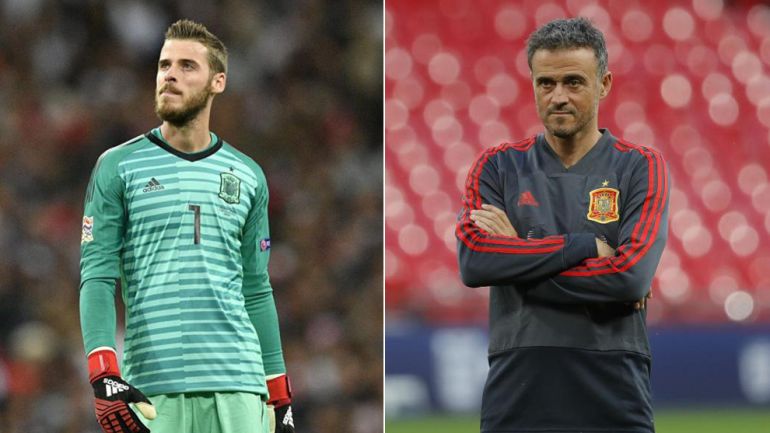 Recently, the coach of Spain's national team, Luis Enrique, has stopped calling De Gea up to his squad and while that has been mostly ignored in their home country (De Gea has never been particularly rated in Spain), it has generated a lot of debates amongst Manchester United supporters. In fact, the Spaniard coach doubled down in his decision recently, stating that he wants a goalkeeper that can have aerial dominance and transmit calmness and peace to his players.
How can Enrique not call De Gea, who is "clearly better" than Brighton's Robert Sanchez, Brentford's David Raya and Athletic Club's Unai Simon, you say? That is the general perception of the mainstream media that are very quick to adore United's goalkeeper and praise everything he does.
It's actually very simple: Enrique (and a lot of De Gea's critics) is looking beyond just the Hollywood saves–they are looking at the whole package that involves being a goalkeeper. And David doesn't look good when analysed that way.
While making saves is a requirement to be a good goalkeeper, it is only a part of the job. Much like being good at headers is something that a traditional striker needs to be good at, there are other elements and skills that are required to be elite in the role and to benefit the team in many different moments of the game. This is where David starts to falter.
He is naturally gifted with his reflexes and that has allowed him to reach professional levels and even make it to Manchester United, but he has not really developed beyond that. The common conception is that De Gea struggled during his first season at Old Trafford and then became much better and complete, but one only has to look at the video evidence and see that so many of the issues that were afflicting him as a young keeper are still present in 2022.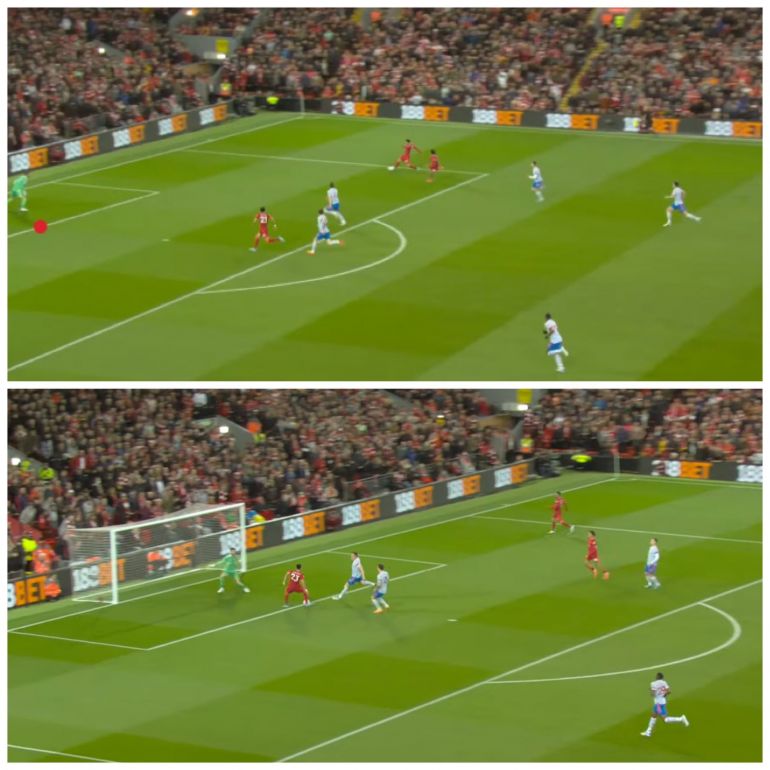 The first goal that Colombian starlet Luis Diaz scored against United in the 4-0 defeat back on April of this year is a great example of what I'm saying: one of the biggest flaws of De Gea's game is his incapacity to get off his line and close down the opposition's forwards, which gives them enough time to take a shot. This led to Liverpool scoring in the early moments of the game and United never even had a chance to settle.
A lot of the Spaniard's defenders tend to gaslight with the argument that his critics want David to dribble past the opposition like he was prime Ronaldinho, which is clearly not true and is used as a way to avoid an honest conversation about De Gea's virtues and flaws. Situations like the Diaz goal is an example of goalkeeping fundamentals that he doesn't have and the same can be said about the multiple times over the years he hasn't covered his own post, doesn't make himself big when he does try to close the opposition, his fragility in set pieces and the lack of command that he has in his own box.
Plus, you can be a modern goalkeeper and still be good at making saves. It shouldn't have to be one or the other.
When Real Madrid beat Liverpool in the Champions League final a few weeks ago, their goalkeeper, former Chelsea man Thibaut Courtois, got a lot of praises for his heroics in the game and a lot of United supporters used this performance as an example that "you don't need to be a modern goalkeeper in order to be good at football in 2022". And Courtois himself put an end to the unnecessary De Gea comparisons when engaging in a conversation with The United Stand's Mark Goldbridge on Twitter.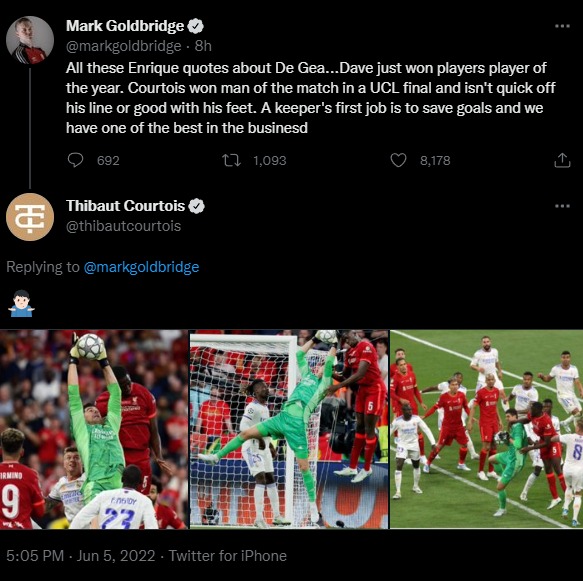 The Belgian keeper didn't even need to elaborate: a couple of pictures of him claiming crosses in the Champions League final is a prime example of something that De Gea doesn't do and that has cost the team time and time again. And this is not "modern goalkeeping stuff", but rather simple fundamentals.
But there is a reluctance from United supporters to let go of De Gea, which is another reason why the club hasn't been able to move on: the lack of ruthlessness.
Much has been said about how Real Madrid got rid of Raphael Varane and Sergio Ramos, their centre-back partnership that had been so successful for them, without much fanfare or appreciation, with people claiming they were being unfair to the Frenchman and their now-former captain. A year later, Madrid have won La Liga and the Champions League, Varane has struggled massively at United and Ramos has been riddled with injuries at Paris Saint Germain.
They were not emotional or sentimental; they saw that Varane and Ramos were not going to keep delivering the goods and cut ties. Perhaps they deserved much better goodbyes, but from a football perspective, they made the right call. If Erik Ten Hag wants to be successful at United, he needs to do likewise with De Gea.
"But hold on, Kevin! Victor Lindelof and Harry Maguire are two awful center-backs. De Gea can't perform well if he has these two in front of him."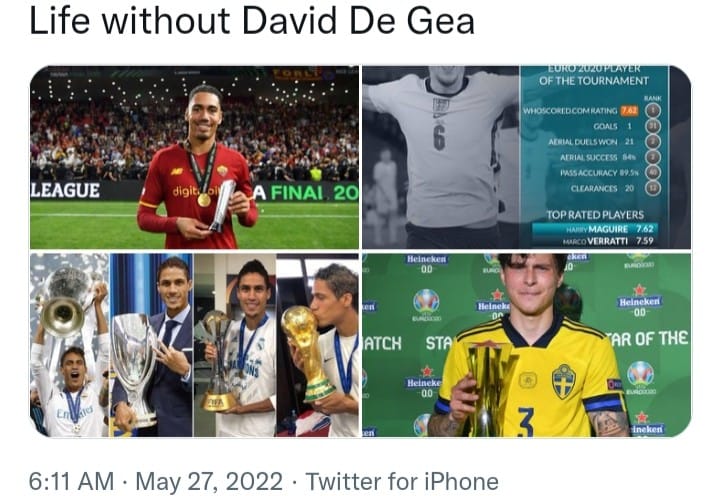 Which centre-back has been good with David de Gea during his professional career? Even Rio Ferdinand and Nemanja Vidic were struggling with David at the back, receiving 43 goals in 38 goals (the most out of the four top teams in the league at the time) during their 2012/13 title-winning season–the argument that most De Gea supporters to claim he is a "legend" at the club. That is hardly impressive.
Every centre-back that has arrived at United has been scapegoated and blamed for all the defensive issues, only for them to thrive in other clubs and/or with their national teams. They have been held accountable while De Gea's shortcomings are ignored.
Jonny Evans, much maligned in his final years at Old Trafford, had a career resurgence at West Brom and Leicester City.
Chris Smalling, ridiculed during most of his tenure at United, has found stability at AS Roma and had a Man of the Match performance in the recent UEFA Conference League final with the Italian side.
Harry Maguire, the most abused United player during this infamous season, has thrived with every goalkeeper he has played with (including his time with Dean Henderson last season), except De Gea.
Much of the same can be said about Victor Lindelof, who looked like a different player with Henderson last season and has been quite good for Sweden every time he has played for his national team.
I'm not saying these centre-backs are perfect, but they have proven they can be good and compete at a high level, but they all have struggled with De Gea. Even Gerard Pique and Ramos himself, two of the best centre-backs of the last twelve years, struggled with David in the national team and there were even rumours that they didn't feel comfortable playing with him.
For all the criticism that Enrique has gotten from a section of United fans for not picking De Gea, Spain has made it to the 2020 Euro's semifinals and 2021 UEFA Nations' League's final since he got dropped. When Dave was the starting goalkeeper, they didn't make it past the Round of 16 in the 2016 Euros and the 2018 World Cup in Russia, with De Gea performing in very poor fashion.
Interestingly enough, the Round of 16 is the average of Manchester United in the Champions League since De Gea arrived. Interesting, indeed.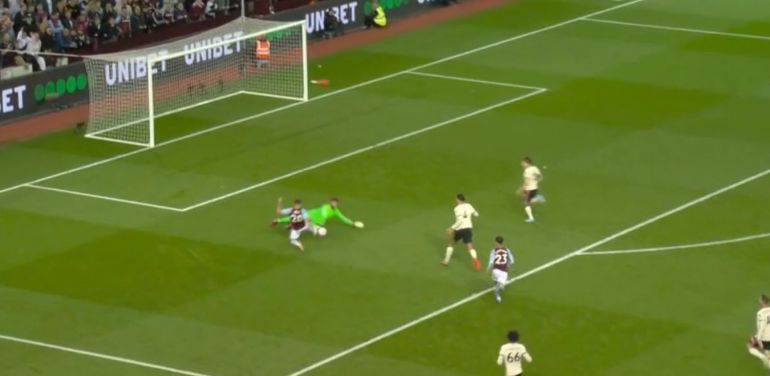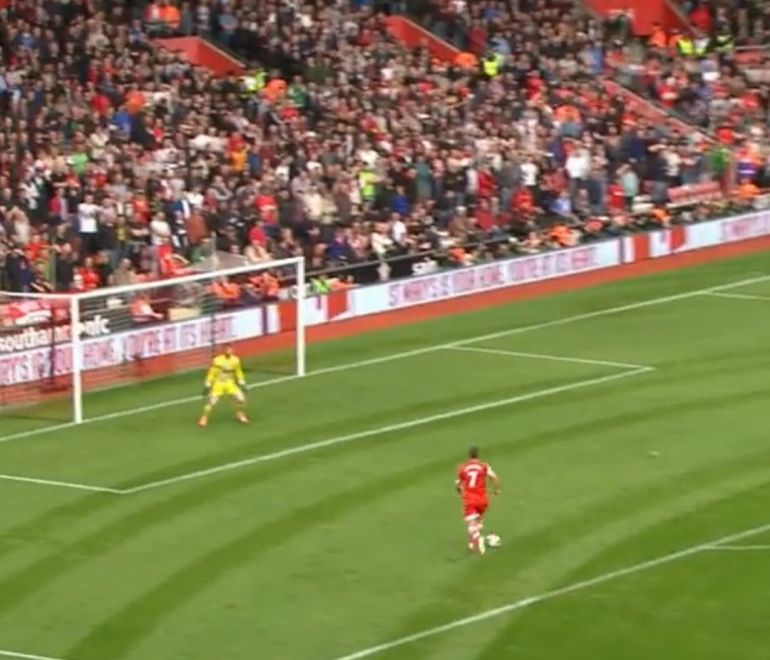 These two images are one of the many reasons why centre-backs struggle with De Gea. The first image is Liverpool's goalkeeper, Alisson Becker, closing down an Aston Villa player when the later was about to have an one-on-one chance, thus preventing the shot before it happens. Meanwhile, we have De Gea in 2014, in a very similar situation against Southampton's striker at the time, Ricky Lambert, and the Spaniard sticks in his line, hoping to save the shot instead of preventing it. Lambert scored.
The centre-backs? Rio Ferdinand and Nemanja Vidic. You can't play with a high line and be more attacking-minded when you know that your goalkeeper is not going to come off his line.
Some people might argue that using that particular goal is nitpicking because it goes back to 2014, but you can pick any of De Gea's seasons to realize that he has major problems with his goalkeeping fundamentals, let alone when having the ball at his feet. He might be blessed with some great reflexes, but there is more to the game than just that and he is now too old and set in his ways to learn, which is why that Louis van Gaal's goalkeepers coach, Frans Hoek, said that De Gea doesn't want to change his playing style.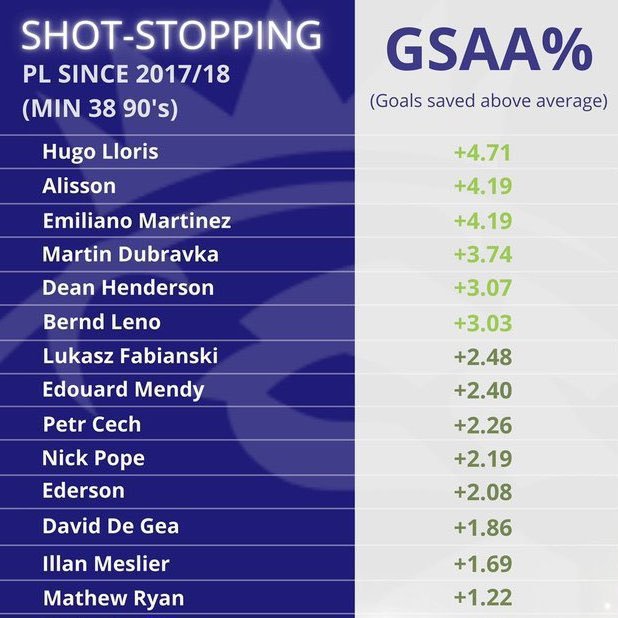 Even when considering the data, De Gea is not the finest of shot-stoppers, which is supposed to be his biggest virtue and saving grace. As you can see in the previous image, he ranks quite average in terms of shot-stopping and even Dean Henderson, who has been viewed as inferior to the Spaniard when it comes to this area, surpasses him.
Let's not even talk about his distribution. The numbers say it all:
So, you have a goalkeeper that doesn't have good fundamentals, doesn't have the technical traits for an Erik ten Hag side (or any modern football team), is not brave, is not physically imposing, is the highest-paid goalkeeper in the history of the game, has cost the team time and time again over the years and also has a bad habit of blaming his teammates when he makes a mistake, which suggests a selfish and immature mentality. Can anybody tell me why are we still holding discussions about De Gea being a sure starter next season? Where is the meritocracy? Or are we just holding to nostalgia, sentimentalism and the popular "we'd be in a relegation battle without De Gea this season" fallacy that is easily disproven with facts and data?
If Ten Hag decides to stick with De Gea and supports the club's decision of giving him a new contract, he is going to regret that decision in the coming years. Every other player in this squad has been held accountable over the years and they have gotten their fair share of the blame and/or gotten sold, but De Gea, whether it's because of club politics, him earning too much money to be sold or any other reason, seems to escape valid criticism and is overly protected by the media.
The Dutchman needs to separate himself from what his predecessors and there is no better way to do that than by cutting ties with De Gea. It is time to leave nostalgia aside and be ruthless when it matters.