A weekend without having to sit through a Manchester United game was welcome relief for long suffering supporters. Our most recent outing ended with humiliation against Brighton at the Amex, with away supporters chanting 'you're not fit to wear the shirt' as the game petered to a close. It's a taunt that is rarely used these days. Certainly not one that I've heard sung at United for the 30 years I've followed them.
I'd assume that as a footballer it would, (or at least should), cut you to the bone – your supporters effectively telling you that they no longer have faith in you to represent the club you are being paid very handsomely to play for. Aside from Fred, De Gea & Ronaldo, no player at the United can argue that this season.
The numbers are absolutely damning:
United are guaranteed to finish with their lowest points total and the most goals conceded of any season in their Premier League history.
United currently sit in sixth place, the final Europa League spot. West Ham, (with a superior goal difference), could finish ahead of United and consign them to the ignominy of Europa Conference League football next season.
Brighton scored a quarter of all the goals their home goals at the Amex against United last Saturday. Prior to that they'd only scored 12 goals all season.
United have conceded 4 goals on 6 occasions this season
There is still one league game to play, but if this isn't rock bottom then it certainly feels close to it. Or at least we hope. United for so long have felt like an experiment going wrong. Like someone is consciously trying to test the limits of how low a historically successful and seemingly impervious football institution can fall. Like many United supporters, I've been watching with morbid curiosity as we've lurched from one catastrophe to the next, praying that the tipping point will soon been reached. Only to then see us plummet to even greater depths the following week, month, year, season etc. Yes, things have been bad for a very long time.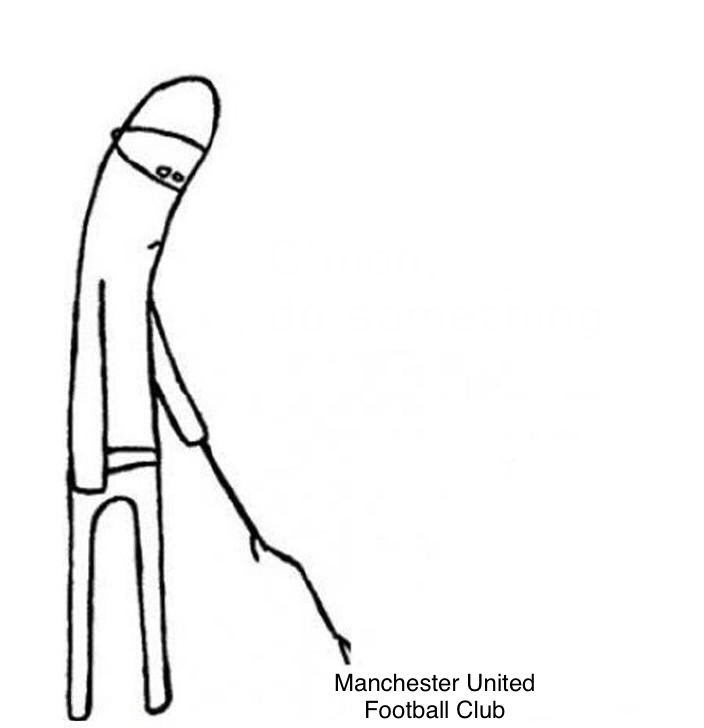 In the here and now fingers are again being pointed and scapegoats are being made. Ralf Rangnick is taking a fair amount of the flack of course. The hope was that a progressive/astute tactical mind such as Rangnick's would coax enough out of the current squad to land a champions league spot.
Whether the failure to achieve that has been a result of Rangnick being a poor coach, the players being unfit for purpose, or any combination of the two really doesn't matter. As the word interim suggests, Rangnick was always a stop gap, who's main role was to carry out diagnostics on the squad prior to a long term engagement. Managerially he had no levers to pull, and it became clear very quickly that his football-hipster inspired reputation would not be enough to get a tune out of this current crop of players.
The question is would any manager be able to with this lot? For all the criticism of his abilities as a coach, Rangnick has very quickly sussed out the players as well as the many systemic issues within the club. And boy has he been vocal about it! His press conferences have been box office viewing, and to be fair, nothing that has been said is untrue. Whether it makes any difference in the coming months we will have to wait and see.
And what of Eric ten Hag. Penny for his thoughts. No doubt he will have been watching closely as United players have downed-tools in the last month. Some have suggested that it's normal for players to have switched off within such a dysfunctional environment. Call me old fashioned but uncertainty surrounding the clubs managerial situation, and even regarding their own futures at the club shouldn't prevent a player from giving 100% on the pitch whilst still in its employ.
In effect it shows a total lack of respect for the manager, the fans, and the shirt. Which is why it's important that there are no more reprieves for the majority of these players. Both in terms of aptitude & attitude a significant proportion of them have failed. The squad needs overhauling and the current doomsday scenario should provide enough of a shock to the glazers system to ensure they pay attention. Several big name players coming to the end of their contracts should help significantly. Taking Pogba, Matic, Mata, Lingard, Jones, and Cavani off the books would free up approx. £850k a week in wages. A cull of the deadwood within the squad would increase the summer budget even further. Stripping it back to its bare bones and possibly even going into the season slightly light on numbers would be preferable to starting the 22/23 season with the same group of misfits.
Whatever Ten Hag has in mind he needs to act decisively. Reports this weekend suggest that he has ended his Ajax contract six weeks early so he can make a head start on his new role. If I were Manchester United I'd make sure his contract is water tight before he has to sit through the Palace game with the rest of us!