An error on someone's part in the social media team at Manchester United.
Mistakes happen but it's poor when those behind the account can't notice that some material just doesn't look good. The timing is also very important.
After a shocking defeat against Brighton at the weekend, United fans were already angry at their side's performance, so the club thought it would be a good idea to tweet about Erik ten Hag as Ajax edged closer to a third Eredivisie title under the Dutchman.
The tweet read "Erik ten Hag's side maintained their advantage in a dramatic afternoon in the race for the Eredivisie title," as seen in the screenshot below. It was accurately described as "tone deaf" by one fan (via Daily Mirror).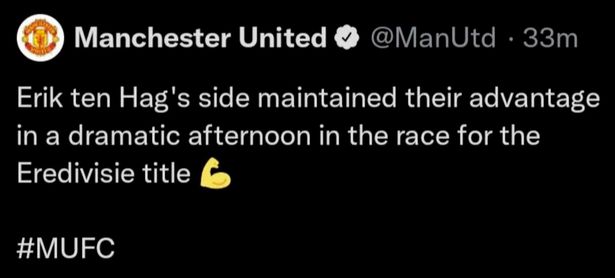 Unfortunately, some of the people who run these accounts (not just Manchester United) for football clubs don't really know how fans will react to certain tweets.
That is why it's important that United hire the right people to run their social channels.
I mean, as much as I admire Ten Hag's work at Ajax, I couldn't care less about it when my side has just been embarrassed by Brighton.