Cristiano Ronaldo has rubbished claims he said the words 'I'm not finished' during the lap of appreciation at Old Trafford after Manchester United's 3-0 win over Brentford on Monday night.
Many fans got giddy at the thought they heard the Portuguese superstar say those words in an apparent hint about his future, amid reports that he could return to Real Madrid in the summer, as per The Mirror.
Ronaldo might want to leave because United have failed to qualify for the Champions League, or he could be shown the door because Erik ten Hag decides to ship him out.
Former United captain Roy Keane covered the game for Sky Sports and said he didn't feel Ronaldo was ready to say goodbye to Old Trafford for a second time.
Ronaldo has since refuted claims that he muttered 'I'm not finished' (see clip here) to a camera post-match by posting a comment on a fan page via Instagram.
"I didn't say that," Ronaldo replied.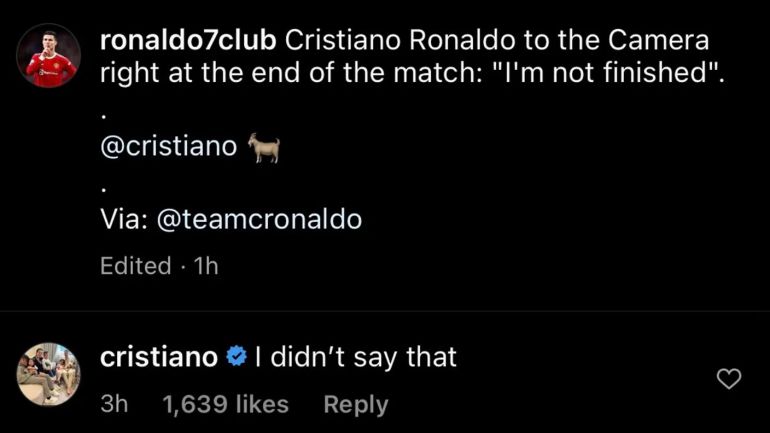 This means we'll have lots of Ronaldo speculation over the coming weeks.
Should I at least try to sound excited?
Let us know in the comments section below if you would be disappointed if Ronaldo left United this summer?