"Roll the dice for paradise."
– Animal Drive – Goddamn Marathon.
If you have been following Manchester United's Women Team, then you know how amazing Ona Batlle has been for the Red Devils this season. And if you haven't, well, Ona Batlle has been amazing for the Red Devils this season.
The Spanish full-back arrived from a team of her native country, Levante, in 2019 and she has quickly become a fan favourite due to her technique, versatility to play both on the left and the right and overall being a very complete fullback that makes Marc Skinner's team better in every aspect of the game.
To put it simply, Batlle is the total package and at this point in time she could be viewed as the best fullback in the Women's Super League.
So, it is not surprising that stronger teams have come calling to United's door to get the services of the Spaniard sensation. And it's not only Chelsea that have shown an interest in recent weeks but also the current European champions, FC Barcelona, according to the always reliable journalist Emma Sanders.
🚨 FC Barcelona have shown strong interest in Ona Batlle.

—Via @em_sandy pic.twitter.com/YGGhcuftWD

— Barça Femení (@BarcaFem) April 5, 2022
Barcelona are currently the favourites to sign her and beyond their absolute domination both locally and internationally, there are other factors that put them in the pole position to get Batlle: she played in their youth system and was born in Catalonia, so there is an obvious connection there and Ona, now a massively capable player after years of playing at senior level, could provide even more quality to what is basically a super team at the moment and return to her country.
But, of course, we're United supporters, so we want what's best for the club. The question is: What should Man United do with Ona Batlle?
There were reports that her contract was ending by the end of this season, but manager Marc Skinner (as per 90Min) has all but confirmed that the club has a one year extension that they can activate, so, if it comes to that, Batlle is not leaving for free this summer and she can leave a healthy profit as she was the player whose market value increased the most this season in the Women's Super League, according to reports.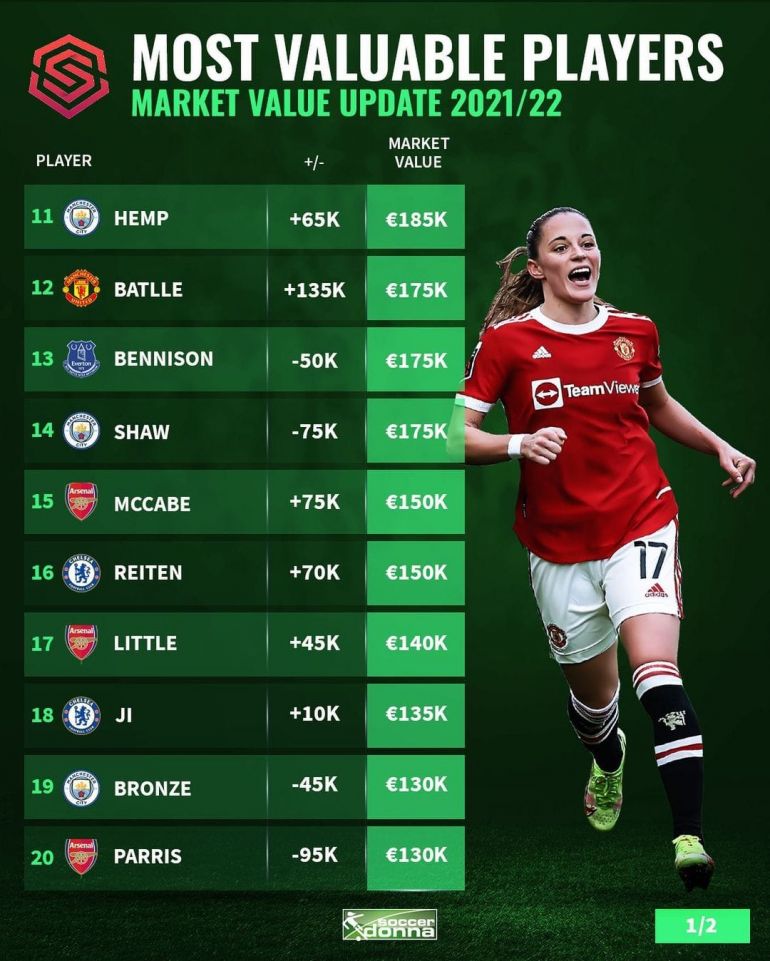 While a sale might prove financially profitable for United, you are not going to find a better full-back than Batlle in the current market and the club has been on a somewhat upward trajectory since its foundation in 2018, so selling one of your best players and one with so much room for improvement (she's only 22 years old) would prove to be a step back.
There is an underlying fear among supporters that keeping her another year could lead to her leaving on a free, but the reality is that the best teams can and should retain their best players and adding more quality. And if United want to challenge the likes of Manchester City, Arsenal and Chelsea for the highest honours, then selling your best talents is a very counterproductive policy.
Batlle wants to play in the Champions League and while United have chances to qualify this season, that is always going to be a given for her at Barcelona. This is why qualifying to the top clubs competition needs to become norm and manager Marc Skinner has already made it clear what his targets in the market are and he said they are a centre-back, a central midfielder, a number ten, a wide forward and a striker, so, as you can see, there isn't any sign of a new fullback, which seems to indicate that the Spaniard is staying put, at least for the moment.
This is probably the first big for both Skinner and the women's team in the transfer market: Can they keep their best talents? Can they offer them the platform to succeed and challenge at the highest level? They did manage to secure Ella Toone, probably the club's most talented player, for the next four years with a new contract back in December, but the same approach needs to be done with the likes of Alessia Russo, Millie Turner, Jackie Groenen and, of course, Batlle herself.
So, my personal suggestion is to keep Batlle for next season and make sure that the club makes a positive investment transfer window, making sure that Skinner and the squad get additions that can only the team challenge from beginning to end. The recent two seasons have shown that squad depth has been troublesome when injuries have hit the squad and this has taken its toll with the result, so it makes sense that Skinner wants to fix that in the next transfer window.
Batlle's future could be a very interesting sign of where United are heading in the coming years when it comes to handling their best players and it is important that they handle this situation in the best possible manner.