Earlier this week, Wayne Rooney made an appearance on Monday Night Football, partly to cover Crystal Palace's 3-0 win over Arsenal.
Sky Sports also took the opportunity to speak to the Derby County manager about his time at Manchester United as well as other issues relating to the club, such as the managerial situation and the race for top four.
Rooney was also critical of the club's decision to bring his former team-mate Cristiano Ronaldo back last summer in a shock transfer, preventing our rivals Man City from signing the five-time Ballon d'Or winner, as per Goal.
When asked if re-signing Ronaldo has worked out for the Red Devils, Rooney told Sky Sports:
"You'd have to say no at the minute. "I think he's scored goals, he's scored important goals in the Champions League early on in the season, he scored the hat-trick against Tottenham, but I think if you're looking to the future of the club, you have to go with younger, hungry players to do the best and lift Manchester United over these next two or three years.
"Obviously Cristiano is getting on a bit, he certainly isn't the player he was when he was in his 20s, and that happens, that's football.
"He's a goal threat but the rest of the game they need more, they need young hungry players."
🗣 "He's a goal threat but the rest of the game they need more, they need young hungry players."

Wayne Rooney doesn't feel that signing Cristiano Ronaldo has worked out for Manchester United pic.twitter.com/fElNwiYEh1

— Football Daily (@footballdaily) April 4, 2022
Footage courtesy of Sky Sports Main Event (H/t Football Daily)
Despite scoring 18 goals for a side that has struggled this season, the 37-year-old has been subject to criticism since his homecoming. Some have painted him the problem which I've always said was harsh considering the pre-existing problems in the squad.
Ronaldo has reacted to Rooney's statement on the latter's Instagram post about appearing on MNF, using just two words: "Two jealous".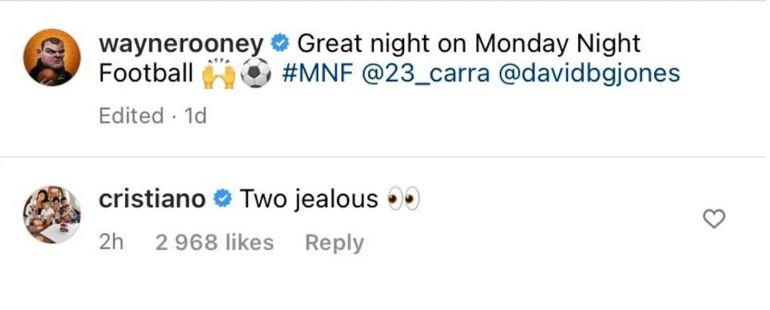 Maybe Ronaldo is suggesting that the two players in the studio that night are 'jealous' of his career, which I don't think Jamie Carragher will disagree with, though it's important to remember that Rooney won everything at United.
On top of that, Rooney holds the record for United's all-time top goalscorer.