"The one who steals is the one who hides his face."
– Dino Jelusick – Bad to the Bone.
You don't even have to be a Manchester United supporter or have to keep up with their daily news to know that defender and captain Harry Maguire has been on the eye of the storm for quite some time.
The former Leicester City man, much like the rest of the United squad, has been having a torrid season in terms of results and performances and he has been singled out more than any other player in the process to the point that you can't scroll in football pages in social media without a dig, a meme or any other type of post aimed at mocking Maguire.
This article is not meant to discuss Harry's virtues and flaws as a player or whether he is good enough for Manchester United or not because the focus is not on that but rather on the constant scapegoating and abuse culture that has been developed in the fanbase for quite some time now and it has gone even beyond the United supporters themselves.
Whether it's because of the price tag, wearing the captain armband, his performances or all of the above, Maguire has become the centre of criticism and to some degree it is valid because his performances this season haven't been good, so it is natural that he is going to get comments about not performing to the necessary standard. But it is a lot more than that: it is downright abuse and it has gotten to the point of reaching levels of toxicity that, sadly enough, have become par for the course with United.
Simply put, what is going on with Maguire has long transcended valid football criticism and it has become a borderline witch hunt. Scroll down to your favourite social media platforms and look for football content and you are bound to find a Harry Maguire dig somewhere in there. Anything that the United captain does is singled out and recently a gentleman on LinkedIn made a post about how Paddy Power, a well established bookmaker, puts out Maguire content on an average of weekly basis to mock him.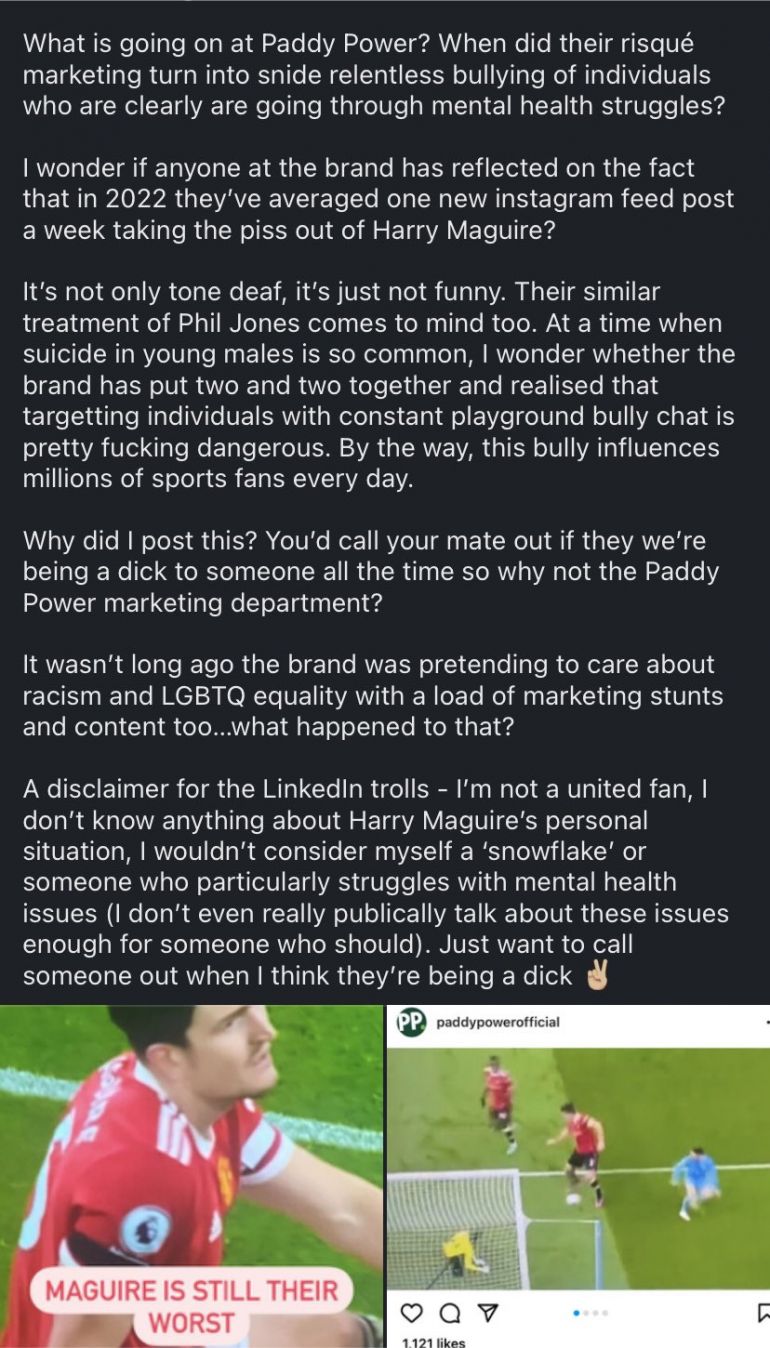 You can think that Maguire is an awful player all you want, but this isn't normal. And it is a pattern that you can see in a lot of similar pages, YouTube channels, football influencers and stuff of a similar ilk–it has reached to the point of always being a post after every United game mocking Maguire, regardless of whether it has cost his team a result or not, always aiming to point him out as the main culprit.
Now, the argument would be that he has been poor for United this season, but who hasn't been? Paul Pogba has been even more inconsistent than usual, Bruno Fernandes' numbers have been good but overall he has been worse than in previous seasons, Luke Shaw went through a massive decline compared to last year, Cristiano Ronaldo has four goals in 2022 (three in one game, mind you), David De Gea has been excellent on saves but awful on everything else involving a keeper, the other three full-backs have been as bad as Shaw… and the list goes on. I could make dozens of articles pointing out how bad every single United player has been this season.
But yet Maguire gets constant abuse that has transcended football and has become practically personal. In a day and age where we are having constant discussions about mental health, about how players are also people and need to be treated as such, we see people, United supporters or not, taking shots at a defender simply because he is not performing. All for the altar of likes on Instagram, Twitter and what have you.
The common argument, and this was something that was also mentioned during the incident of the video of Marcus Rashford and some United supporters after the Atletico game at Old Trafford, is that he makes a lot of money and therefore he should take the abuse. No, he shouldn't. Same as you shouldn't be taking abuse at your job even if you are paid handsomely. Money doesn't make personal insults any more valid and it doesn't make constant internet abuse all the more logical.
It also speaks about the new fan culture in football. I might be old school, but there are times when a player needs support when going through a tough spell and even if you don't like him, you don't go to the ground and cheer when he is taking off, like it happened against Atletico this week. A friend of mine was in the stadium and he told me that a guy was constantly booing Maguire when he had the ball and then the same guy was complaining about how the former Sheffield United defender looked nervous.
I don't care who you are, but if you know that every little thing you do is going to be put out all over the internet and be the subject of mockery, you are also going to feel nervous and doubt yourself when performing. A good example of this was when Maguire scored an own goal against Tottenham (unfortunate, considering he had a solid performance aside from that) and Romero, the Spurs center-back, mocked him and United supporters were actually engaging in the trolling, taking shots at Harry as well.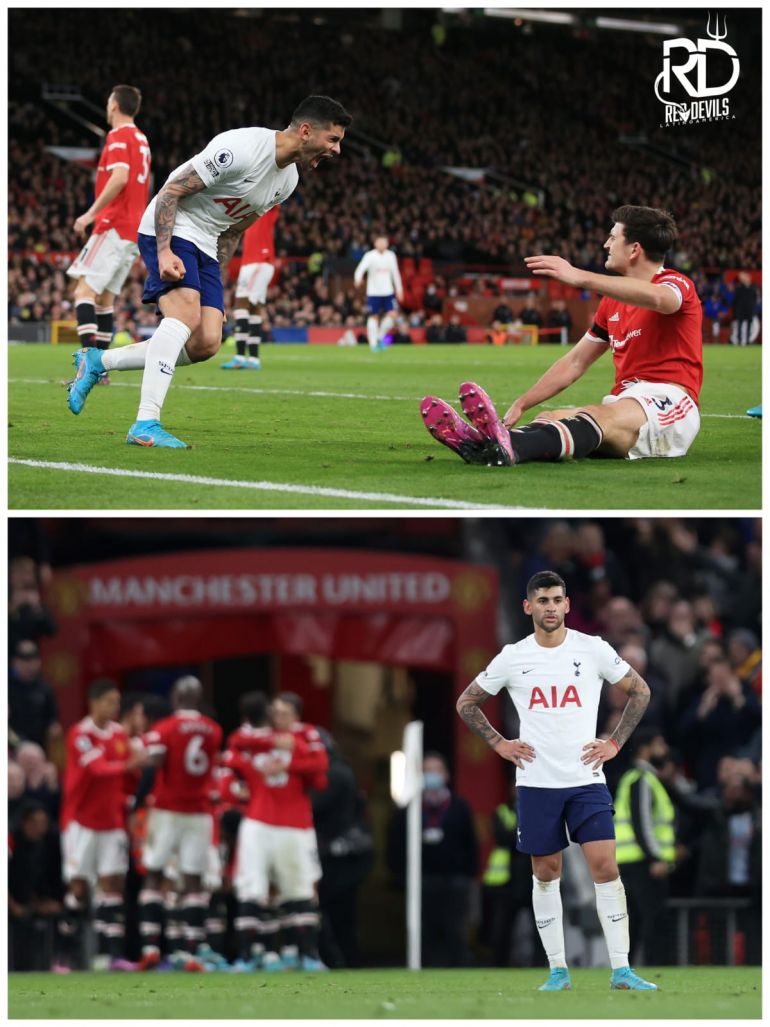 I'm going to be honest and admit that there are players that I like and dislike from this United squad, but if a player from another team does what Romero did to Maguire, I'm going to back the player from MY team. If that's old fashioned, I honestly don't care. But when it comes to Maguire, it has become personal for a long time.
The Champions League exit against Atletico this week was typical post-Ferguson era United: lack of consistency, mental weakness, not knowing how to break down a lock block, lack of experience and overall being outmatched. And yet, if you didn't watch the game, you would think that Maguire single-handedly gave Atletico the victory with his performance because of a screenshot that was taken massively out of context.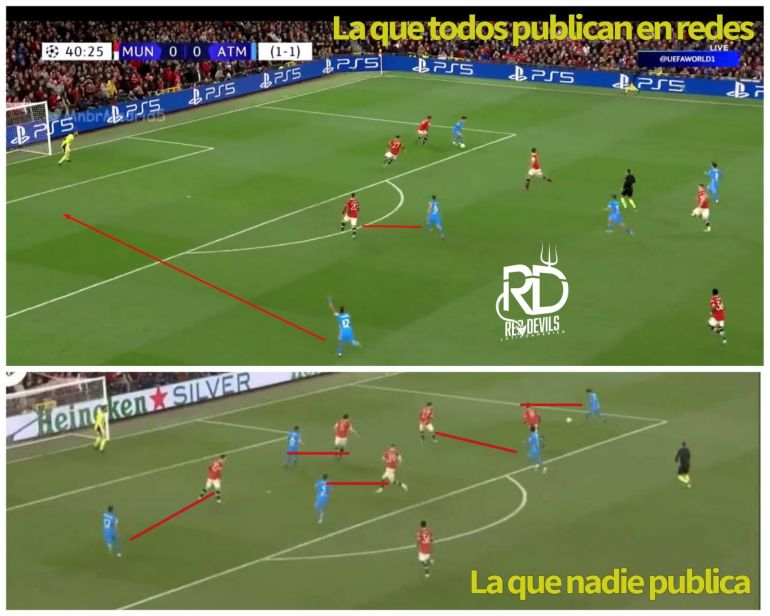 All of the sudden, the Champions League exit was Maguire's fault even though United as a team was massively disappointing after Renan Lodi's goal, including Ralf Rangnick's tactics and in-game management. But when it comes to this club, scapegoating has been become part of the norm.
Maguire might be the most notorious and extreme example of this, but there are a lot more. Merely last season, Anthony Martial was having a very poor season and he was getting a similar treatment, although not to the extent of Maguire, with a lot of fans blaming him for the club's misfortunes.
Romelu Lukaku was similarly ridiculed for being out of shape in his second season and got a lot of unfair criticism, to the point that he was sold to Inter Milan in 2019 when viewed as a walking meme in English football and then these pages and influences, in a clear example of their hypocrisy, treated the Belgian striker as a walking God because of his performances in Serie A, only to be ridiculed once again during his return to Chelsea this season due to his underperformance.
Even former United manager Ole Gunnar Solskjaer was a victim of this, with a lot of people constantly undermining anything good he ever did while coaching the team and being criticised for smiling after a defeat or not yelling in the touchline while also being constantly singled out as the sole responsible of everything that was wrong with United.
A few years down the line, and now without Lukaku, Martial and Solskjær, United are still struggling after these individuals got all the blame and the same is going to happen with Harry Maguire.
He may be a problem for the club and there is a good argument that the best thing for all parties is for Maguire to leave for another team, but United's issues are much deeper than a player or a manager. Giving someone else the armband and thinking that is going to fix the team's performances is the same illogical way of thinking that led people to believe that Ronaldo could single-handedly beat Atletico because it was the Champions League and he had Diego Simeone in front of him–football doesn't work like that.
No player, no matter how poor he is performing, deserves to be constantly ridiculed simply because he is not playing football well. Especially a player that didn't ask to be worth the money United had to pay for him and who has been respectful to the club and the fans since the moment he got here–at least he deserves a degree of common decency and yet he is treated like he spat on Sir Bobby Charlton's face three weeks in a row.
Football players are also human and we are not aware of how much all this trolling, all these tweets and all these posts can affect an individual's morale and mental state. Maguire may be dealing with that very well (I don't have any evidence of how he is coping with his situation), but there are certain lines that shouldn't be crossed, such as telling the player's mom on Twitter that she should have taken an abortion (yes, this actually happened with Maguire's mother on that platform a few months ago).
Social media, YouTube channels and a lot of similar stuff have normalised abuse and this goes beyond football–we don't have any qualms in abusing someone because they didn't perform or simply because we don't like them and that's a dangerous mindset. Harry Maguire might be the biggest example of that in football and he doesn't deserve all the negative spotlight he is getting because he has underperformed in a football club where everybody is underperforming.
There are certain lines you shouldn't cross and this is one of them.