John Terry has responded to Wayne Rooney's claims that he wore longer studs in order to hurt someone, with the Chelsea legend falling victim to a reckless challenge.
Rooney and Terry clashed during a Premier League fixture 16-years ago before the former England defender received treatment including stitches.
Manchester United's all-time record scorer would go on to reveal at a later date that he wore different studs during the 2006 match to hurt someone, although Terry has played down the incident.
In a recent interview with the Mail on Sunday, Rooney said: "I changed my studs before the game.
"I put longer studs in because I wanted to hurt someone.
"If Chelsea won a point, they won the league. At that time, I couldn't take it.
"The studs were legal. They were a legal size. But they were bigger than what I would normally wear."
The Football Association warned Rooney for his comments.
Speaking to his followers on Instagram, Terry has been asked whether he cared about what Rooney said. He replied: "Of course not. We know each other well and had many battles over the years."
"Two stitches at half time, there was no way I wasn't coming out for the second half to win the league beating Manchester United 3-0."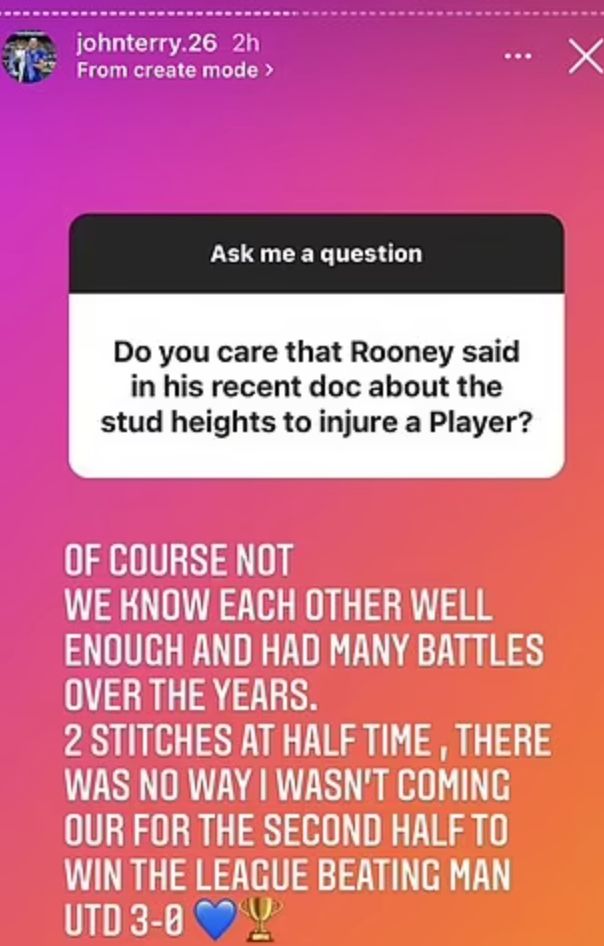 An overreaction came with Rooney's recent interview, which he clearly did to help promote his new movie 'Rooney', and it led to a FA investigation over a tackle that was made almost 20-years ago.
Discussing his warning from the FA, Rooney said (via The Mirror): "I came out and spoke my mind that was what I was feeling at that period of time in my life.
"It was a feeling rather than something I was acting upon. You can see me and John have gone for a tackle and that was it. I am happy it is over and done with.
"I gave my response to the FA. They have given me a warning, that is it, the matter is put to bed. We move on from that.
"The comments got reported by someone and the FA had to look at it. I got a warning and that is it. It is done."
We would like to wish Rooney all the best as he fights to keep Derby County afloat in the Championship.