So the series of our Manchester United teams through the ages continues, which is quite a short post in comparison to other updates.
After their best season in years, Newton Heath finished in 2nd place in the 2nd Division and in the play-offs with Burnley and Sunderland, who had finished at the bottom of Division 1, and Notts County, who had won the 2nd Division Championship. After beating Burnley 2-0 at home they lost by the same score in the return match and then faced Sunderland at Bank Street.
The Sunderland team had been having much success prior to the season having taken the Division 1 Championships in 92, 93 and 95, but they had fallen on hard times that year (although that was not to last very long).
More than 18,000 fans turned out for the game which finished in a 1-1 draw and sent the Heathens to Roker Park and Notts County only needing a draw to secure a 1st Division place, alas this was not to happen as they lost both games and had to settle for another season in Division 2.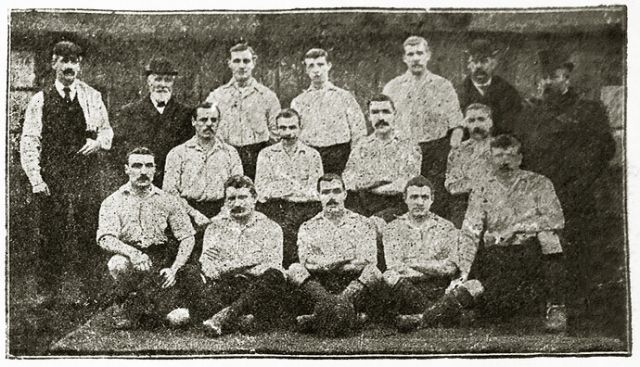 Newton Heath 1896-1897 team (not a great photograph, but you can make the players out)
Team: Walter Cartwright, Jimmy Collinson, Fred Erentz, James Peters, George Perrins, John Whitney, John Clarkin, William Kennedy, Bob Donaldson, James Vance, Dick Smith
Secretary : A. H. Albut
Stadium : Bank Street
Second Division : 2nd
FA Cup : Third Round
Top goalscorer League : Joe Cassidy (17)
All: Joe Cassidy (25)
Highest home attendance: 18,000 vs Manchester City (25 December 1896)
Lowest home attendance : 3,000 vs Burton Swifts (9 January 1897),3,000 vs Darwen (2 March 1897),3,000 vs Woolwich Arsenal (22 March 1897)
Average home attendance : 6,636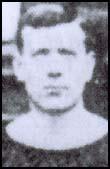 Joe Cassidy again top scorer 2nd season running
The workers of the Lancashire and Yorkshire Railway formed the Newton Heath Lancashire and Yorkshire Railway Football Club in 1878. This is a 55 page booklet only issued by the Lancashire and Yorkshire to workers for the period 20th-27th March 1897 and contained all time tables and excursions that certain members of the Railway needed to know. A very scarce item from the Victorian period from the founders of the worlds greatest football club as it is known today.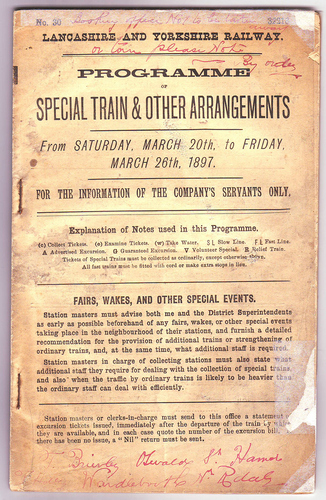 Rare document with signatures by the Lancashire and Yorkshire workers 1897
The early Newton Heath players were working class, but they had enough leisure time to play games on a Saturday afternoon and were prosperous to the extent that they did not have to spend every waking hour earning money to live. It is a well known fact that the men who formed Newton Heath would have mostly been from a comparatively affluent section of the working class as, unlike many others, they where skilled and had regular work.
It was a time when working class people were starting to enjoy what we would understand to be "leisure time". At the time the weekend began on a Saturday dinnertime, so Saturday afternoon was the only time they had the opportunity to follow pursuits that they enjoyed. Sunday was meant for church and little else. This is why you find football clubs and other sporting bodies sprouting up all over the country at this time. Quite simply, working people in the towns and cities were starting to have the time and money to play and watch sport.
Clubs like Newton Heath were founded and supported by the elite of the working class, because they had the resources to indulge in organised sport. If you look at very early photographs of football games you will see most of the spectators wearing hats or caps (there are many examples of this in the next few updates). This is a clear marker of the status as the poor working class tended not to wear them. A hat was a symbol that showed you were better off than the poor unskilled labourer.
David McFetteridge played for Newton Heath from 1894-96, but is pictured here in a shirt seen on the players in the 1891/92 season team photograph. He was a Scottish striker who made his debut for Newton Heath on the 13th April 1895 versus Newcastle United (Away) which we lost 3-0.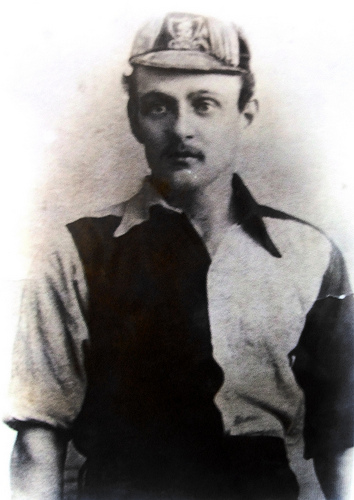 David McFetteridge (c 1896)
United's FA Cup performances were hardly spectacular. In the seven seasons they had entered the competition they had never progressed beyond the second round. Although 1896 proved no exception, at least they were eliminated by one of the finest sides to grace the era. The prospect of Derby County visiting Clayton was keenly awaited but few gave 2nd Division Newton Heath much chance against the 1st Division giants who ended that season as runners-up. But a big gate would at least help save some of the Heathens financial problems. In the event 18,000 turned up and £500 they paid went some distance in keeping the bailiffs away.
The Athletic News (article below) waxed lyrically about United's performance calling it "a great and glorious contribution to Manchesters football history", yet the replay the following Wednesday at the Baseball Ground turned out to be a mere formality as Derby romped home 5-1. But United did have excuses (yes, injuries even plagued us in these days). Ridgeway broke a finger and had to leave the field for a time while Carlin was also injured, so at one point United were down to nine men. But they had fought bravely and could count their draw against Derby as one of their best cup performances to date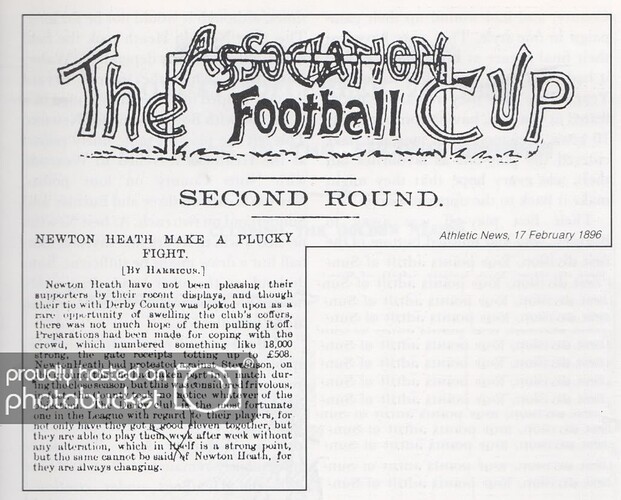 Athletic news article 17th February 1896
At the end of this season and for the fourth time in five years Newton Heath found themselves facing the end of season play offs. Their record was miserable; only on the first occasion had they been successful. Along with them in the play-offs were Sunderland and Burnley, the bottom two clubs in the first division, and Notts County, champions of the second division.
Newton Heath had ended the season in second spot, three points behind Notts County, and had wound up their campaign in fine style. They may have lost their final fixture at Loughbourough but it had been their first defeat since New Years day and they remained undefeated at Clayton, having conceded only 10 goals. Newton Heath may not have entered the play-offs as favourites but there was every hope that they might make it back to the upper division. However, it was to be another disappointment. Newton Heath finished in 3rd place and had to face yet another season in the lower Division.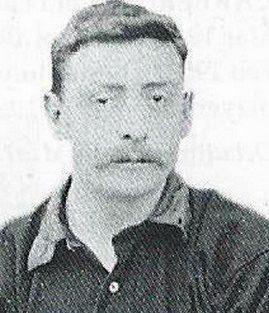 Clarkin (above) was one of the Heathens battling heroes in the cup against Derby. Sorry for the poor quality of these images, but they are old.​
To be continued…​