What do Manchester United's newest manager in waiting and this particular hack have in common? Well, there's a sentence I never thought I'd write, but the answer is both Ralf Rangnick and myself have an association with Sussex non league football.
I live in Sussex, I'm Sussex born and bred and proud to be. Insert your own joke here about the stereotypical United fan residing as far away from Manchester as its pretty much possible to be, I've heard them all. The story of Rangnick and his impending arrival at Old Trafford is, perhaps, not one which is well known, but it has tickled my interest for a very good reason. More on that in a moment. 
The man renowned for the rise of Red Bull in football had a brief – yet memorable – dalliance in English football. The German tactician, a disciple of the game, is revered and regarded as the founding father of modern football in his home nation, with illustrious contemporaries Jurgen Klopp, Thomas Tuchel and Julian Nagelsmann honing their craft from Rangnick's managerial raison d'être. Despite not boasting the greatest CV in terms of the most valuable currency of all – trophies – he is someone who takes his teams to another level. 
You may remember him as the Schalke manager in the 2010-11 season when Sir Alex's vintage put the Royal Blues to the sword 6-1 on aggregate with a Darron Gibson masterclass in the second game. Rangnick took RB Leipzig into the top flight and has been widely credited with remodelling the game in Germany.
A well-travelled man, Rangnick came to England during his gap year as a fresh-faced 20-year-old. Studying PE and English on exchange at the University of Brighton, he decided to keep himself fit whilst broadening his understanding on the nuances of non league football. 
Situated a short distance along the coast between Brighton and Worthing on the south coast sits the small, sleepy town of Southwick. My home town. A town with a county league football club with a Mr R.Rangnick as perhaps its most famous former son. 
A five minute stroll from my house, I would go to watch Southwick often until their demise two seasons ago. Homeless and on the cusp of financial ruin, things seemed bleak for my much loved local side last year but – thanks to the man himself and his £1,000 donation – the "Wickers" live to fight another day. 
Rangnick played eleven games for the "Wickers" during the 1979-80 season in Sussex County League Division One and had a painful introduction, quite literally, when he broke three ribs and punctured a lung in only his second game for the red and black, at Chichester. Out for four months, the 21-year-old was dumped on a ward of ageing pensioners as he worked his way back to fitness, all the while thinking of how to fine tune his methods. 
Yet despite the baptism of fire, Rangnick hailed his time in a sleepy corner of Sussex as "one of the best years of my life" and it was here he began to apply the principles that would ultimately see him transform a nation and take him to the top. Rangnick's time with Southwick inspired his managerial blueprint greatly – he became better at heading, improved his passing and moving and physical attributes as he adapted to the archetypal English "kick and rush."
It seems rather curious and quirky that a manager with such a global reputation – and now a man on the brink of one of the biggest jobs in world football – would have roots in Sussex. But this man is a unique character and, to this day, speaks fondly about his time down here. 
Speaking to the Guardian in 2011, Rangnick said:
"There was hardly a situation where we didn't spur each other on, doing some coaching among ourselves and motivating everyone. That was inspirational and certainly moulded me.
"There were many great people, I learned a lot about team spirit, cohesion and camaraderie. I have looked to apply these lessons throughout my life and football career. My time in Sussex was the most memorable I ever had."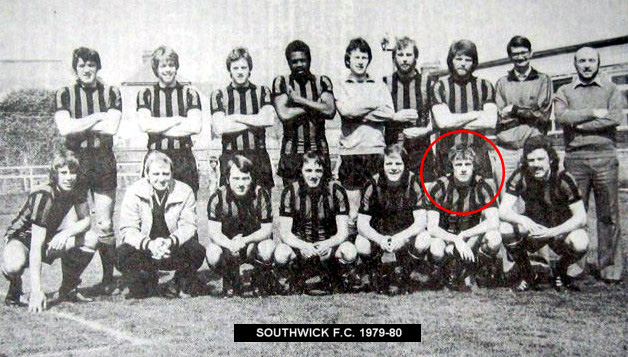 Rangnick's time at Southwick might seem like a small part in the grand scheme of his illustrious career. But – as much as he is influenced by the bigger picture – it's often the little things that are the most inspiring. 
How many Premier League managers CV's include a stint coaching in Germany's ninth tier and a spell playing in England's?
A paltry 154 spectators witnessed the German's Sussex league debut in a match at local Rivas Steyning in October 1979. Now, 42 years on, the "Godfather of gegenpressing" will prepare to lead out the world's most famous club in front of 76,000 people.