Ole Gunnar Solskjaer has been sacked by Manchester United following a disastrous run of form, which has seen the Norwegian's side drop to 7th in the Premier League table.
Solskjaer was dismissed by club officials on Sunday, less than 24 hours after Watford scored four goals against the Reds. In a statement made by the club, Manchester United confirmed that Solskjaer has left the club.
Gary Neville, one of Solskjaer's old team-mates at the club, was the first public figure to react to the news as he thanked the Norwegian for his work over a three-year spell.
Now, former Manchester United midfielder Ander Herrera has sent an emotional message to Solskjaer over Instagram as he hails the manager as 'one of the best people' he has met.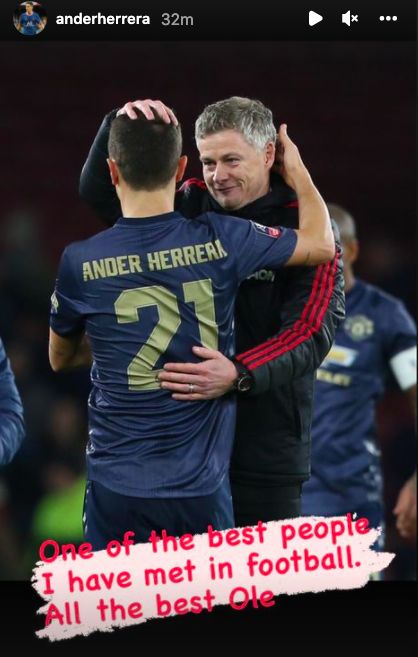 Read more: Leading journalists confirm coaching setup following Solskjaer sacking
"One of the best people I have met in football. All the best Ole," Herrera captioned a picture of the pair together on his official Instagram page.
Herrera was one of the first players to leave the club under Solskjaer in 2019 but the Spaniard clearly holds the manager highly and wishes him well following his departure from Manchester United.
SN's verdict on Solskjaer's man-management…
More than two years have passed since Herrera left Manchester United but still, his relationship will Solskjaer seems to be intact. That's down to Solskjaer's hands-on approach.
The 48-year-old remains a popular figure among several players at the club and many players have him to thank for their upturn in form over the last two years. Herrera is one of those players.