England manager Gareth Southgate has expressed his thoughts on Roy Keane's criticism of Harry Maguire, accusing the Irishman of trying to "stay relevant".
Keane has hammered Maguire in the past for underperforming, but the Irishman took issue with the centre-back cupping his ears after scoring against Albania in a World Cup qualifier last week.
He told ITV: "I think that's embarrassing, he's been a disgrace to Man United. He thinks he scores there he's shut his critics up, embarrassing."
"That's embarrassing, he's been a disgrace the last few months for Man Utd."

Roy Keane was not impressed over Harry Maguire's celebration after his goal earlier tonight#ITVFootball pic.twitter.com/mMXfpZkyCT

— ITV Football (@itvfootball) November 12, 2021
The former Manchester United captain was right, of course, because the celebration did anything but silence Maguire's critics.
We are still talking about it days later!
When the defender was asked about his antics following the game, he claimed it "wasn't directed at anyone" and that he expected "criticism".
However, Southgate is always going to come out and defend his player.
It's easier to see why he would do that when you come across the image below of Keane leaving a stamp on the former England defender's rib cage during United's 1995 FA Cup semi-final replay against Crystal Palace at Selhurst Park.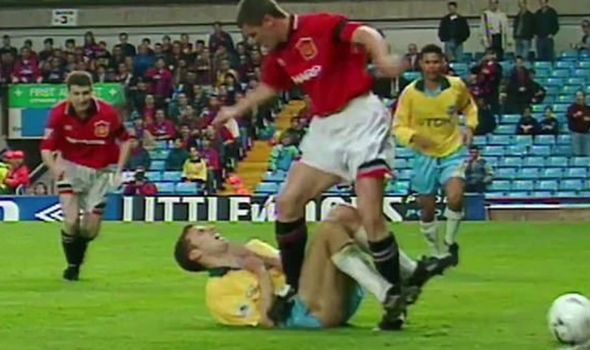 Southgate insists he understands the pressures of being on television and accuses Keane of trying to stay relevant by dropping quotes that will make headlines.
"I think we have to understand that in the industry we are in there are different roles," said Southgate, speaking ahead of England's final World Cup qualifier against San Marino.
"In order to make a living you have to take certain approaches. You have a choice of approach.
"I was always thinking, as an ex-player and manager, how difficult those things were. I had empathy for those stepping over the line to play and in the dugout.
"It really depends on what you need to do to stay in work. Some channels and forums require headlines. I understand that. To stay relevant, you've got to say things that are more quotable."
🗣 "To stay relevant in some of those fields you have to say things that are more quotable."

Gareth Southgate responds to Roy Keane's criticism of Harry Maguire following the players celebration against Albania pic.twitter.com/0mJtWbx7PP

— Football Daily (@footballdaily) November 15, 2021
Southgate added: "Everything is lifted from live broadcasts for the next day's headlines. Everybody knows how that works.
"It feels like a different part of the industry. I get it and so be it.
"I'm sure for the players it might feel different. Younger ones with less experience than I've got are probably thinking there are players who remember how difficult it was to play and didn't like it being criticised. I'm sure they feel different to somebody of my age.
"I get it. It's the industry. So be it. I get it."