Manchester United are currently in disastrous form and have registered just one win in their last six Premier League outings, with the 3-0 win at Tottenham Hotspur the only time Ole Gunnar Solskjaer's side have claimed three points since winning at West Ham in September.
The calamitous 5-0 defeat against Liverpool two weeks ago was an eye-opener for many, including Solskjaer, who switched his system for the next game against Tottenham.
The Norwegian boss opted for a more defensively drilled three-at-the-back formation, and the test passed with flying colours against Nuno Espirito Santo's drab side.
This week, midfield star Paul Pogba has withdrawn from France duty after sustaining an injury, with some reports claiming the 28-year-old could be out of action for the next two months.
Although the news will come as a blow to Solskjaer, who has often relied on the Frenchman in sticky situations, it does offer an opportunity for others to impress in his absence.
There is an argument to say that the current Manchester United side functions better without Pogba and Donny van de Beek, who is yet to start a Premier League game this season, is desperate to show what he's capable of ahead of January's transfer window.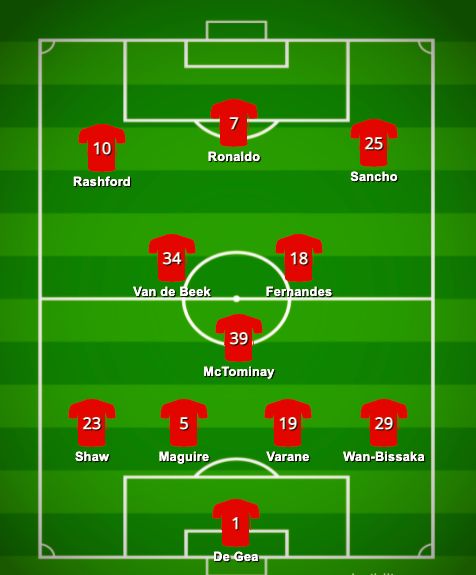 r
Read more: Man Utd star withdraws from international duty as midfielder set for two months on the sidelines
The Dutch midfielder is likely to leave Old Trafford this winter but a good run in the side could change his mind and Pogba's absence offers the perfect chance for Solskjaer to experiment. Ultimately, he finds himself in a position where he must try something new.
The 24-year-old was introduced in the 2-0 derby defeat to Manchester City over the weekend and was given a warm welcome by the Old Trafford crowd – the closest they have ever gotten to turning on Solskjaer. Van de Beek's situation at United is mysterious and there is little explanation for his nonexistent involvement.
He prefers to operate in Bruno Fernandes' specialty position but that's highly unlikely. Instead, he would be more likely to play in a deeper box-to-box role, a position he perfected at Ajax and with the Netherlands.
During pre-season, there were reports of Solskjaer wanting to switch to a more attacking 4-3-3 formation, a move that would highly favour Van de Beek's style of play.