Manchester United's performance so far this season is one of serious ambiguity! In one game they could perform like a well-oiled machine, in the next, they look like a Championship team.
If you are a La Liga fan do those words sound familiar? It's hard to not make the comparison between Manchester United and Barcelona these days and if you want more of the same you can find out here. If you enjoy this topic, you may also like the BetRivers promo code.
Similarities
Undoubtedly 2 of the biggest clubs in Europe, Manchester United and Barcelona have been huge underachievers so far this season. Why? Well, let's take a look at the tables at the La Liga and the Premier League.
Every year these two teams enter the season with title ambitions yet this time they find themselves in a very bad position. Barcelona is currently ranked 9th in La Liga and Manchester United is 7th with their main competitors pulling ahead at the first positions. Both clubs lost the derby against their fierce rivals – Barcelona lost a 1:2 game at Camp Nou vs Real Madrid and United was demolished with a 0:5 against Liverpool.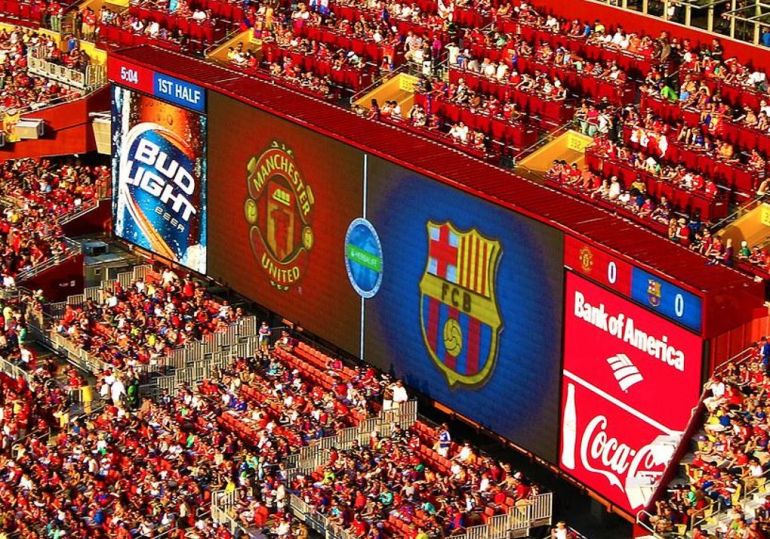 Both clubs have had issues with injuries that hinder the display on the pitch – Ansu Fati, Coutinho, and Martin Braithwaite for Barcelona and Anthony Marcial, Edison Cavani, and Jadon Sancho have missed all too many games for the club. Another major comparison we could make is the situation regarding the managers of the clubs – Ronald Koeman and Ole Gunnar Solskjaer. Fans over at the Camp Nou and Old Trafford are both extremely displeased with what their favorite teams are producing and a lot of the hatred and complaints fall on the shoulders of the two men in charge.
What's different?
There is a glimmer of hope at the end of the tunnel and if we had to give it to either of the two sides it would have to be Manchester United.
Yes, the two coaches are under pressure, but Manchester United reaffirmed their support to Ole while Barcelona sacked Ronald Koeman after the Rayo Vallecano fiasco. Yes, the clubs are underachieving in their domestic leagues, but while Barcelona is ranked 9th and needs 6 points to get to top 4, United only needs 1 win to achieve that. Yes, both clubs are showing poor display in the Champions League, but at least Manchester United manages to scrape up the victories with late goals against their opponents, while Barcelona started their CL campaign with 2 heavy defeats against Bayern and Benfica and a 0:6 goal record followed by an extremely unimpressive victory against Dinamo Kyiv at the Camp Nou.
Both teams had difficulties with injuries and late-joining players, but the United team seems fresh right now as Anthony Marcial, Jadon Sancho, and Edison Cavani are all ready to play while the situation in Barcelona isn't looking good. Super-talent Ansu Fati just started appearing for the club after his injury only to be injured again, while Martin Braithwaite is out for a long time. To top it off – Manchester United had their club legend Cristiano Ronaldo back and Barcelona lost Lionel Messi due to lack of funds poor management of the club that led to a billion-euro debt.