Bruno Fernandes is not a number 10… There, I said it.
I am sure readers will be quick to say I have lost my mind and ask if I have ever watched a Manchester United game – but the truth is, I genuinely stand by that opening line.
Undeniably an incredible midfielder, Fernandes, who continues to look like one of the Red Devils' greatest ever signings, has a unique set of attributes. However, I believe those attributes best suit a player playing more defensive – a number eight.
I can almost pinpoint the exact moment I thought Fernandes would suit the number eight position better than he does the 10 – Portugal was playing, admittedly, I can't quite recall who against, but Fernandes was forced to drop deeper and deeper. He sprayed balls in all directions while clearly controlling the game's tempo – it was an exceptional performance and even if it were a 'cameo' performance – it was one of the best I had seen from a midfielder in a long time.
Manager Ole Gunnar Solskjaer is under immense pressure and after continued tinkering with the side's starting 11, the Norweigan faces an uncertain future as well as relentless questions being asked over his tactical know-how.
It is becoming increasingly more apparent that the manager doesn't know his best 11, therefore, while he continues to try and find out as he goes – what would he have to lose by experimenting with Fernandes' position? – Well, perhaps the player himself.
Admittedly, I am not convinced Fernandes would be thrilled at the prospect of dropping deeper into midfield and limiting his goalscoring chances, but he's a leader and a leader who clearly works for the good of the collective.
With the likes of Cristiano Ronaldo among the ranks for at least two seasons, surely Solskjaer can use this opportunity to alleviate others from carrying such a large chunk of the fans' offensive expectations.
But it's not that Fernandes can't handle pressure, or he doesn't thrive off being the main-man – he has more or less won games on his own for the past 18-months. But, in my opinion, it's as simple as this… Fernandes' attributes best suit a number eight and Paul Pogba's best attributes best suit a number 10. Switch them.
Read more: Report: Worry for Solskjaer as Glazers questioning Norwegian's performance
Fernandes is very well-rounded, its entirely possible that the world-class playmaker would do a job in most positions, however, let's take a look at some of his most effective traits.
I have already highlighted his leadership qualities, which are definitely on display for all to see – having a commanding midfielder situated in the very centre of a team is never a bad thing.
Fernandes is also a very good tackler – he is physical and seldom shies away from putting his body on the line. He is also exceptionally enthusiastic when it comes to tracking back as well as having superb positional awareness. Aside from being physically strong, would the rest of these attributes be ones you'd quickly associate with Pogba? – No, me neither.
However, while Pogba's range is passing is, on his day, among some of the best in the game, just like Fernandes' – I do believe the Frenchman has the edge when it comes to operating in tighter spaces, with teammate Fernandes the better playmaker when given a touch more time and space in order to orchestrate proceedings.
Fernandes has the potential to reinvent the traditional number eight role – he has all the qualities required for a defensive midfielder, but he is also deadly when on the offensive.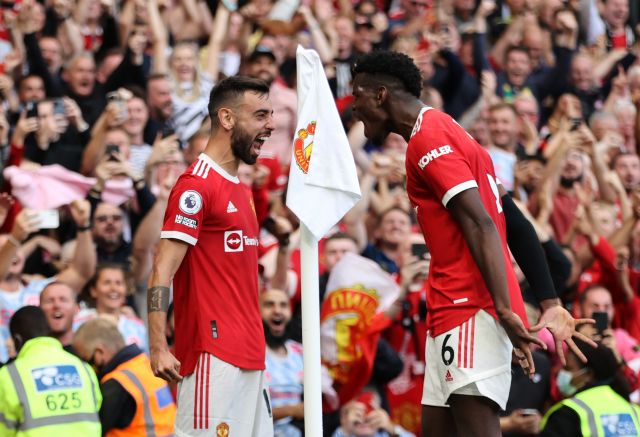 For what it's worth – while we're on the subject of switching up the Red Devils' lineup, I would cease the Mason Greenwood right-winger experiment, almost immediately – the teenager is a striker. Yes, he can do a job on the wing in a 'needs-must' situation, but he's a striker and after being declared the most natural one at the club, maybe now is the time to start putting him where he can use that 'natural talent' – Just an idea.
Elsewhere, I know he's 36-years-old and I know he's adapted his playing style to suit being a fox-in-the-box, but there is no way anybody is convincing me that Ronaldo cannot still be a hugely effective left-sided attacker.
He is still one of the quickest attackers in the Premier League – that much is clear to see and of course, his technical ability continues to speak for itself. I admit that it's unrealistic to expect him to perform for 90-minutes every single game, but a fully fit and firing Ronaldo would still give right-backs all across the land nightmares.
By nudging Ronaldo out onto the left and asking him to act as a more inverted attacker, providing offensive support for the side's lone striker, would allow Jadon Sancho to shift into his more natural right-sided role. Considering the Englishman cost a whopping £76.5m, Solskjaer just does not have the time or the job security to misuse the former Borussia Dortmund man.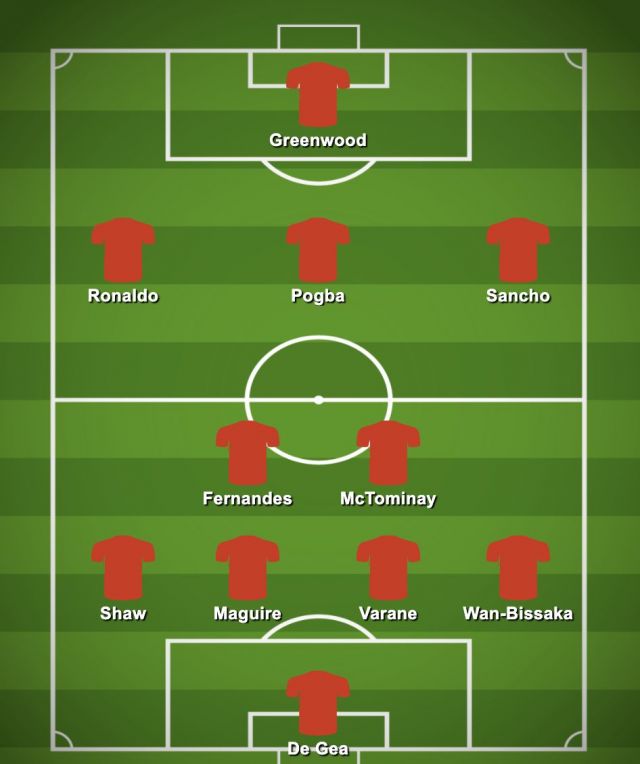 And finally, by making a hugely controversial tactical switch that would see Pogba and Fernandes swap positions – I believe two major flaws would simultaneously be remedied.
Having been facing a conundrum that involves finding a midfielder capable of winning the ball back quickly, who is then able to unleash defence-splitting passes – for Solskjaer, Fernandes' abilities provide the answers.
In addition to that – with the side's clear cut chances drying up in recent weeks, with the team scoring less and conceding more, Pogba's vision and ability to unlock opponents from close range could once again prove to be a hugely effective tweak.
Whether or not fans ever see Solskjaer dabble with the idea of seeing Fernandes operate in a deeper role, remains to be seen – however, one thing is for sure – the Norweigan, at this point, has very little to lose.
You never know though – we may all be left pleasantly surprised.
Roll the dice, I say.