Manchester United has announced its quarterly figures ending on June 30, 2021, with a £54.6m reduction in debt recorded compared to 2020.
Last year, revenue took a large hit due to the sudden loss of income owing to the COVID-19 pandemic and although the financial landscape is far from restored, the latest results point towards the club's robustness in the market.
In the twelve months ending June 30, commercial revenue is down £46.8m to £232.2m, mostly due to the lack of a pre-season tour in 2020 and the closure of the club's megastore shop at Old Trafford.
Matchday revenue is down to just £7.1m (from £89.8m) in the twelve months ending June 30, with all but one Premier League game played behind closed doors at Old Trafford.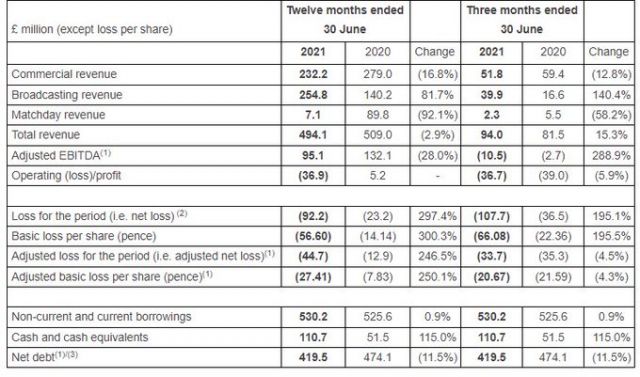 Results courtesy of Manchester United PLC
Read more: Ed Woodward hails Manchester United's summer transfer business
The return of Champions League football has put the club in good stead, with a large increase in broadcast revenue recorded in the twelve months ending June 30 – £140.2m in 2020 to £254.8m in 2021, as seen above.
The net debt of the club is also taking a turn for the better, with a whopping £54.6m decrease recorded (from £474.1m to £419.5m). In October last year, the club announced a 133% rise in debt.