Liverpool starlet Harvey Elliott delivered a withering put-down to a Manchester United fan, who stupidly taunted the youngster over his horrific injury on social media.
Elliott, 18, has undergone successful surgery after he suffered a dislocated ankle in Saturday's Premier League meeting at Leeds United.
Although Liverpool won the game convincingly, manager Jurgen Klopp looked gutted with Elliott's injury and it put a dampener on everyone's evening. Even myself as I watched at home because you never want to see injuries like that in football.
They're complete freak incidents.
As a result, Elliott is unlikely to play again in 2021 and will spend the upcoming months rehabilitating.
The Liverpool youngster has received a lot of support from his teammates and even Marcus Rashford, who was able to put rivalries aside to wish Elliott well with his recovery.
Sadly, one comment on TikTok was nasty, as someone posing to be a United fan made an unpleasant joke about Elliott's lack of mobility after the injury. The user responded to a video made by a Liverpool fan which showed Elliott walking out at Elland Road before the injured was sustained, writing: "He's not walking like that anymore."
The vile comment was met with a put-down by Elliott, who wrote: "Crazy though how I have more legs than United have trophies in the past eight years, X."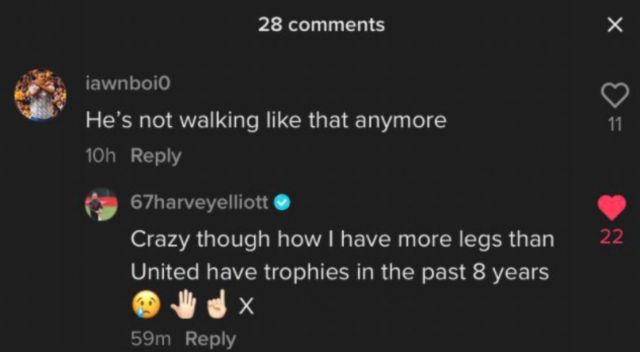 Thankfully, the fan in question saw sense and quickly backtracked as if it was only a harmless joke: "Haha, fair enough. You're a baller."
The problem here for Elliott is that he's had a mare.
United have won an FA Cup in 2016 and the Europa League in 2017, so that's two trophies (the same amount of legs Elliott has) and maybe a calling for him to get some lessons on football history or how to count.
And that's not to mention the League Cup we won under Jose Mourinho.