The age-old debate of Cristiano Ronaldo versus Lionel Messi doesn't seem to be dying down just as yet as both players complete sensational transfers this summer.
The pair locked horns for nine years in Spain before Ronaldo moved to Italy and they shared the prestigious Ballon d'Or award for 10 straight years until Luka Modric's triumph in 2018.
Earlier this summer, Messi left Barcelona to join Paris Saint-Germain but his move was usurped by the response to Ronaldo's return to Manchester United.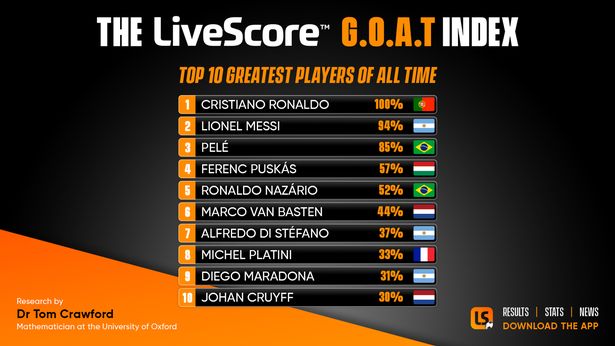 Read more: Gareth Bale says he's 'excited' to see Cristiano Ronaldo at Manchester United
Now, Tom Crawford, a mathematician at the University of Oxford, has made an attempt to end the debate on who the greatest of all time is. Dr. Crawford has developed an algorithm to determine who the 'GOAT' is, with Manchester United's Ronaldo coming on top, ahead of Messi and Brazil legend Pelé, as the graphic above shows.
We are unlikely to ever have a definitive answer as it's merely an opinion but Ronaldo will be happy to learn that he has data on his side.