Friday, August 27 will be remembered by Manchester United fans as the day Cristiano Ronaldo finally returned to the club, 12 years after leaving Old Trafford for a then world-record fee.
His exit in 2009 had been looming for at least a year but Sir Alex Ferguson convinced the Portuguese superstar to stick around for another year before making the famous switch to Real Madrid.
He was quickly forgiven for leaving and has remained a favourite for many supporters, with his 'Viva Ronaldo' chant still being sung to this day in away ends.
On Friday, the club confirmed it has reached an agreement with Juventus for Ronaldo's transfer. Completion of the deal is subject to personal terms, visa, and a medical but the prospect of Ronaldo joining Ole Gunnar Solskjaer's squad lines up a mouthwatering number of options for the Norwegian boss.
His arrival does, however, come with questions. What does it mean for Edinson Cavani? The 34-year-old, despite not making an appearance for the club this season, will be an integral part of Solskjaer's squad after signing a one-year contract extension earlier this year.
Mason Greenwood has started the season in brilliant form but the 19-year-old is still expected to be in Solskjaer's peripheral view when he has a full squad, and Jadon Sancho is unlikely to be on the bench for much longer.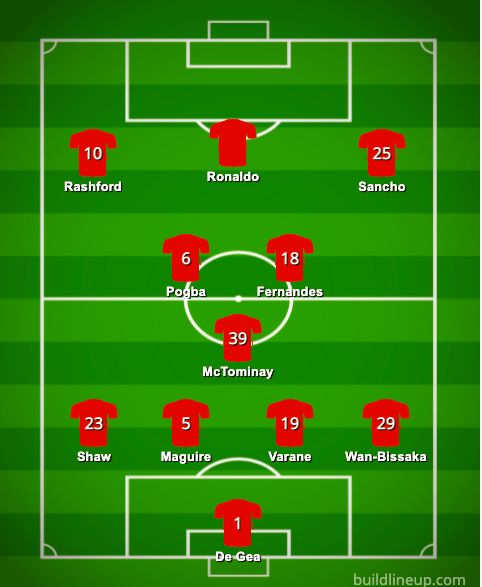 Read more: Ole Gunnar Solskjaer gives long response to 'out of order' Rio Ferdinand comments
Last season, Marcus Rashford played nearly every game of importance. The 23-year-old has formed a devastating partnership with Luke Shaw down the left-hand side and when he returns to full fitness, is likely to occupy that role.
That leaves the forward position. As mentioned above, there are now questions over Cavani and his availability was doubtful even before Ronaldo signed. Greenwood was expected to share responsibilities with the Uruguay international but now, it's far more likely the pair will act as back-ups to Ronaldo.
The back-five picks itself and the only real question remaining for Solskjaer is how he decides to set up his midfield. Should he opt for a more attacking approach, it's likely Paul Pogba and Bruno Fernandes will operate in advanced roles in front of Scott McTominay, who is the clear first-choice in the defensive position.
Whichever 11 players Solskjaer decides to play with on any given day, he is now spoiled for choice.