Earlier on Tuesday, the Premier League confirmed that all clubs had unanimously decided to not release players for international matches in red-list countries, with the decision fully backed by the league.
Last season, there was an elite sporting exemption in place for players travelling to red-list countries, which would make their return to England easier. The changes to this season mean that no players are granted the exception, resulting in all players returning from red-list countries needing to follow quarantine protocols upon their returns.
At the time of writing, arrival into the United Kingdom from a red-listed country requires a managed quarantine in a hotel plus two negative COVID-19 tests before a person can continue their day-to-day life.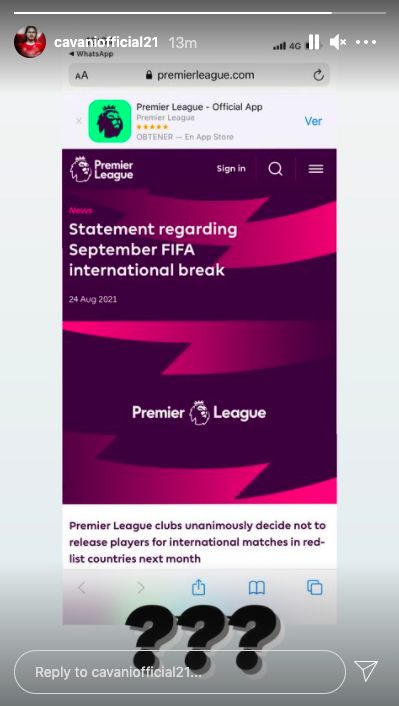 Read more: Premier League clubs decide to not release some players during international break
Edinson Cavani, who was embroiled in dramatics with The FA last season over a social media investigation, has responded to the decision on social media.
The forward, who is yet to make an appearance this season, posted a screenshot of the statement on Instagram with several question marks accompanying it – hinting that the former Paris Saint-Germain star is struggling to understand the decision.
Representing your country is still seen as a huge honour in football and Cavani is unlikely to be the last player to go against the decision before next week's international break. Cavani and Fred are the two Manchester United players who would be affected by the decision, with both players expected to be called up to red-listed countries in Uruguay and Brazil.