Real Madrid player Raphael Varane is moving to Manchester United. Do you think it's a good move for the player or the team?
After a long bout of negotiations, famed Real Madrid player Raphael Varane has been bought by Man Utd and will be joining the team in Old Trafford at the start of the upcoming Premier League.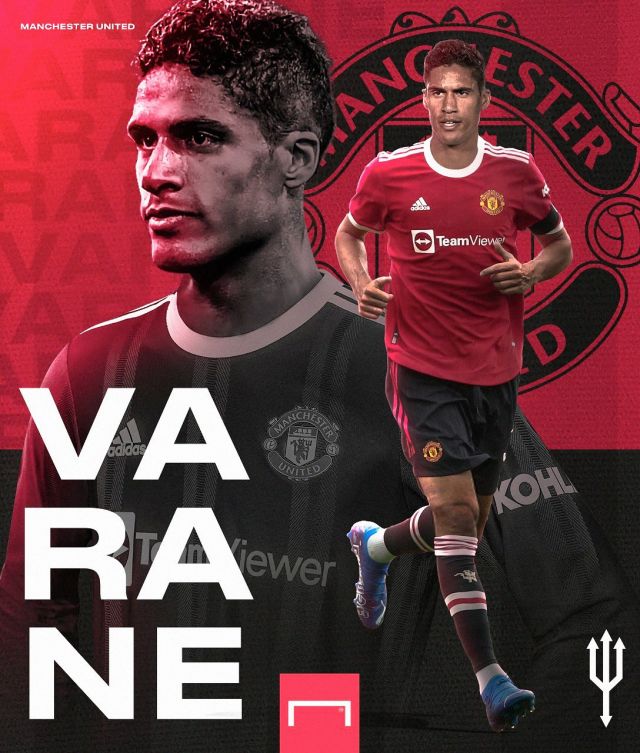 The French defender scored two goals for Real Madrid in the last year alone with eight goals scored overall. He has 18 honours including four UEFA Champions League titles and four FIFA World Cup titles including a win in 2018.
The World Cup winning player was sold to Manchester United for £43 million, with add-ons, which is low when comparing to Ronaldo's whopping £85 million or Bruno Fernandes' £46.6 million, who doesn't get to brag of a World Cup win or a career with the biggest football club in the world.
£43 million, even with add-ons, is a low price for someone of Raphael's reputation, so what gives? Either Manchester United got themselves a bargain, or there's a catch?
Apparently Varane was looking for a way out, telling Real Madrid before the Man Utd deal was on the table that he would reject an extension of his contract. Perhaps Man Utd were in the right place at the right time, ready to buy when Real Madrid were facing an empty loss.
Manager Ole Gunnar Solskjaer said: "We're very happy that we've managed to get a deal. He's a proven winner. We've followed him for many, many years."
With the Premier League in the near future, it looks like Man Utd is looking to fix their main weakness: defence. In the last Premier League season, a total of 44 goals were conceded, 12 more than league champions Man City.
Varane's experience as centre-back for Real Madrid, coupled with his vast skill set and aerial prowess should give the team the solid backing it needs.
And it seems to be near-universally accepted he would be a good fit, with players and commentators chiming in. Such as ex-Man Utd player David May saying, "They don't come much better than Varane" and expressing Varane's calmness, saying that the Real Madrid defender is "a different class on the ball" and "the type of player that United needed."
Ex-Man Utd defender Wes Brown said: "Look at the medals he's won. Signing for United won't faze him."
He said: "We need another centre-back and to get a hold of Varane is a massive signing for Ole. He's played in big games at one of the best teams in the world and so he knows how to handle pressure." He added that it would put pressure on the rest of the team, forcing everyone to step their game up.
Concerns seem to not be about Varane in particular, but the struggles of anyone transferring so close to the Premier League, which sometimes translates into an eagerness to get him to Manchester as soon as possible.
On Twitter, one supporter, @Vintagereddress said: "Is Varane travelling to Manchester on the back of a pigeon? Just want to see him get off the jet wearing the United scarf. I'm simple, man."
For his part, Varane seems excited for the change, writing on his Instagram: "After ten incredible and wonderful years at Real Madrid … the day has come to say goodbye."
He expressed gratitude to the team saying that they had "exceeded all expectations" and "achieved things that he could never have dreamed of" and thanked the coaches and anyone who had worked in the club in his time since 2011 for "everything they have done for me."
Supporters wait, maybe not so patiently, for the star to touch ground and get started on a Premier League well worth watching.