Raphael Varane was unveiled as Manchester United's third signing of the summer in spectacular fashion before the club's Premier League curtain-raiser against Leeds United earlier this weekend.
It was the first loud roar of the day at Old Trafford but five more were to follow as Ole Gunnar Solskjaer's side comfortably swept aside their arch-rivals, winning 5-1 on the day.
In a time where social media edits and montages are domination transfer announcements, it was refreshing to see Manchester United opt for a more traditional one. Varane walked out in front of the 75,000 in attendance at Old Trafford and immediately becomes a fan-favourite.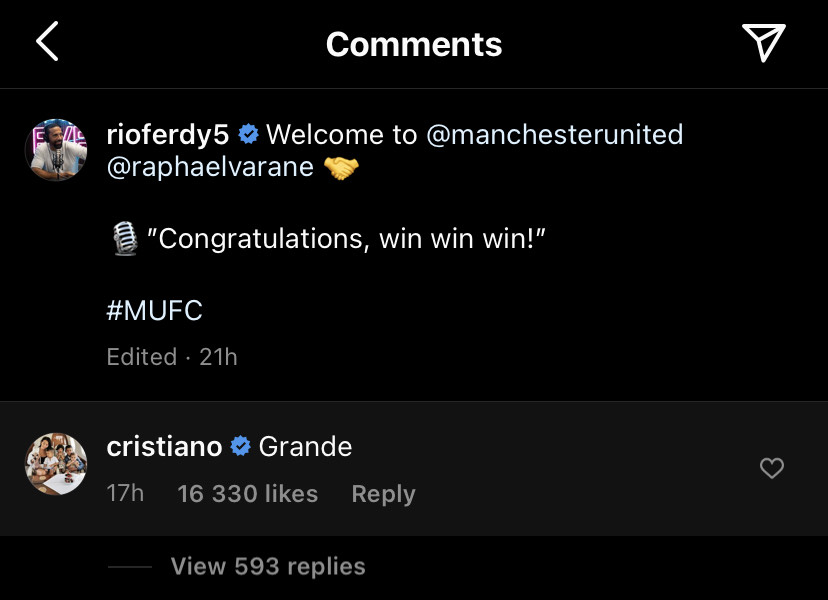 Read more: Fernandes hat-trick puts him clear of Kane and Salah in stats table
In addition to the match-going Manchester United fans, former Red and current Juventus superstar Cristiano Ronaldo also reacted to the news.
Rio Ferdinand posted a video of the unveiling on Instagram, under which Ronaldo commented 'Grande', which translates to 'Great' in English, as seen above.
Varane will join Ronaldo in an exclusive club of players to represent both Real Madrid and Manchester United. Solskjaer has remained tight-lipped on when the 28-year-old could make his debut but should the four-time Champions League winner prove his fitness in training, it's likely to be sooner rather than later.