Juan Mata is set to stay at Manchester United for another season after it was announced that a one-year extension to his contract had been agreed. The Spaniard was set to be released this summer upon the expiry of his deal but is now set for, perhaps, his final season at the club.
The 33-year-old signed for the club in 2014 from Chelsea, scoring 51 goals since and is currently one of the longest-serving players at the club. Phil Jones, David de Gea and academy graduates are the only players to match the former Valencia man in longevity.
Bruno Fernandes has now reacted to the news on Instagram, praising the midfielder but the Portuguese maestro also fired some friendly jokes Mata's way.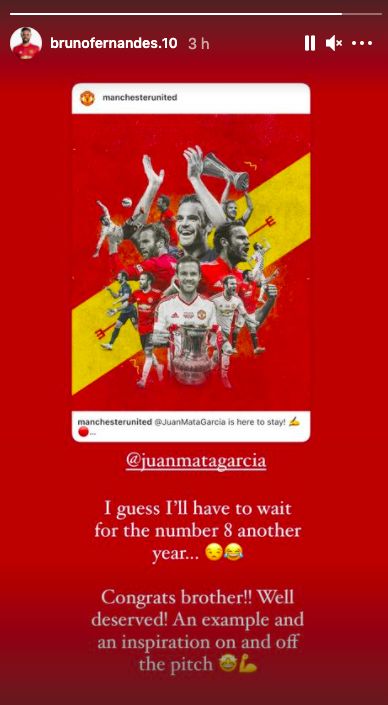 "I guess I'll have to wait for the number 8 another year," Bruno jokingly wrote in his story, as shown above. "Congrats brother! Well deserved! An example and an inspiration on and off the pitch."
Fernandes wore the number eight shirt for Sporting before joining Manchester United and has the number tattooed on his arm, signaling that it has added importance to the 26-year-old.
With Mata set to stick around at the club for at least another season, Fernandes will have to continue wearing number 18.
Subscribe to the Stretty Newsletter and help us build the biggest independent newsletter for Manchester United fans. Get the inside track on all things Manchester United, exclusive podcasts and more.
Read more: Premier League expected to be told it can fill stadiums next season