It's a moment Manchester United fans cherish and, in many ways, the Treble in 1999 helps define our illustrious history.
You wouldn't get this drama on Coronation Street. It's up there with the most iconic moments in football history and tomorrow night Ole Gunnar Solskjaer could lead the club to another European Cup – in the shape of the Europa League – in the final against Villarreal.
Although United won the Champions League final to complete the treble – after winning the Premier League and FA Cup – you won't find many Reds who will argue the fact Bayern Munich dominated throughout the match.
It didn't click for United until the very end – in stoppage time. Bayern thought they were about to win their first European Cup in nearly 25 years, and a potential treble, but former striker and current manager Solskjaer had something to say about that.
Teddy Sheringham equalised in stoppage time before Solskjaer won it.
Betway have done their homework on the boots behind iconic Champions League final moments, and they focused in on Solskjaer's pair of Nike Mercurial II. He wore black because that was the noble thing to do back then – and still, to this say, I wouldn't model another colour for my 5-aside outings on astro.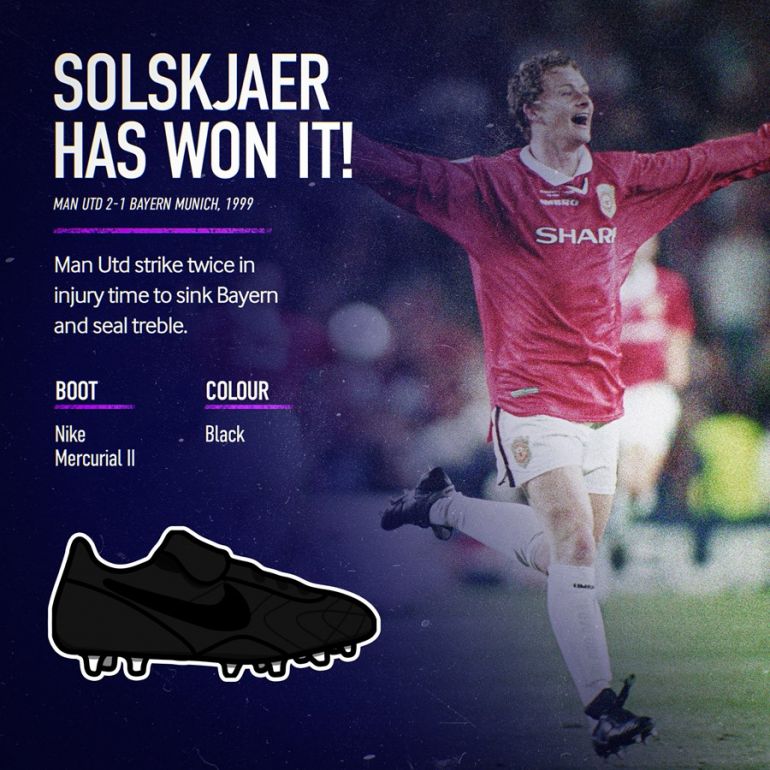 Will we see anywhere near the same drama in Gdansk as we did at Camp Nou in 1999, and what boots with the winning goalscorer wear?
Solskjaer has already experienced big nights in Europe as United manager.
Cast your mind back to when Solskjaer claimed that anything was possible ahead of the team's trip to Paris for the second leg of their Champions League tie against PSG in 2018. Nobody believed his team had a chance of progressing to the next round.
The idea of the team winning the game, let alone with the two or more goals required, seemed like a stretch of the imagination. It's easy to forget we had 10 players missing that night yet somehow, mission accomplished.
Solskjaer told reporters "mountains are there to be climbed," following the first leg, and his team responded.
Finishing second in the league showed progress but a fairy-tale ending in Europe would be the icing on the cake. Solskjaer is already an essential part of the club's history in Europe, now he can lead the team as manager.
What a dream.