Former Manchester United goalkeeper Raimond van der Gouw has joked he "sometimes hated" Peter Schmeichel when they were team-mates at Old Trafford.
Van der Gouw completed a transfer from Vitesse Arnham in 1996 at the age of 32 and was about to shake his career up by going from playing regularly in the Eredivisie to becoming back-up at Manchester United.
Schmeichel was the greatest goalkeeper in the world at the time and Van der Gouw already knew his playing opportunities would be limited, but how could he say no to a club like ours, a manager like Sir Alex Ferguson, and a full stadium like Old Trafford?
Speaking on the latest episode of the UTD Podcast, Van der Gouw gave an honest account of arguably the best goalkeeper to play for United.
Asked if he was concerned about playing time when he joined the club, Van der Gouw says (via ManUtd.com): "Yes, of course, it was a concern. I had always been the no.1 but I was prepared.
"I said, 'okay I am the understudy for Peter but in football you never know'. My dream was playing for a top club. I was thinking, 'I am at a top club, maybe I am the no.2, but you never know in football'.
"I always had a chance to have some games and if you play you have to show you are a good player. My aim was to do everything I could and be ready if the manager needed me. Then you see how far it goes. It was not always easy, it was sometimes really hard, because you always want to play if you are a football player, but from the other side I didn't like to complain because I signed for this.
"So I had to be fair and if something will happen and I want to go somewhere else, then I had to make the decision. But my feeling was that I was at such a fantastic club, we played at the highest level, with good players around me, playing for trophies. This was special, so for me it was difficult to go somewhere else. I played quite a lot of games as well.
"In my first season I didn't play so much, but I played the semi-final of the Champions League against Dortmund and that was also a big thing. So when you get chances like that… I didn't want to go to another club and then see somebody else who was no.2 at United and playing games like that. So afterwards, I could look in the mirror, I gave everything, I did everything that I could do, I always gave my best and I didn't regret anything."
UTD Podcast co-host David May weighed in with a question during the episode as he was keen to hear all about Van der Gouw's working relationship with the Dane.
"It was sometimes very good and sometimes I hated him [laughs]," the Dutchman added. "He could be a pain in the ass. From the other side I respected him and a lot of the time he was a very good colleague.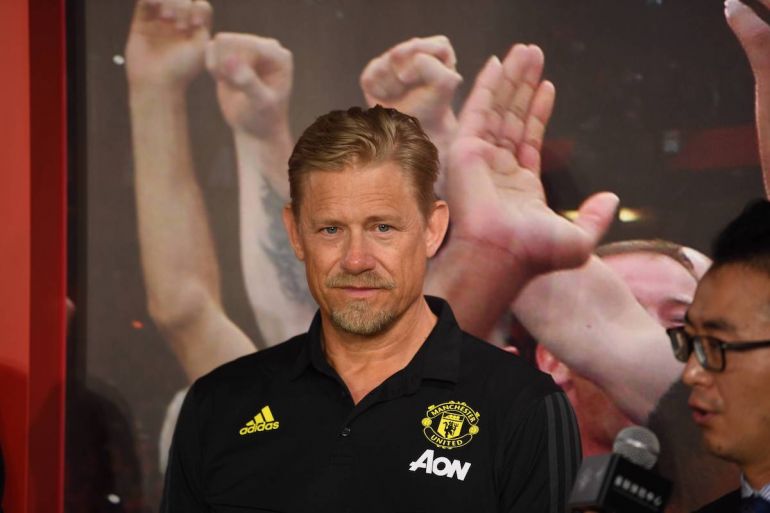 "Of course, he was a lot of the time selfish. I was just happy to be there and I was really curious how he was as a sportsman, as a goalkeeper, what kind of work he was doing, if he was he a really hard worker, was it only the talented and gifts or was it something else? This was my opportunity to see that with my own eyes. Everyone can talk about it, but you have to see it and you have to feel it.
"I think Peter was good for me. I can't complain about it. Of course he was looking after himself and of course he wanted to play a lot of games. And a lot of times, I was thinking 'Peter, come on, you are injured, why don't you just give me a few games?' I was thinking, 'I am not, you know, going to stab you in the back. I am a sportsman, I am fair, I am realistic and not crazy'.
"I remember we played one game against Wimbledon away, he had a hamstring injury and he couldn't kick with his right foot, and he played and kicked all of the balls with his left. It was terrible, so I felt the manager should have played me. But, you know, that is afterwards.
"I think you are never too old to learn and you always can learn. When you are young you have your dreams and there is a certain way of training, but when you are 32 you always can learn because that is experience. What I learned from Peter, I liked his determination, his will to win and he wanted to play all of the games."
The interview with Raimond van der Gouw is available in full now here.
Read more: Manchester United star in line for surprise new contract extension