The Carabao Cup quarter-final between Everton and Manchester United wasn't short of controversy.
Edinson Cavani had a lucky escape when he avoided a booking after choke-slamming Yerry Mina in an off-the-ball incident.
The most serious incident, of course, saw Everton's Richarlison go off with a nasty injury.
We don't think it was intentional from either United player (Bruno Fernandes and Eric Bailly), and neither did Carlo Ancelotti when asked after the match.
Fernandes collided with Richarlison before Bailly came flying in the air to crash into the Brazilian forward. The Everton man appeared to be knocked unconscious and had to undergo an extensive treatment by the club's medical staff before leaving the pitch.
Bailly took to social media after the game to apologise for inflicting injury on an opponent.
It was a classy gesture from the Ivorian.
"I'm sorry mate, take care of your health little brother, you are the best," he said on Instagram.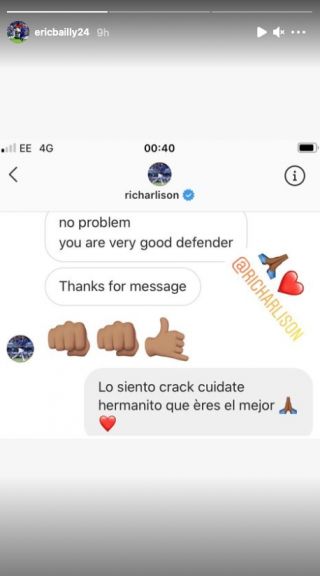 Richarlison responded to a private message from the United centre-back.
We would all like to wish Richarlison a speedy recovery.
Read more: AC Milan manager issues Hakan Calhanoglu update despite Man United links