As I was watching the United Season Review 2002/2003 two things popped into my head.
The first was the shock at just how lethal Ruud Van Nistelrooy was (25 goals in the Premier League that season – I had somehow kind of forgotten!).
The second was the sudden realisation that I have no idea how the team actually made money. Looking at all the people in the stands I was thinking of all the money from ticket sales. But is this enough to outweigh the cost of bringing in new players (we bought Rio Ferdinand at the start of that season, for example, for £30 million)? It's a business, at the end of the day, so some profit must be being made right?
I realised I knew next to nothing about the actual financial situation of the club, so I decided to do some digging.
Revenue
To assess the financial situation of United we need to look at their accounts to see what's actually going on. The annual report contains all the information we need. It's got all the numbers and is better than relying on BS from either the Glazers of Woodward.
Let's use the United annual report from 2019 (the fiscal year 2019, note whenever I talk about 2019 I mean fiscal 2019) to look at these in more detail, starting off with revenue.
Matchday
The matchday revenue is based on the number of home games played each season, the core of this being the 19 home premier league games. Additional games depend on the progression in the Carling Cup, FA Cup and Champions League or (unfortunately for us) the Europa League.
Average attendance is strong, particularly in the premier league in which we have had an average attendance of over 99% for each season since 1997/98. All these tickets generate a lot of income: total matchday revenue for 2019 was £110 million.
Sponsorship deals
United have an extremely lucrative sponsorship setup (say what you will about Ed Woodward, the man knows how to get a sponsorship deal!). In fact, they report having 27 major sponsors as of July 2019.
27.
A highlight is the shirt sponsorship deal agreed with Chevrolet for the period 2014-2021. This will bring in a staggering £58.6 million a year, on average.
All these deals add up. In fact, United made £173 million from sponsors in the year leading up to July 2019 (fiscal 2019). That's a huge number.
Other commercial revenue
This is a bit of a grey area but it includes things like stadium tours, retail sales, apparel sales and product licensing. Basically, whenever you buy a product related to Manchester United, providing it's from a legit source, the club gets money. This all falls under commercial revenue, which totalled £102 million for the year.
Broadcasting rights
Teams get a cut of the TV deal for participating in certain competitions. For example, BT Sport and Sky Sports acquired the rights to the premier league for the period 2015-2019 for £5 billion (not a misprint). This is split equally among clubs.
That's just one country for one competition. Clubs get a cut of all broadcasting of all competitions that they participate in from all countries that broadcast them…! You can see how this adds up quickly.
Specifically, United received £146 million for premier league broadcasting and £83 million for UEFA competitions. MUTV also generated an extra £10 million.
And add up it does. Manchester United made £240 million from broadcasting revenue in 2019.
It's important to note that this includes prize money that is associated with these competitions.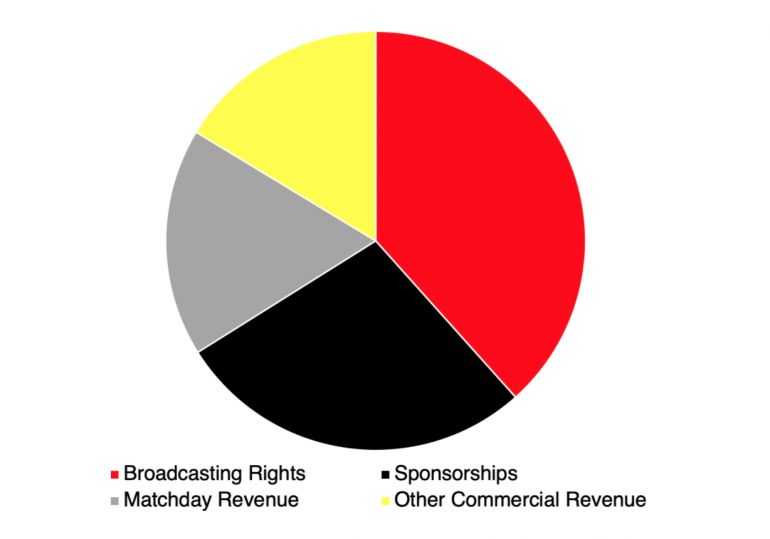 Expenses
So we've seen how the club makes money. They seem to make a lot of it. Now we need to look at how they lose money. How do they spend it? What do they spend it on? What are the main drains on income?
Wages
The biggest expense by far is wages. To win games you need good players and good staff and if you want good players and good staff, you have to pay them good wages. From a business perspective, if Manchester United wants to maintain its vast revenue, it must continue to win (or at least compete) at a very high level (and from a fan perspective this would be good too!). This brings with it large wage bills, £332 million to be exact (mostly directed towards the first team playing squad).
Other operating expenses
This includes things like booking hotels, plane tickets, equipment costs, renting buildings, etc. Just all the costs of running a football team aside from the wages paid to the players.
This totalled £109 million in 2019
Tax
If you are a business that makes money you usually have to pay tax. Manchester United are no exception. The tax expenditure for 2019 was only £8.6 million (compared to £63 million the previous year). This was due to tax reform in the US. Very boring stuff that I won't get into.
Other expenses
You will see other things on the income statement other than these two items. These mostly consist of one-off expenses (such as paying out the wages of a sacked manager- looking at you José) and financial-type expenses (like amortisation and depreciation costs). Don't worry too much about these, it's mainly an accounting thing.
Financial information
Financial information refers mainly to other parts of the annual report other than the income statement (and therefore not immediately related to profit). It helps to get a more holistic image of the club as a business and the type of financial situation the club is in.
Transfer fees
This is included in trade receivables in the balance sheet (the list of assets and liabilities); they are listed as assets not actually cash flows so will be excluded from revenue considerations.
This can be a source of both happiness and sadness for the balance sheet. The club expected to pay £188 million (we spent a lot in June 2019), although not all has to be paid straight away, but were only to receive £18 million in transfer fees for the year (Blind and Fellaini).
Debt
United are currently sitting on a large pile of debt (thank you, Glazers). This debt is composed of 2 types:
Senior secured notes: These mature (have to be paid back) in 2027 and the amount currently outstanding is a whopping £330 million. Ouch. The interest on these babies is 3.79%.
Secured term loan facility: This is a loan from BAML for £175 million, maturing in 2029. The interest on this loan is set at LIBOR + a margin with the margin varying depending on the leverage ratio. Basically, the more debt we are in the higher the interest rate we have to pay on that debt.
This debt accumulates nicely, totalling over £505 million still left to be paid. To put this into perspective this is about 25 times the profit for 2019. We are in a very deep hole indeed.
Cash
Manchester United is sitting on a huge pile of cash. Over £300 million of it to be precise.
Shares
United is a publicly listed company. This means that any Tom, Dick or Harry can buy a part of the company and own it. The club's value changes over time depending on how much investors think the club is worth:
The share price today is $15.12 (it's in dollars because the club is listed on the NYSE in the US). This means that investors currently think that Manchester United is worth roughly $2.5 Billion.
Who owns these shares also affects voting. From the annual report:
"As of 23 September 2019 we had 164,570,967 ordinary shares listed (comprising 40,570,967 Class A ordinary shares and 124,000,000 Class B ordinary shares)."
What's the difference? Well, they are essentially the same except that they come with different voting rights. You see, when a company has to make a big decision – whether or not to upgrade their stadium, issue more debt, buy Bebé – they have a meeting amongst all the people who own the company to decide. The more voting power you have, the more votes you can place. Class A shares and Class B shares come with different voting power.
Here, Class B shares have all the power and Class A shares have practically none.
Guess who has all the Class B shares? Yep, you guessed it, it's the Glazer family:
Aside from the Glazer family, the Class A shares are owned mainly by asset management firms (companies that have invested in the club), as you can see. Big Eddy Woodward also owns around 540,000 (worth over $8 million at the time of writing).
Other financial instruments
Manchester United, as many other international organisations do, utilise financial instruments in an attempt to mitigate risk. An example of this is foreign exchange risk. Because the club receives payments in various currencies, it must protect against the chance of changes in the value of these currencies. It does these by using financial instruments, like swap contracts.
For United, this portfolio of financial derivatives includes interest rate swaps, foreign exchange forward contracts and embedded foreign exchange derivatives.
To be honest, you don't have to pay too much attention to these as they don't have a huge impact on either income or net assets. They are just there to stabilise the club's income.
Bringing it all together
This information helps to get a much clearer picture of the financial dealings of the club as a whole.
We made a profit in 2019. Nearly £19 million for the fiscal year.
The large outstanding debt is worrying, but there are reasons to be happy. Firstly, we are sitting on a large pile of cash. Secondly, United is one of the most commercially successful clubs in the world. The brand is incredibly strong; just go to Thailand, Bolivia or Nigeria and ask who their favourite English team is. Thirdly, the support is growing.
I am quietly optimistic about what is going on off the pitch.
Sadly, I can't say the same for what's going on on it!
This article was contributed by Haydn Martin.
Read more: Solskjaer has Ed Woodward's backing at Manchester United