Paul Pogba doesn't deserve to be a regular starter at Manchester United because he doesn't perform often enough.
It's as simple as that.
France manager Didier Deschamps weighed in on the forever relevant discussion over Pogba's displays in a United shirt and — surprise, surprise — admitted his compatriot "cannot be happy" with his current situation, as per The Guardian.
This is the same Pogba who started for France in their 2-0 defeat to Finland before being hauled off after 57 minutes.
The media in his country weren't happy — but, like Deschamps, will they take the easy route and blame United while telling Pogba he's the greatest thing since sliced pan?
Before France took on Portugal and won 2-0 last night, Deschamps stated that the midfielder is mentally impacted by problems at United.
L'Equipe (newspaper edition) raises more questions about Pogba, who they believe is 'having a difficult time' (translated via Sport Witness) right now. The report adds that the 27-year-old's shortcomings are 'constant lately' with United and France.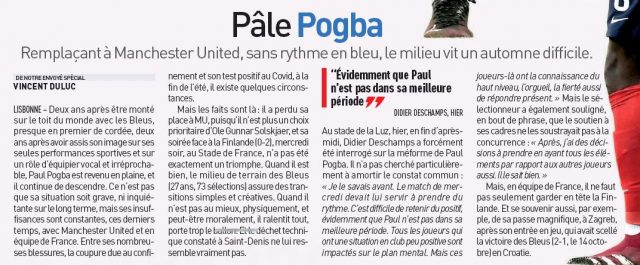 The newspaper compares Pogba at his best and at his worst.
For instance, when he is in form Pogba will ensure creative transitions. But the midfielder we watch now slows everything down.
L'Equipe make it clear they don't think Pogba is in the right shape, both physically and mentally.
Read more: (Video) Pogba's slide tackle on Man Utd team-mate Fernandes in Nations League