After guiding Scotland to Euro 2021 after a playoff win against Serbia on Thursday night, all Mancunian eyes were on our very own Scott McTominay at the end of the shootout.
The Academy graduate made his Manchester United debut aged just 20-years-old under Jose Mourinho, and has seen a steady rise in playing time and team selection ever since. The 6'4 Scotsman has come under frequent criticism for his 'vanilla playing style' but impressive performances in big games over his short career have started to earn him the utmost respect among fans.
The infamous growth spurt from a fun-size 5'6 at 18-years-old to a towering 6'4 by his 20th birthday gave the midfielder some unsuspected media attention from outlets such as SPORTbible. McTominay even missed most of the 2014/15 season with the United u18s due to injuries related to 'growth and development issues'.
It all began when McTominay was named in the squad for Manchester United's away fixture at the Emirates Stadium to face Arsenal in early May 2017. A short 6 minute cameo off the bench couldn't help United's miseries as Arsenal ran away 2-0 winners thanks to goals from Granit Xhaka and Danny Welbeck – but this was when Mourinho's trust and confidence was placed in the young midfielder.
The season ended with McTominay being named in the match day squads to face Tottenham and Southampton before making his first start in United's final game of the 16/17 Premier League campaign – a 2-0 win at home to Crystal Palace.
The 2017/18 campaign began with McTominay making occasional appearances – most notably in the Champions League when United hosted Portuguese side Benfica at Old Trafford. The Scotsman played 90 minutes as the Red Devils came out 2-0 winners and then-manager Jose Mourinho was full of praise for the starlet. In classic Jose fashion, he used the opportunity to points score against the press:
"Scott? Even more fantastic with a manager who never gives a chance to a young guy! I'm very happy for Scott, [he has] great stability and great personality." (via Daily Star).
McTominay found his breakthrough into the side in February 2018 as Frenchman Paul Pogba was dropped from the side and Marouane Fellaini underwent knee surgery. A 2-0 win at home to Huddersfield Town saw Mourinho describe the midfielder's style of play like:
"You have to open spaces by playing simple. That is why I played the kid [McTominay]." (via BBC Sport).
Scott began to fuel the 'big-game player' label as he started and played 90 minutes in key wins against Chelsea and Liverpool in February and March 2018. Jose Mourinho was one of the first people to praise McTominay's 'conservative' playing style after he was booed by supporters in response to a back-pass.
"I'm upset with fans against McTominay. The kid made all the right decisions and they wanted him to make all the wrong decisions." (via Express).
The end of the 2017/18 season saw Scott McTominay awarded with Manchester United's 'Manager's Player of the Year' award at the club's annual awards dinner. Jose said, "The meaning is important. I think the dream of every boy that arrives at the club is to play for the first team. When the dream becomes true, the next dream is to play in big matches and to play in the Champions League and eventually to play for the national team. This player has given everything, in five or six months, so my Player of the Year has to be Scott McTominay." (via ManUtd.com).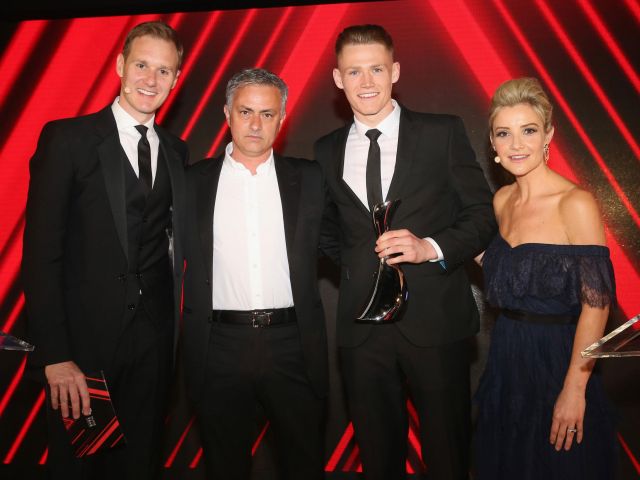 The 2018/19 season started as Mourinho unsuccessfully threw the Scotsman between CB and CM in multiple appearances before he was given his marching orders in December 2018. Under new boss Ole Gunnar Solskjaer, McTominay was awarded a new contract in January 2019, keeping him in Manchester until at least 2023. The Norwegian spoke highly of the Scotland international, stating:
"Scott has been with the club from a very young age, he has progressed through our Academy ranks and has made fantastic progress in the last couple of years. Scott is a young midfielder and is constantly improving. He's an intelligent player and wants to learn all the time. I am delighted he has signed a new contract and there is no doubt that he has a bright future ahead of him." (via ManUtd.com).
After a relatively quiet start to life under United's new boss, McTominay burst onto the scene once again after our famous 3-1 away win in Paris to send The Red Devils into the quarter-finals of the Champions League. Scott's midfield partnership with Fred received widespread praise and attention after their controlled tempo and patience allowed United to smash-and-grab the win late on in typical Fergie fashion.
Scott McTominay's game by numbers vs. PSG:

100% final third passes completed
96.2% pass accuracy
5/5 tackles won
4 ball recoveries
1 interception

Bossed it. 💪💪💪 pic.twitter.com/0hlGLPKfwY

— Statman Dave (@StatmanDave) March 6, 2019
Following the heroics in Paris, McTominay was able to somewhat regularly cement a place in the starting XI for the remainder of the campaign – where he bagged his first goal for the club in a 2-1 away loss at Wolves. He also scored the only goal for United in a disappointing 1-1 draw away at Huddersfield Town in the penultimate game of the season. It was clear that Ole had found the box-to-box midfielder he couldn't find in players like Andreas Pereira. Let's also not forget about the time when he pocketed Leo Messi at Old Trafford and made Sergio Busquets look like Glenn Whelan.
Scott McTominay's game by numbers vs. Barcelona:

100% defensive aerials won
100% tackles won
80% pass accuracy
5 ball recoveries
3 fouls in middle third
2/3 take-ons

Back-to-back standout UCL games against PSG & Juventus. 👏👏👏 pic.twitter.com/6qrQm1PEED

— Statman Dave (@StatmanDave) April 10, 2019
In the wake of Ander Herrera's departure to PSG, the pressure on McTominay's shoulders greatened in the middle of the park. However he took this in his stride, proving to be a key asset to Solskjaer's side throughout the 2019/20 season. From his rocket strike at home to Arsenal in October 2019 to his scrappy finish at home to Brighton in November, Scott soon became a fan favourite at Old Trafford. His passion, desire and commitment to the team was something fans craved after not seeing enough of it in players such as Paul Pogba.
After an impressive run in the side from August-December 2019, McTominay suffered an undesired knee injury in the 4-1 Boxing Day victory over Newcastle which kept him out for almost 2 months. A real shame, since he had been such a key component to United's midfield strength up to that point.
Almost as if it was written in the stars – the Scotsman scored one of the most famous goals Old Trafford has ever seen shortly after returning from injury in a notorious 2-0 win at home to noisy neighbours Manchester City. Unfortunately this was the last action The Theatre of Dreams would see for the next 3 months after all footballing activities were suspended due to the coronavirus pandemic.
On the back of the Premier League's restart, McTominay struggled to find his way back into a high-flying Manchester United side after the midfield three of Paul Pogba, Bruno Fernandes and Nemanja Matic was proven undroppable at the time.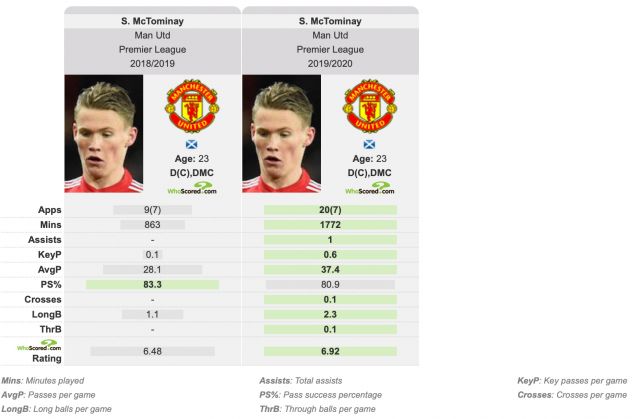 As expected, Scott McTominay has began the 2020/21 season with a deserved spot in the starting lineup, making an appearance in every league game this season bar one (vs Brighton). The most impressive performance from the midfielder undoubtedly came in United's 2-1 win away at the Parc des Princes yet again. The Scotsman even played the entire first half with "one eye" after losing his contact lens according to Ole Gunnar Solskjaer. McTominay and Fred's midfield pivot yet again proved to be vital in big games leading United to victory.
"Scotty played the first half with one eye as well, that was the most impressive thing, because he lost his contact lens. That was impressive." (quote via The Independent).
Scott McTominay's game by numbers vs. PSG:

5 tackles attempted
4 clearances
3 tackles won
3 fouls
2 chances created
2 shots

Tireless. 🏃‍♂️🏃‍♂️🏃‍♂️ pic.twitter.com/DDtmEn9Cc6

— Statman Dave (@StatmanDave) October 20, 2020
The highly-tipped youngster was also compared to David Beckham by Sir Alex Ferguson – "Scott was a wee bit like David Beckham. When he joined us, he was just a wee small lad and then, all of a sudden, whoosh, he just shot up," Ferguson told the Scottish Sun. "He is adjusting himself to have a really good career in the game, like Darren Fletcher. I would say he's almost a replica of Darren — tall, thin, great stamina and a great attitude to the game."
The future is very bright for Scott McTominay.
Read more: Jadon Sancho rubbishes suggestion of Manchester United transfer distraction