🎵 Bobby belting the ball… and Nobby dancing 🎵
Norbert Peter Stiles: born May 18th, 1942, died October 20, 2020.
On 30 July 1966 roundabout 5.30 in the afternoon a prematurely-balding, short-sighted, nobbly-kneed, 5-foot 6-inch Manc with most of his upper front teeth missing danced a gleeful nine-second jig on a small patch of London turf as the Queen looked on. In his right hand he clutched a small black box that contained a winner's medal. His left hand was raised high above his head as he skipped and hopped 360 degrees waving the gleaming Jules Rimet Trophy. 
In those nine seconds Nobby Stiles became immortalised as the iconic figure who captured the nation's joy, and their hearts, as England lifted the FIFA World Cup. The day football really did come home. He was the least capped player in the team but played every second of that winning campaign; shackling the opposition's danger men with no regard for reputation. The Daily Express publication 'England's World Cup' when reviewing each player's contribution remarked, "Stiles, playing a defensive wing half role they now call 'sweeper', proved to be a very stiff broom indeed."
None of those performances in the summer of '66 surprised Mancunians of a Red persuasion. For two years he'd been a stalwart in a glittering United side that took on and beat opponents home and abroad playing attractive, expansive football with a touch of derring-do. What none of us knew that afternoon is that Stiles, like his England and United teammate Bobby Charlton, was in the middle of a four-year golden era that would leave them the only two Englishmen to play in and win a World Cup Final and a European Cup Final. A feat that still stands today.  
Footballers didn't do 'glamorous' when Nobby and Bobby began their soccer apprenticeships in 1950's austere Britain. They didn't date Miss Worlds, own their own night club or drive e-type Jags. Georgie Best would herald the arrival of the superstar footballer a decade later. You feel Nobby and 'glamour' were never destined for the same sentence. His father Charlie Stiles was an undertaker. His mother Kitty gave birth during an air-raid on 18 May 1942 in Collyhurst, a heavily-industrialised east Manchester suburb awash with corn mills, brick-making works, dye factories and rope works. Norbert Peter Stiles experienced little glamour in his early years. But he loved football and dreamed of playing for Manchester United. Whilst walking to the ground to watch his heroes he'd often dream of a tannoy announcement at the match that 'a player had not turned up and would Norbert Stiles please report to the players' tunnel immediately' I can remember having the same daydream. 
He was a decent footballer and played for England Schoolboys aged 15. The legendary United scout Joe Armstrong spotted him and he was soon Old Trafford bound. Whilst he was making his way through the 'A' and 'B' teams Manchester United were hit by the Munich Air Disaster in February 1958. Nobby Stiles was first mentioned in the official club programme, the United Review, two months later; he'd played for the 'A' team in wins against City and Burnley on 8th and 11th March 1958. The club lost a full first team at Munich with players killed or sustaining injuries that finished their careers. Players in the Reserve, 'A' and 'B' teams were affected by 'premature upgrading' or to put it simply, thrown in at the deep end.  On 4 October 1958 Nobby Stiles made his debut for United reserves in a Central League fixture against Villa at Old Trafford. Villa won 3-2 but his progress had been rapid. Throughout that winter, still only 16, he starred in the Youth team's run to FA Youth Cup semi-final. Those matches often attracted crowds around 15-20,000 to Old Trafford; his contemporaries in that side were Dave Gaskell, Phil Chisnall, Johnny Giles and coincidentally another Nobby called Lawton.  
In September 1959, aged 17, he was offered an apprenticeship at United and a month earlier was pictured on the front page of the United Review against Chelsea with the rest of the first team squad. In the programme for the following match he gets a mention in Peter Slingsby's (Manchester Evening Chronicle) column 'Club Comments'. Slingsby highlights Stiles as part of Matt Busby's attempts to continue the conveyor belt of home-grown talent he and Jimmy Murphy had nurtured since 1945.  A month later Nobby scored his first goals as a United apprentice in the youth side's 14-0 mauling of Morecambe at Old Trafford. He opened the scoring and grabbed a second to put United 7-0 up in front of 11,000 Reds.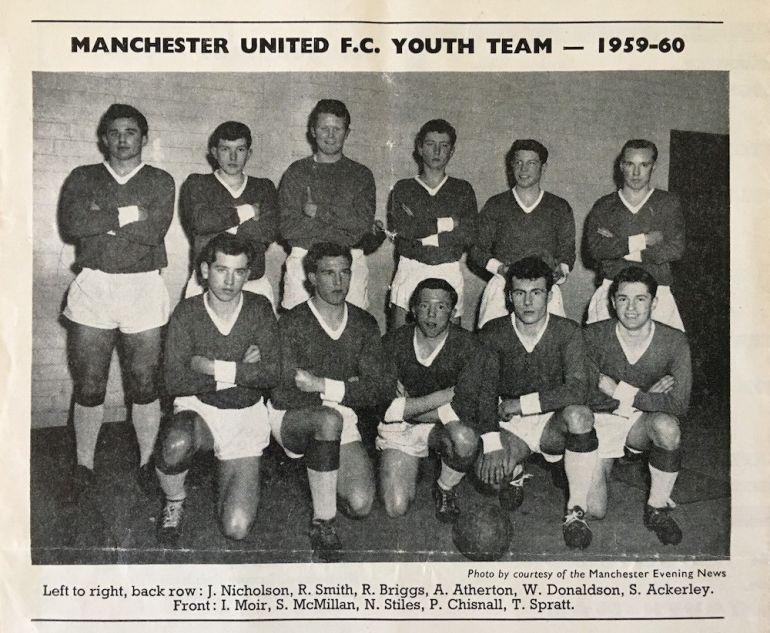 In that first year of his apprenticeship he guided the Reserve Team to Central League champions, a feat we'd not achieve again until 1994. For the second year in succession he was in a team that reached the FA Youth Cup semi-final and in April 1960 Matt Busby played Stiles in a first team friendly at Dalymount Park against Shamrock Rovers. On 17 September 1960 Nobby scored his first goal for the Reserves in a 4-2 win over Aston Villa. The first team meanwhile had started the season in dreadful form including a run of six defeats in nine league games during which they leaked 21 goals. Busby rang the changes and handed Nobby his full debut for Manchester United on 1 October 1960 at Bolton. Maurice Setters was moved to right back, Foulkes converted to centre half with Nobby playing right side of midfield. United drew 1-1, David Meek reporting for the Manchester Evening News wrote "Norbert Stiles was the key man in the change round…….he performed magnificently". Busby kept him in the side for the prestigious home friendly against Real Madrid on 13 October 1960. The programme notes described Nobby as "a tenacious tackler, rapidly fulfilling his earlier promise". He played in ten of the next eleven fixtures as United's form steadied
Nobby held his place and scored the winner in a 3-2 home victory over Newcastle, his first ever goal in the top flight. After Christmas he netted again in a magnificent 2-0 victory over Spurs who later that season would become the first team in the 20th century to win the League and Cup double. By the end of his first season he'd made 31 appearances, all in midfield. He'd help to stabilise United to 7th position in a campaign hit by injuries. It became clear that it would take a while to recover from the dreadful losses at Munich. Busby added striker David Herd to the team in the summer and Nobby began the 61/62 campaign at No. 4 on the right of midfield, playing 15 of the opening 17 fixtures. But United's form fell away badly through October and November with an eleven game run that included two draws and eight defeats. Stiles was rested, returned after Christmas and spent early 1962 in a 3-way battle with Jimmy Nicholson and Giles for two midfield places. Stiles clocked up 38 appearances and a creditable 7 goals but United finished a lowly 15th in another season of transition and experimentation. Matt Busby was juggling his big names as well as players coming through the ranks to find the right blend but was hampered by a string of injury problems.  
Season 62/63 would be a similar story. Busby had broken the British record transfer fee with the purchase of Denis Law from Torino for £115,000. The manager had now assembled a very useful squad; he had all the components to build a Formula One car. The problem was the engine would occasionally stall, the spark plugs misfire and the windscreen wipers stick. Despite an excellent strike force containing Charlton, Law, Herd and Quixall United's goal tally in 42 league matches was a meagre 47. Stiles played in seventeen of the twenty three games up to Boxing Day still giving his all in midfield. Then two events took place deep in that winter which changed United's fortunes and eventually led to the post-Munich recovery. After the away match at Fulham on Boxing Day 1962 the country was hit by a deep freeze. Football in the UK stopped for two months as the temperatures remained below freezing. Another fifty-seven years would pass before nature crippled our national game to such an extent again. United's season restarted on 23 February 1963 at home to Blackpool. By that time Busby had signed a player whose arrival would shape United's golden era of the mid-60s. Matt bought Pat Crerand from Glasgow Celtic. He decided his star-studded but struggling attack needed more support. The answer lay in midfield and Paddy was handed the number four shirt. Initially Nobby lost his place, Crerand slotted in immediately with his precision passes feeding the strikers as United enjoyed a great FA Cup run though league form was still patchy. Nobby stepped in to midfield to cover absences due to injury, loss of form or suspension, playing 18 of the 23 games after Christmas. United reached the Cup Final against Leicester but the favoured midfield trio for the most important game of the season was Crerand, Giles and Quixall as United lifted the trophy for only the third time in our history. . 
Despite playing in four of the five ties along the way, including the semi-final victory over Southampton, Stiles was left out of the Wembley team. But there would be no overt sulking by this great professional. Even at the tender age of 20 he took this disappointment in his stride; his loyalty to team and club no doubt impressing Busby. Matters elsewhere were working in Nobby's favour. Johnny Giles wanted more of a central role in midfield and felt he deserved it. Matt decided only one person can pick the team and in the summer of 1963 Giles was transferred to Leeds under Don Revie. It was on a par with Fergie selling Beckham to Real Madrid in 2003. The top managers are ruthless when it comes to evicting stars when they start becoming bigger than the club. But despite Giles leaving, Stiles couldn't find his way back into the side as season 63/64 started with United shooting to the top of the league and enjoying a good run in the European Cupwinners' Cup. 
Despite already have clocked up more than 100 appearances for the club, Stiles hardly featured in the first team until February 1964; kept out by those who'd played at Wembley plus a new wave of youngsters including Sadler, Moir and a quiet Irish lad called George Best. Even when Nobby got a game it was still in midfield and he was well down the list of his rivals in that position. March 1964 brought fixture congestion as United took three matches to knock Sunderland out of the Cup, then had to play a two-legged tie against Sporting Lisbon plus a Cup semi-final against West Ham. The week before that semi the Reds coincidentally had a league fixture at Upton Park. Busby 'rested' several of his first team. This would be a pivotal match for Nobby Stiles. He played at left half (centreback) as the weakened side won 2-0. The following week United lost the semi-final without Stiles. Four days later Sporting Lisbon hammered us 5-0, again without Stiles. The next game at Spurs, Busby dropped Setters, picked Stiles and United won 3-2.  
Finally Nobby Stiles had found a position he could make his own, playing alongside centre-half Bill Foulkes he formed a partnership that would be our rock as the glory years returned. The halfback line of Crerand, Foulkes, Stiles picked itself for the next five years and allowed the Best, Law and Charlton to spread their magic dust over football grounds across England and Europe. In 64/65 United played 60 competitive matches in League, Cup and Inter-Cities Fairs Cup. Stiles played in 59. He was a stalwart in a side that became Champions of England for the first time since 1957 and reached the semi-finals of the other two competitions. I saw Nobby Stiles in action for the first time in September '64. I was only just 10 and didn't quite appreciate his value to the team. He didn't do Best's dribbling, Law's overhead kicks or Charlton's thunderball shots; he just seemed to get the ball and set-off another United attack. What I came to realise was the industry he put in to shadow players and win the ball and the gutsy tackles needed to do that. David Meek wrote in United's programme when Stiles was still only 20, "running off the ball to get into good positions for himself and create space for others was what the team lacked most before Stiles arrived".
Busby and Murphy had seen that, so did the Old Trafford faithful and by April 1965 so had Alf Ramsey as he started to put the finishing touches to his squad for the following year's World Cup Finals in England. He handed Nobby his first cap against Scotland and recognised the need for Nobby's tenacious tackling, infectious spirit and perpetual will to win. Ironically the role Ramsey carved out for Stiles was more in keeping with the midfield role he'd been converted from in 1964 at United. The truth is Ramsey wanted Stiles in the team no matter what. In February 1966 he played Stiles at centre-forward against West Germany at Wembley and the Collyhurst lad ended up scoring the only goal of the game.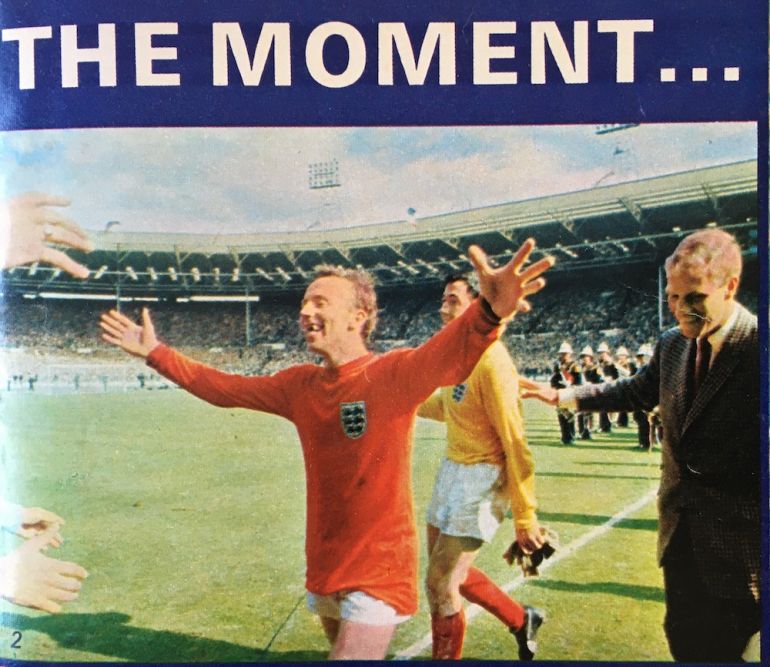 After winning the World Cup, Nobby went on to win a second league title in '67 then played a key part in making the dream come true for everyone connected with Manchester United in the 1960s. Since first taking United into European competition in 1956 Busby yearned to reach the pinnacle of club football on that continent. We all shared that dream and the broken plane in the '58 snow only drove us on more. To reach the final in 1968 United had to quell the noise in two particular cauldrons along the way. Stiles played a huge part in both. United took a 2-0 lead to Katowice, Poland in March '68 but Gornik were cheered on by a partisan 105,000 crowd in freezing conditions. The defence battled tooth and nail that night to contain the Poles and the 0-1 defeat took United through to the semi-final. Stiles was magnificent. Next stop was the Bernabeu but a disastrous first half saw United 1-3 down and heading out. Again Stiles kept calm and forged the troops forward to silence the 125,000 Madrileños, United pulled back to 3-3 and go through to face Benfica at Wembley on 29 May 1968. 
That historic night Nobby Stiles for the third time in three years would be the nemesis of one of the world's best players. Having thwarted Eusebio twice in 1966 (the 5-1 United win in Lisbon in March and the 2-1 England victory over Portugal in the World Cup semi-final in July) Stiles' close marking would eclipse him once again. Nobby Stiles knew precisely how much winning the European Cup meant to the club and city. He later said that Kiddo, Johnny Aston and himself as Mancunians felt the weight of responsibility to bring home the European Cup, "It was not so much a triumph for our football as the blood of our lives. We were kids when the Busby Babes were wiped out and we felt the sorrow on the streets of our city" Stiles made 395 appearances for Manchester United making him the 31st on the club's all-time list. Only wear and tear from his commitment to running and tackling for the cause prevented a hundred or so more. For all the thrills and excitement Busby's golden team of the 60s brought supporters like me, we also loved and respected the player who represented us Stretford Enders out on the pitch. Who fought like a terrier because he believed in Manchester United, in Busby, in our history and in the fans. The chant of 'Nobby, Nobby, Nobby Stiles' to the tune of the French song Alouette was sung by Reds up and down the country during Stiles' playing career and for two decades after he'd retired.  
The warmth and breadth of the coverage in the media in the wake of Nobby Stiles' passing on 30 October 2020 and the response from people who met him or played with/against him I found overwhelming. We cherish our heroes at Old Trafford but on this occasion we have to share 'our Nobby' with the nation. All who witnessed his jig in '66 took him to their hearts and treasured that memory through the years. He'll never be forgotten by club or country. Sleep well Nobby, God Bless.
Read more: Man United target David Brooks desperate to get back into Premier League