Manchester United attacker Marcus Rashford has scored the most amount goals against the Premier League's so-called 'top-six' teams in all competitions than any other player and has done it in the least number of appearances. 
Rashford, 22, has spent his entire professional career with United after joining their youth academy all the way back in 2005.
After successful youth appearances, the Englishman went on to force his way into the club's senior first-team after he made his debut in 2016.
Despite being just 22-years-old, Rashford has now made 223 senior appearances for United and has been directly involved in a hugely impressive 115 goals in all competitions.
This stunning stat proves that Rashford can also put the ball in the back of the net against England's best teams as the attacker currently sits top of the pile for goals scored against the Premier League's top-six sides.
Not only has Rashford scored the most goals, United's number-10 has done it in the fewest amount of appearances.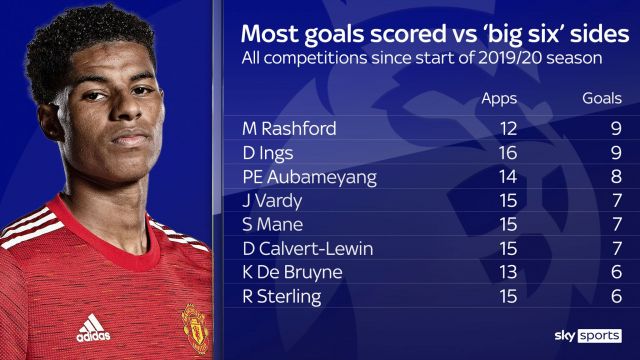 Stats courtesy of Sky Sports
Read more: Opinion: The Relocation Struggles of Juan Sebastian Veron