Manchester United have a glaringly obvious weakness in their squad, or at least they did until deadline day earlier this summer when they signed former FC Porto wing-back Alex Telles. The Reds' ability to compete with football's most important role; the modern 'attacking full-back' continues to frustrate fans with regular left-back Luke Shaw seemingly unable to replicate the same marauding style of play the likes of Andrew Robertson and Lucas Digne undertake.
United were held to a boring 0-0 draw in yesterday's Premier League match against Frank Lampard's Chelsea with fans left wondering why on earth new-signing Telles failed to even make Ole Gunnar Solskjaer's bench.
The Norwegian boss opted to set his United side up in a generic 4-3-3 formation with both Fred and Scott McTominay occupying a defensive double-pivoted midfield.
The United back-line consisted of Shaw at left-back alongside centre-back pairing Harry Maguire and Victor Lindelof with Aaron Wan-Bissaka at right-back.
Yesterday's all-English match-up between United and Chelsea is usually one both sets of fans as well as mutuals mark in their footballing diaries; the fixture rarely disappoints, however, Saturday's game was definitely one to forget.
Chelsea were poor with United's number-one David De Gea called into action just the once, but United's lack of penetration was more apparent than ever before.
The Reds lacked that cutting edge required to make the breakthrough in regular top-flight tense and cagey matches. But why was this?
It is tough to suggest that just one player could have made the difference in such a drab game, especially when that player didn't feature at all, but after a superb 50-minutes against one of Europe's best sides in PSG during the week, Telles' attacking and creative ability would have been a welcomed edition.
The Premier League is arguably one of the most pioneering, most visionary and most adapting leagues in the sport; from the modernised and technically gifted goalkeeper to the energetic and slender midfield anchor man; the Premier League has had a hand in revolutionising some of the game's most important roles, and the attacking full-back is no exception.
United's arch-rivals Liverpool are perhaps best known for their ability to allow their attacking full-backs, Trent Alexander-Arnold and Robertson to flourish.
Jurgen Klopp's men deploy the same formation that Solskjaer set his Reds up in yesterday but the contrast in play could not have been more obvious. United were slow, sluggish and lacked ideas, whereas Liverpool can rarely be accused of those traits. Instead, the Merseyside club pride themselves on their devastating ability to carve opposition defences open in the blink of an eye with the defining ball usually coming from one of their full-backs.
However, it is not just United's most fierce rivals who seamlessly integrate their attacking full-backs, almost every top-flight side can put a case forward to suggest they have at least one top-quality, attacking full-back among their ranks.
Everton have former Barcelona starlet, Digne. Arsenal acquired Kieran Tierney after a superb breakthrough campaign with Celtic. Spurs invested in Sergio Reguilon, and Manchester City continually break the bank for the sport's most highly-rated attacking full-backs.
However, it is not just the league's top-end sides who seek out Europe's best wide attacking options, Steve Bruce was quick to add relegated Norwich's Jamal Lewis to his squad and credit to Brighton's scouting network for identifying ex-Chelsea youngster Tariq Lamptey.
So why, if United have finally found a solution to arguably their weakest area are they continuing to deploy a system which is rigid and fails to stretch opposition back-lines and offer any kind of threat?
The positional heat maps of both United left-backs; Shaw and Telles is extremely telling and demonstrates perfectly just how negative, defensive and most importantly narrow Shaw consistently plays.
Telles on the other hand provides a constant threat by not just his attacking nature but also his set-piece versatility. You can see that the Brazilian is often tasked with taking corners and penalties but not only that, the South American will not wander inside, Telles' natural game is to hug the touchline and get as far forward as he can.
Shaw in comparison with Telles is the total opposite, the Englishman frequently cuts inside and regularly takes the easy option of laying the ball off square which inevitably slows the pace of United's attack down and allows opposition sides to regroup.
Shaw's unwillingness to lay the ball off and continue to progress down the side of the pitch is evident from the following passing map (courtesy of Between The Posts) and his 2020-21 Premier League positional heat map (courtesy of Sofa Score).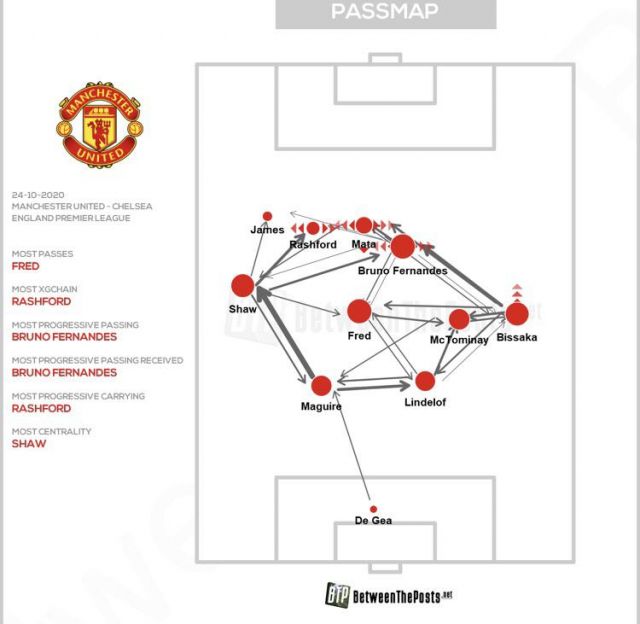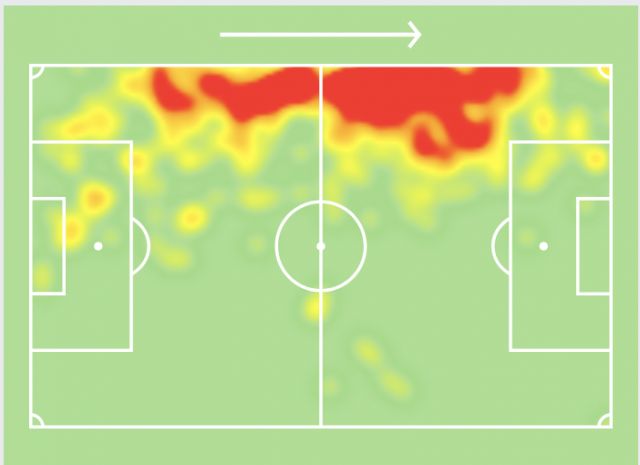 You will notice that Shaw's general positioning rarely sees him progress beyond the 18-yard box and is mostly situated in an inverted wing-back role which sees him sit in-between opposition lines.
Telles on the other hand could not be further from the kind of player Shaw is. The experienced Brazilian is a constant threat down the touchline and will often progress as far forward as the byline, which can be seen in his 2019-20 Liga NOS heat map below.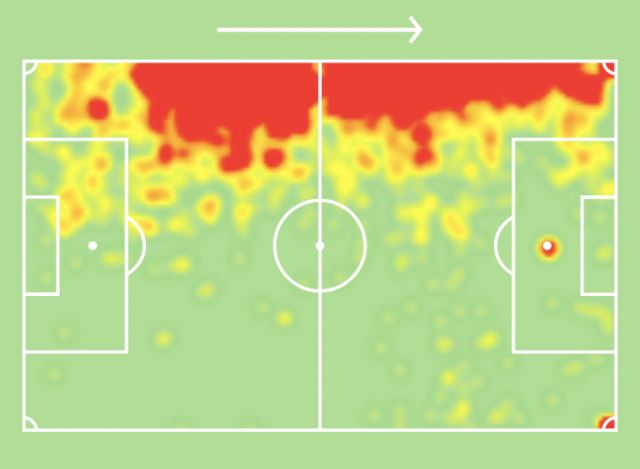 It goes without saying that by playing Telles in a full-back role, United would be more susceptible to opposition right-sided counter-attacks, however, this could be countered by deploying a left-sided playmaker who is comfortable both attacking and defending, somebody like, erm.. Donny van de Beek.
I firmly believe that when facing up against teams who lack wide quality and teams which defend narrowly United would benefit immensely by deploying either an asymmetric 4-3-3 (including van de Beek) or a 5-3-2 system with Shaw at centre-back, Telles at left wing-back and a midfield double pivot of Pogba and Fred.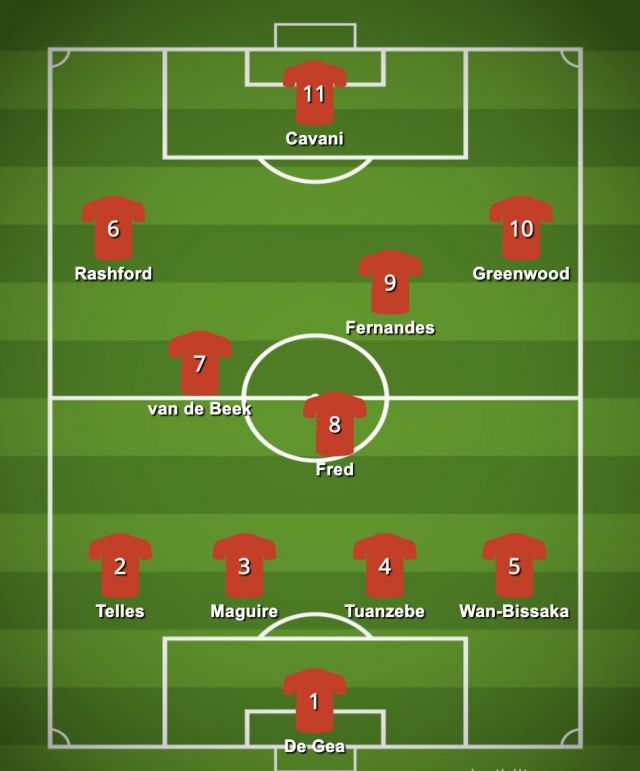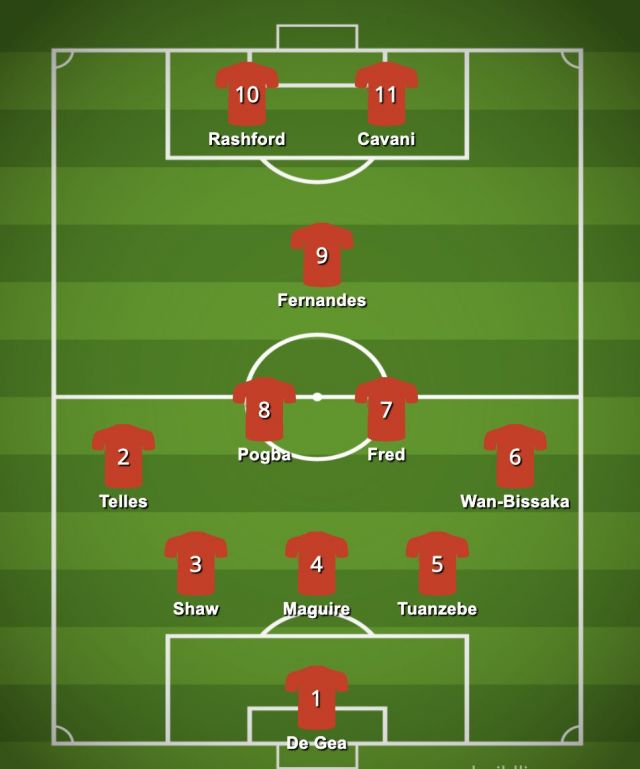 United's next game is against tactical genius Julian Nagelsmann and his RB Leipzig side which may not the game for Solskjaer to start tinkering with his systems.
However, looking ahead to our next domestic match against Arsenal; it would be fascinating to see the gaffer target the defensive frailties of Hector Bellerin by instructing Telles to bomb forward at every oppotuntity. I guarantee that a system featuring both van de Beek and Telles would see the Reds more stable when defending counter-attacks and extremely quicker in attacking transitions.
Read more: Man United player ratings vs Chelsea: Attacker's days numbered as Wan-Bissaka forces way into best right-back conversation