Paul Pogba: Commanding midfielder, outrageous skills, never loses the ball, and assists galore.
This is what we saw prior to Pogba's return to Manchester in the summer transfer window for the 2016/17 campaign. However, since he joined United, we've hardly seen what we saw him do in Serie A. Now, that's not to say that he hasn't had his share of contributions to the club, winning a small handful of trophies, and producing some special moments, but is it enough to warrant the world record transfer fee the club paid for him? Let's look at the years Pogba has spent at United, examining all of the particular moments that decide if he is, or isn't fit to play for Manchester United, and if United fans expected too much of the player when he was brought in.
The Debut Season
'The Special One', Jose Mourinho replaced Louis van Gaal as Manchester United boss prior to the 16/17 season, and his big summer decision is to bring in Juventus star and ex-United Academy product Paul Pogba for a world record fee. It was going to be the signing that was going to put United back on top of the Premier League. Back to fighting for the Champions League, where United should be.
Pogba's first goal contribution for United came in the 6th Premier League match of the season, where he scored the last goal in United's 4-0 rout over Champions Leicester City. Pogba's next goal contribution came almost a whole month later, where he bagged two against Fenerbahçe in the Europa League. Pogba also scored in the Europa League final, which United would go on to win, as well as playing in the EFL Cup final, which United also won. He would continue to score and assist very sporadically that season, gathering a total of 9 goals and 6 assists in all competitions. United fans would've been disappointed with this output, but the standards set for Pogba were ridiculously high. Maybe the pressure of those put him off a bit, and he would really turn up for the next season.
Improvement?
Things started to look up under Jose Mourinho in the 17/18 season, as United finished 2nd in the league, placing three points above 3rd place Tottenham, but 19 points behind runaway Champions Manchester City. Pogba scored less goals in this season, but doubled his total assist tally, gathering 12 in total. Most United fans would say that, although it was an improvement, overall, that season was still not good enough for Paul Pogba. Disappointing performances in cup exits, including losing to Bristol City in the EFL Cup, losing to Chelsea in the FA Cup Final, and losing to Sevilla in the Champions league, surely did not help his case.
The Falling Out
The 18/19 Season is the season where United fans really started to call out Pogba for his performances, a falling out with soon-to-be-sacked manager Jose Mourinho did not help his favourability amongst the fans by any means. Although it was the best scoring season of the French midfielder's career, it was the performances around them that really got on the nerves of United fans. Constant walking on the pitch (this is proven by Opta research, that shows that Pogba spent the most time walking than any other midfielder in the 18/19 season, with him walking 38.1 per cent of the time whilst on the pitch.), and general laziness, the brunt of the reason he received so much hate that season, and why he fell out of favour with Mourinho. Pogba also became the designated penalty taker this season, in fact, 8 of his 13 goals (all comps) he scored that season were penalties. To make matters worse, he missed 3 out of the 10 penalties he took in the Premier League that season, which puts him amongst the worst penalty takers in Premier League history.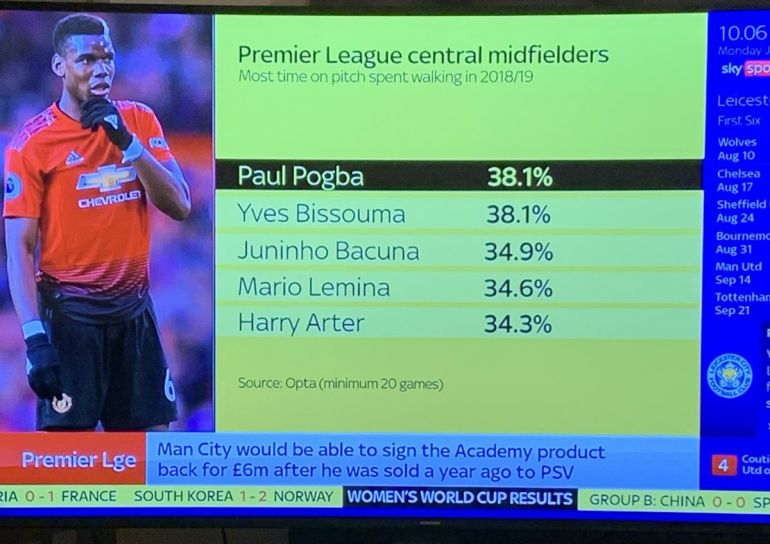 The Season That Didn't Happen
Paul Pogba missed 39 games in the 19/20 season through injury. It was his ankle that kept holding him back, seemingly every time he returned from injury, his ankle would turn for the worse again, and it was so bad it got to the point where he needed surgery in order to recover. As a result of the numerous matches missed, Pogba only picked up 1 goal and 4 assists in 22 matches. This season was looking up for Pogba and United as well, when Pogba picked up 2 assists in a 4-0 thrashing of Chelsea on the opening day of the season. It's a shame that United couldn't use that as momentum going forward, as they miraculously finished 3rd in the Premier League, but were sent crashing out in the semi-finals of all three major tournaments they competed in. Most United fans were excited to see Pogba return from his long injury, so he could link up with new star signing, Portuguese attacking midfielder Bruno Fernandes. The duo looked deadly towards the end of the season, but it was really Fernandes who was grabbing all of the goals and assists, meanwhile, Pogba just seemed like a bystander.
Position in Jeopardy
Fast forward to the present, and United are 4 matches into the Premier League season, losing two matches, including a 1-6 pounding from Spurs, however followed by a convincing 4-1 win over Newcastle after the international break. It will sound harsh, but Pogba has been absolutely useless in three of these matches, giving away the ball left and right, and seeming like he doesn't even want to be out there. On top of that, Pogba publicly stated that he would be open to joining Real Madrid "one day" (via GOAL). The signing of Donny Van de Beek in the summer transfer window, who we've still barely seen play in United colours, did seem to be the cherry on top for Pogba either getting benched, or leaving the club, and sure enough, in United's last two games against Newcastle and PSG, Pogba started on the bench. Him and Nemanja Matic lost their spots in both matches to Fred and Scott McTominay. However, Pogba did come off the bench in both games, and grabbed an assist against PSG. Pogba's current status at the club will become apparent if he's named on the bench against Chelsea as well.
Since joining United, the fans have certainly had split opinions about the Frenchman, and personally, I don't think he deserves to start on his current run of form. Some say that our midfield needs him, and that he's still the most important creative outlet at the club. While others may still believe that Pogba is in fact a virus at the club and should be sold in any upcoming transfer window. What is the future for Paul Pogba? How much longer will we be seeing him play for United? It's hard to say for certain what's next for Pogba's career, and the COVID-19 pandemic only adds to that uncertainty. If one thing is certain at Manchester United, it's that Ed Woodward and the Glazers have some important decisions to make in the near future.
Read more: Pogba opens up on being benched for Manchester United's big night in Paris