Manchester United's out-of-touch social media post ahead of the trip to Newcastle United has received a predictable wave of backlash from frustrated supporters, including Gary Neville. 
United supporters in the UK are being forced to spend £14.95 to watch Saturday evening's fixture after the Premier League announced a new pay-per-view service to watch games behind-closed-doors on top of BT Sport and Sky subscriptions.
Solskjaer's men and Newcastle are the first teams to feature behind the paywall, which means supporters have to fork out even more to watch their side play on TV.
Devoted United supporters are devastated to continue having to miss travelling to watch their team play and a tweet put out from the official club account before kick-off certainly didn't help things.
"At least there's no climbing up 14 flights of stairs to get to the away end at St James' Park for this one… where are you watching #NEWMUN from?," the tweet read, aimed as a joke in relation to the lengthy walk to the away end but clearly out-of-touch with fans who would make plenty of sacrifices to have been at the game.
Unsurprisingly, the tasteless tweet was soon deleted but not before some angry responses from large sections of the fanbase.
Gary Neville quote tweeted the deleted post 'How bad is this tweet', essentially summing up the view across Twitter.
Andy Mitten, a popular voice amongst United supporters and creditable journalist, explained why the tweet was so patronising for fans to read.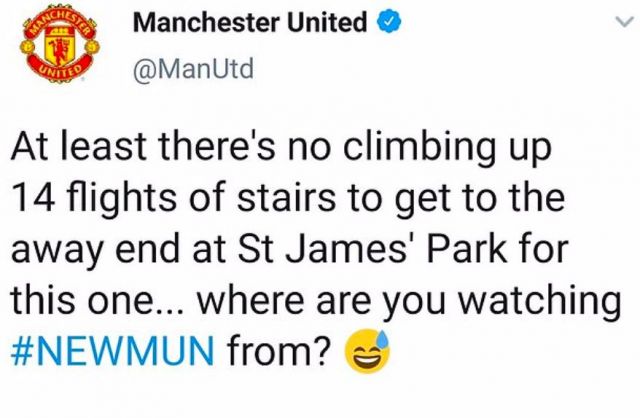 How bad is this tweet? https://t.co/iMJD68Cbv9

— Gary Neville (@GNev2) October 17, 2020
The hardcore reds who'd be there today would give anything to climb those steps. Instead they face an unacceptable £15 for PPV…and being patronised in a sponsored tweet pretending to understand fan culture.

— Andy Mitten (@AndyMitten) October 17, 2020
READ MORE: Video: Paul Merson identifies main problems in Man Utd's shambolic defence