The wife of Manchester United's Sergio Romero has launched a scathing public attack on her husband's employers by demanding the club allow him to leave.
Romero, 33, joined United from Sampdoria five years ago in a free move due to the South American's free availability, as per TransferMarkt.
Despite Romero growing popularity at Old Trafford due to his reliability whenever called upon to act as a back-up to number-one David De Gea, the Argentinean's camp appear to be very unhappy with the club's reluctancy to let him leave.
Romero was left out of the United's starting line-up during last season's FA Cup and Europa League semi-finals, two competitions which up until the crucial stages saw the South American be the go-to keeper.
In a recent outburst, Romero's wife Eliana Guercio has criticised the club and has called for the Reds to let Romero leave the club he has been with for the last five years.
Ouch.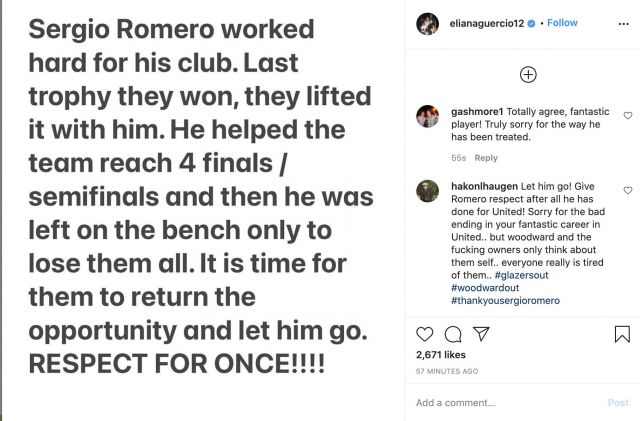 Read more: Alex Telles describes himself as 'set-piece specialist' in first interview as Man United player