Manchester United leading striker Anthony Martial had to explain why a series of unusual tweets were posted on his official Twitter account last night. The Frenchman had fans puzzled after seemingly posting a string of weird tweets which made no sense. Hilariously though, the striker soon explained the situation as he informed his 2.2m followers that the culprit behind the bizarre posts was in fact his two-year-old son.
Martial, 24, has been a revelation under current United manager Ole Gunnar Solskjaer and after enjoying arguably his most prolific campaign last season the Frenchman is visibly much happier with life in Manchester compared to previous seasons.
The exciting striker racked up a total of 35 direct goal contributions in 48 matches across all competitions last season and is hotly tipped to be one of the Premier League's top goalscorers in the new 2020-21 campaign.
Despite Martial's heroics on the field, the attacker had to rescue something else last night after his young son pinched his mobile phone and started posting a series of hilarious tweets to his father's 2.2m followers.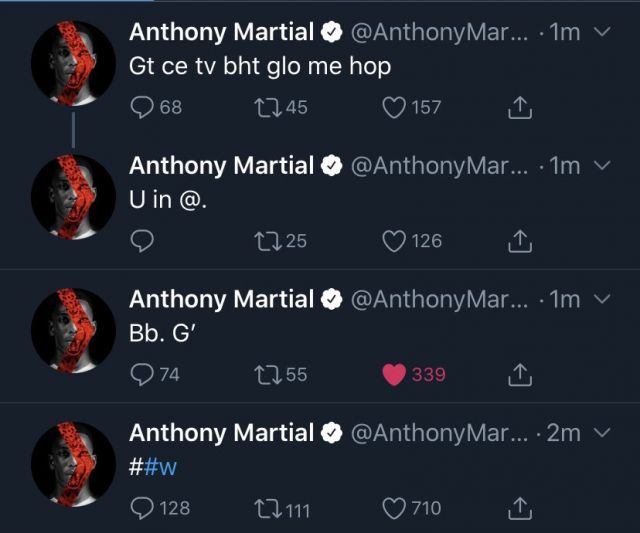 The tweets had followers somewhat confused but it was soon revealed by Martial that his two-year-old son had been the culprit behind the weird tweets.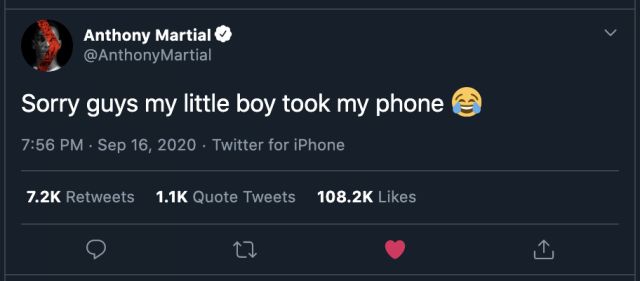 Don't worry Anthony, we've all been there.
Read more: Legend Edwin der Sar perfectly explains what Donny van de Beek will bring to Old Trafford