Former Manchester United full-back Rafael da Silva has shut down Alexis Sanchez after the South American launched a recent scathing attack on his old club.
da Silva, 30, now plying his trade at Olympique Lyonnais became an instant fan-favourite at Old Trafford after spending seven successful years with the Reds (2008 – 2015) during a period of time which saw him win nine major trophies, including three Premier League titles.
The Brazilian defender departed United in 2015 and joined Olympique Lyonnais for £2.88m, as per TransferMarkt but has always remained loyal to the club he enjoyed so much success with.
da Silva's latest defence of his former clubs comes in light of flop Alexis Sanchez's scathing attack on the club where he revealed he wanted to leave United after just his first day.
The South American took to his Instagram account recently and issued some stunning criticism of the United step-up, slamming managers and players in the process, as quoted by Daily Mail, Sanchez said: "I want to tell you about my period at United, about many things that were said and that.
"I got the opportunity to go to United and it seemed tempting to me. It was something nice for me, because when I was a kid I liked that club a lot.

"I ended up signing without much information about what was happening in the move. The first days that I was with my colleagues, sometimes there are things that you do not realise until you arrive. 
'The first training I had I realised many things. home and I told my representative: "Can't the contract be terminated to return to Arsenal?"
'They start laughing and I told them that something did not sit right with me. It had already been signed."
In light of the 31-year-old's unbelievable comments, da Silva also took to his social media to issue Sanchez with a taste of his own medicine.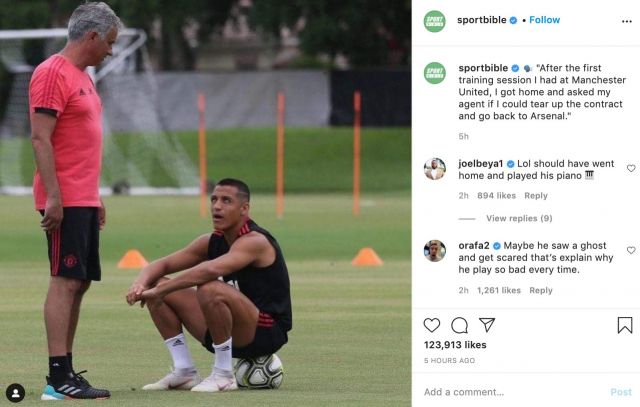 Read more: Loads of Man United fans summarise Jadon Sancho saga in just three words