Harry Maguire has broken his social media silence after being found guilty of bribery, aggravated assault and resisting arrest during a fracas while on holiday in Mykonos. 
The Manchester United captain maintains complete innocence despite being found guilty on all three counts in a Greek court on Tuesday afternoon.
Maguire took to his Instagram story in the early hours of Wednesday morning to quote Buddha: 'Three things cannot be long hidden: the sun, the moon, and the truth. 
The 27-year-old's sister uploaded the same image as the United defender after the verdict was revealed.
Maguire was handed a 21-month suspended jail sentence for his involvement in the altercation with Greek police, and was withdrawn from Gareth Southgate's England squad on the same day he was included in it.
However, he will appeal the conviction and said in a statement that, if anything, he and his friends and family are the victims in this case.
"Following the hearing, I have instructed my legal team with immediate effect to inform the courts we will be appealing," Maguire said.
"I remain strong and confident regarding our innocence in this matter – if anything myself, family and friends are the victims."
See Maguire's Instagram story below: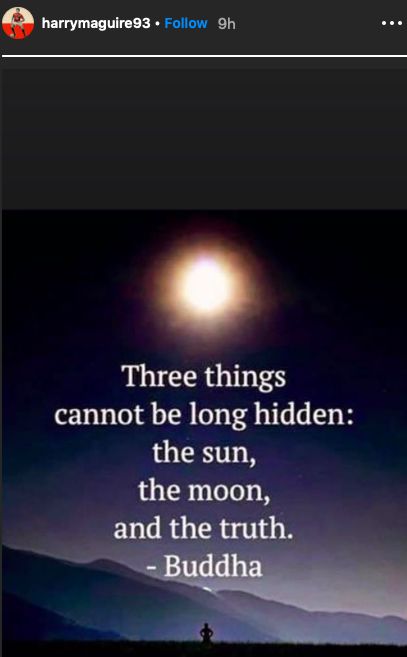 READ MORE: Harry Maguire found guilty on all charges after Mykonos brawl