Just one Manchester United player made Garth Crooks' Premier League team of the season.
In his BBC Sport column, Crooks has selected his best XI from the Premier League 2019-20 season, with the Scousers unsurprisingly dominating the line-up after winning their first league title in 30-years. A total of five Liverpool players made the eleven.
City, who finished runners-up this season, have three inclusions in the BBC team of the year.
United, Arsenal and Leicester City all have one each — making up the eleven.
It may come as a bit of a surprise that United's one player isn't Bruno Fernandes — the midfield is made up of Kevin de Bruyne, Jordan Henderson and Raheem Sterling — but Harry Maguire in the heart of defence.
He deserves it alongside Virgil van Dijk but I feel Fernandes could feel a sense of injustice. I mean, I wouldn't blame him.
Ederson steps in as goalkeeper, with a back-four of Trent Alexander-Arnold, Maguire, Van Dijk and Andrew Robertson.
The front three, I don't think anyone could argue with, is Pierre-Emerick Aubameyang, Jamie Vardy and Sadio Mane. They scored 63 Premier League goals between them this season.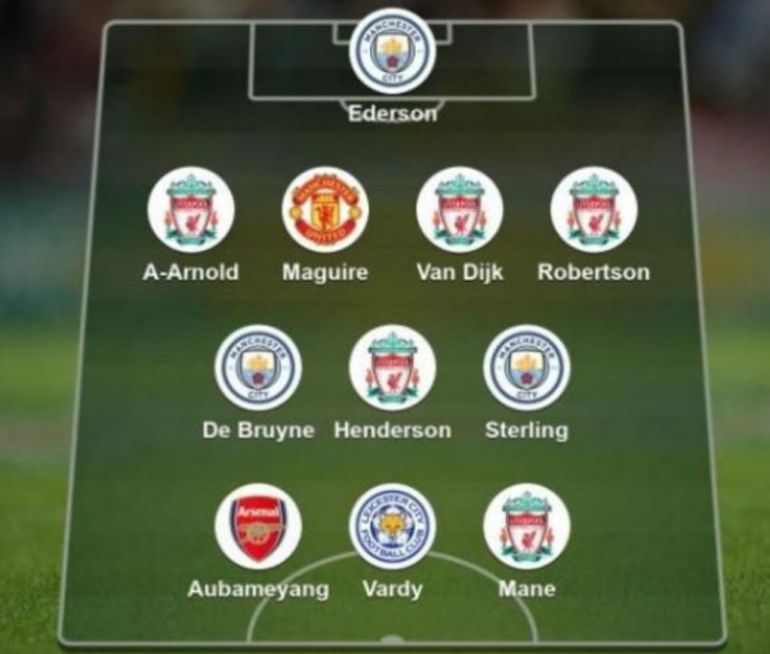 Read more: Manchester United preparing new bid for Jadon Sancho after Dortmund reject £89m offer