Patrice Evra is one of the best former footballers when it comes to Instagram. His witty personalty shines through and he always seems upbeat when reminiscing about his Manchester United days.
Ex-Manchester United left-back Patrice Evra has jokingly threatened to block and unfollow Paul Scholes on Instagram.
The Frenchman shared a post where he wrote: "My first six months at United: Paul Scholes: Patrice, I think we should send you back for free to As Monaco. I really think you were jockey when United bought you… I just want to say thank you for the motivation speech."
The tongue-in-cheek comment was met with a response from Scholes, who commented beneath the post, saying: "No no no Patrice Evra, I thought the boss bought you just to ride his horses… turned out you were better at football than you were a jockey."
Evra then joked: "I'm blocking you and unfollow you right now."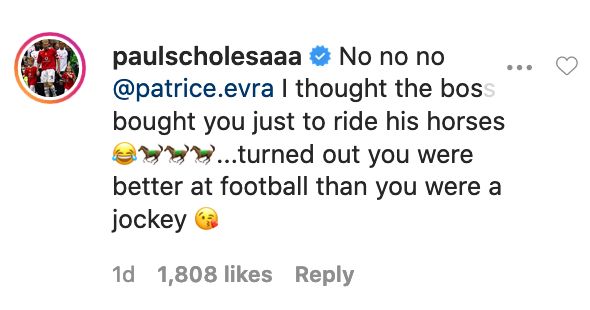 You can't help but enjoy banter like this from two ex-United players and it makes you wonder what sort of mischief the current squad get up to at Carrington.
Evra may be perfect size for a jockey but he was the all-round perfect left-back. And none of us would change that for the world, not even Sir Alex Ferguson, who has always been a fan of horse racing.
Both players can reflect on their time at United with great memories and they are now seen as part of the club's furniture. They are undoubtedly examples and role models for young players coming through the ranks.
The future seems bright with the midfield looking a lot better at the moment and Brandon Williams, a youth team graduate, is pushing for a place in the team. That's seen Luke Shaw push on in more than just the left-back role, but he's played at centre-back in a back three at times this season too.
Read more: Michael Owen backs United to stroll past Crystal Palace at Selhurst Park