It speaks much of David Beckham's business and marketing acumen that it has almost been forgotten that he is without doubt, one of the greatest footballers England has ever produced. A man who competed at the very highest level right up until his retirement and who helped to finally cement a place at the table for Association Football in the United States.
Beckham changed the game, metaphorically, for the status of footballers. Taking the lead of Michael Jordan, Beckham created a personal brand which would set the template for how footballers could use their careers to financially secure themselves and their families for life.
Some may rue the modern phenomenon of elite footballers becoming businesses. However, with the game's long history of its great players falling into sharp decline once their bodies could no longer utilise their talent, it is something that safeguards the livelihoods of working-class kids made good.
Nevertheless, I know the content you're here for and Beckham IS a Manchester United Icon.
A key component in one of the club's greatest ever teams and one of the club's most successful players. A shining beacon of consistency who won league titles in four different countries, captained his country, and played over 100 international games. By any measure, he had one of the greatest careers of the modern era.
Beckham, was part of Eric Harrison's fabled youth team of the early-to-mid 1990's which was arguably one of the greatest generation of young talent any club has manufactured. Ryan Giggs, Paul Scholes, Nicky Butt and Gary Neville were the other main cast members who broke into the first team from the 1992 FA Youth Cup victory. But there also plenty of talent who would have made it were it not for injuries, late blooming or simply not quite making the grade at Manchester United. Being the one percent of the one percent of footballers.
Beckham was by no means seen as the most naturally talented of the group but what was seen, was his intelligence, game-management, vision, and work rate. For all the later talk of his celebrity status and – when he got older – and his jaw dropping handsomeness, nobody outworked Beckham on-or-off the pitch and it was the cornerstone of his success. That success that was the fruition of a lifelong dream.
All Beckham ever wanted to be was a footballer. "At school whenever the teachers asked, 'What do you want to do when you're older?' I'd say, 'I want to be a footballer.' And they'd say, 'No what do you really want to do, for a job? But that was the only thing I ever wanted to do." (via Bleacher Report)
The love showed through. After returning from brief but successful and invaluable loan at Preston North End, Beckham returned to United for the 1994/95 run-in with a looming rebuild in mind of manager Sir Alex Ferguson.
It was the next season where Beckham began to cement his place as one of the game's superstars. Along with the aforementioned "Class of '92" standouts, he became a vital cog in Ferguson's rebuild after dismantling his first great title winning side. Replacing Andrei Kanchelskis on the right side of midfield, Beckham provided a wholly different threat for the opposition.
Whereas Kanchelskis was a flying winger with electric pace and weighing in as support striker. Beckham was ostensibly an attacking midfield playmaker. Possessing tactical intelligence, an astounding range of passing and the ability to score from anywhere within thirty yards of the goal. He was an outstanding talent in an absurdly gifted generation. His final domestic league statistics at United, 62 goals and 80 assists in 265 games is a more than respectable return and testament to his "first one in, last one out" approach to training. Honing his craft relentlessly with an insatiable desire to win.
The Beckham brand, however, was born in his second full senior season at Selhurst Park. The cheeky young Londoner displayed his self-confidence by lobbing Wimbledon goalkeeper Neil Sullivan from the halfway line before nonchalantly turning to the nearby stand and calmly thrusting his arms aloft with a knowing smirk.
"Yes, I'm here and I'm running this place from now on." It was singularly magnificent.
That confidence and self-belief got him through the shameful national episode of the aftermath of England's 1998 World Cup exit to Argentina. Beckham was sent off for a tepid, petulant flick at Rear Admiral Shithouse himself, Diego Simeone, whose reaction rather than the offence itself, earned Beckham an early bath.
The fallout was a disgraceful pile on lead by the British press, including the Daily Mirror printing a dartboard with Beckham's face on it. A pile on that heartily encouraged the "great" British public to burn effigies and issue death threats to Beckham, his wife Victoria and the rest of his family. How satisfying it must have been then when his two wonderfully delivered corners at the Nou Camp in 1999 sealed a historic treble for United the following season. Beckham a key part of an unprecedented piece of glory, while his detractors and haters bitterly fumed and stewed.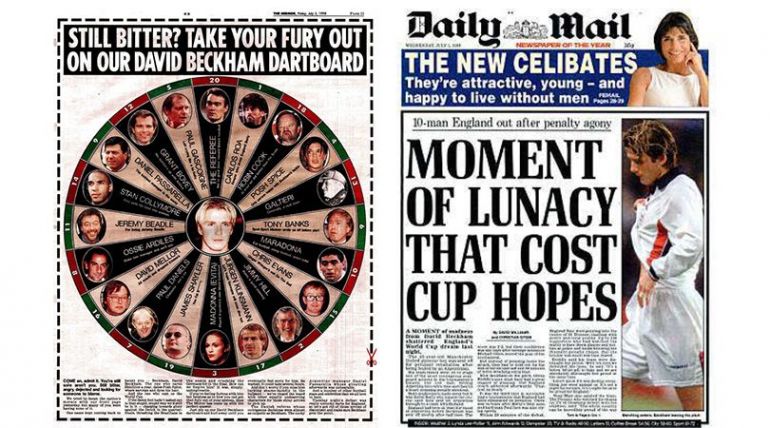 Eventually the love story came to an end in 2003, with an increased distance between Beckham and Ferguson. Moreover, all concerned maybe just felt it was time to move on when he departed for Real Madrid and Florentino Perez's 'Galaticos' project.
Nevertheless, the love for Beckham never truly diminished. When he returned in an AC Milan shirt in a 2010 Champions League tie, he was given a rapturous welcome by the fans and the Old Trafford staff. The adoptive Mancunian had returned home and was given the welcome his glittering contribution to club history had earned.
One of the finest professionals and ambassadors for the game in the modern era, take a bow Becks.
Read More Icons of Old Trafford
Billy Meredith: "Superstar"
Sir Bobby Charlton: "The complete footballer"
George Best: "The Belfast Boy"
Denis Law: "The King" 
Patrick O'Connell: "Don Patricio"
Martin Buchan: "Velocity"
Mark Hughes: "Sparky" 
Tony Dunne: "The quiet man"